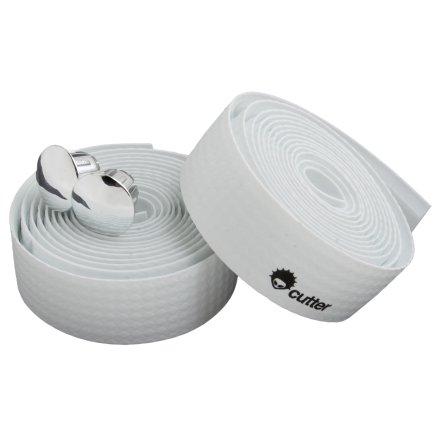 Community Images
The Cutter Wrap Artist Bar Tape steps up when your old bar tape starts looking like the vinyl seats in the car on your neighbor's lawn. Smooth but never slippery, grippy but never gummy, this gel-cushioned bar tape wants to be your palms' best buddy.
I foolishly had my bars re-wrapped recently as this was getting dirty. Had I known what I'd be missing, I'd have kept riding it--or at least tried to scour. Have ridden all kinds of tape--including the big name brands. Cutter's by far the best--for cush, for grippiness & texture, for good looks (actually stayed white with care for about 1 year of moderate riding). The screen-printed little alien logos wore off in heavy-use areas but that's the only thing that wore remotely. If I knew the landfill where the used tape was, I go dig it out. PLEASE BRING THIS BACK, Cutter, PLEASE!
As good as tapes that cost 2x the $
Bought to put on the CX bike. It's good stuff! Like Alex, I don't wear gloves unless it's below about 55 degrees, and this tape is plenty cushy. It's not slippery at all when hands are sweaty either.
The length is plenty long, even for the biggest hooks. I ride 46cm Deda deeps, and double wrap the tops, yet there was more than enough tape to do the job.
It goes on very easily, even though there's no adhesive. No complaints at all. I'll definitely buy more...
Love this tape. Like the previous reviewer mentioned, it's some chubby tape indeed. I prefer to ride without gloves and I like cushy tape and this stuff fits the bill - and at $6 on Bonktown, you can't go wrong. Bought the black and wrapped my bars to cover the Cutter logo and it looks sharp, really dig the subtle diamond pattern in the tape. I was running some cushy Sram tape on before that I really liked and this stuff is just as good. Only have about a month on the bike with this tape, still looks great, but I don't know how durable it's going to be for the season, but at $6 a pop, I'm not too worried about it. Great tape, great bargain, I'm a fan.
Comfy and stretchy. Like a chubby ballerina.
And, as with chubby ballerinas, there is a downside. But first, the upsides. It's stretchy and very easy to install compared to cork and microfiber tapes. I've never had a bar wrap so quickly and cleanly as I have with this stuff. It's also quite comfortable, and on the thicker, squishier side for road tape. I don't ride with gloves, so I'm a fan there.

Downsides: The fit and finish leaves a bit to be desired. The little "Cutter" logos on the tape (which can be easily covered in the wrap process if you so desire) rub off on your first sweaty ride. The finish tape is a basic greyish strip, if that's your thing, and the endcaps are blank silver plugs - nothing fancy here.

I can't speak to how clean the white stays, as I have the black, but it's a synthetic material and I'd imagine it's easier to keep clean than a white cork tape.
My average speed went up 2.4 mph on my first ride with this tape. Really works!
A photo from my pedal down the coast from Seattle to LA last summer.
Cutter Wrap Artist Bar Tape
Nothing like crisp white bar tape to make your ride look fresh. Super Comfy. Highly Recommended. Sure there is probably better out there, but this is sooooo good for how cheap it is.
Just threw these on the cross bike I'm borrowing and although they will probably get pretty dirty they are really comfy. After one cross race I'm impressed enough to be getting another set for my road bike.
And since i don't like gloves, i like a nice padded bar tape, and since i like a nice padded bar tape, i like this bar tape. It gets the job done, isn't slippery and i haven't had any problems with it coming off or slipping on the bars as yet. The little pieces of tape that come with it for the end of the wrap kind of suck though, so i just used electrical tape which has worked great.