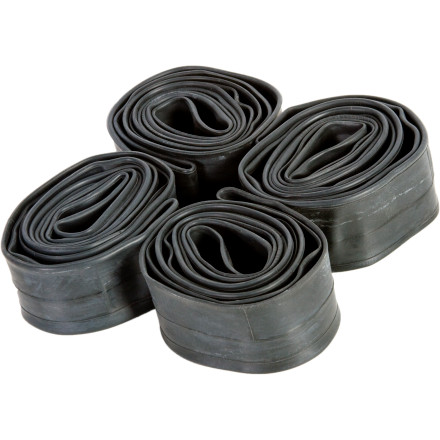 Detail Images
If your tires have a chronic, premature 'make explosion' problem, keep a 4 Pack of Cutter Wide Premium MTB Tubes for back up—you'll always have a rubber ready for long-lasting action. The super-fat 26x2.1-2.5 tubes provide plenty of fill for your DH machine's wide rubbers.
horrible.
Familiarity:

I returned this product before using it
Bought a set. Tested the tubes when I opened them. First one I pumped air into held the air for the night, woke up in the morning and air leaked the tube empty. Not good tubes. Returned them right away. Don't waste your time with these.
I never thought a tube could suck
Familiarity:

I've put it through the wringer
Seriously - I saw a few bag/mediocre reviews but figured for the price it was worth a shot. Still wasn't. They have a removable valve core, why I don't know, that leaks over time. And somehow these tubes flat all the time. Oh well.
Pump it Up
Familiarity:

I've put it through the wringer
These tubes are hit or miss. Some work great. Others blow up when filling them. Can never tell if you are going to get a good or a bad one. Don't take these as a spare on the trail. It isn't worth the risk. I leave them at home and change them out there. That way if it blows up I can just try another. The green valve cap is cool. Maybe worth it if they are on sale and you like to gamble. Personally I wouldn't take them to Vegas.
Very disappointed.
Familiarity:

I've used it once or twice and have initial impressions
I bought some of these tubes not expecting much from them and I was right.

3 of them had holes on them, and all 4 had some nasty residue on the valves.

I contacted competitive cyclist twice and they didn't bother to return any emails.

I will think twice before buying anything from here again.
not to great
Familiarity:

I've put it through the wringer
Only lasted a few weeks of riding then had a blow out for each tube I ran, but for a cheap tube, alright for the short term I guess.
Pretty standard really
Familiarity:

I've put it through the wringer
I have been running these and the heavy duty version of them in my bikes all summer. Each tube weighs in around 229.5 Grams which is not light but for an affordable tube is not bad. So far I have only had 2 flats with these tubes, one pinch flat from a failed attempt at hoping up a 5 stair which also flattened my rim, the other from a goat head after riding through some brush. I cannot complain about these tubes and for the cost they are a great value. I would recommend these to anyone not concerned with weight. If you run a downhill rig I recommend a heavier duty tube. Stem length on this is 5 cm.
Do these tubes have a removable core??
Do these tubes have a removable core??
Yes they do come with removable cores.
they're like cheap insurance
Familiarity:

I've used it several times
These have held up pretty well for as cheap as they are and fit wider tires really well. At the sale price you can even afford to bring some along for when your buddies have a blow out and keep them from ruining your day.
They work but are a bit brittle.
For the price these are great to have a round. Just throw a pack in the back of your car or in your tool box. They are a good quick fix but i have noticed that the seems tend to split and separate after not too many miles.
Great tubs a touch heavier then normal tubes but last 3 times as long just make sure u tighten the removable stems or u will loose air
Is that presta or Schrader?
Is that presta or Schrader?
Best Answer
Presta for your your pumping needs!
They Hold Air
Gender:

Male

Familiarity:

I've put it through the wringer
These tubes work as intended. I have ridden over many miles and some nasty stuff with these and they have held up well and seem to be pretty resistant to flats. I go on a couple rides a week when trials are free of snow around Utah and one 4-pack has lasted me well over a year. Plus at the sale price it's an easy way to stock up and always have spare tubes on hand.
Tubes. Pretty simple. They aren't anything special, but for a 4-pack the sale price is great. Stock up! They fit wider tires well. The lifetime warranty from Cutter doesn't hurt wither.
what are the weights of each of tube?
what are the weights of each of tube?
I have never had an issue with these. I have gone through two sets in the last 1-2 years or so and they do the trick and no faulty ones thus far.
Won't buy these again....
and may not buy another Cutter branded item based on these. They were marked ?Merrick? on the tubes. Are these just repackaged and sold under Cutter branding?

Had trouble with the stem tearing prematurely on one. Another wouldn't hold air more than a few days.
Unanswered Question
what length are the valve stems
what length are the valve stems
Not sure why all the hate
Yeah they go flat sometimes...just like every other tube I've ever used. So why pay more for something thats going to have the same result.
don't touch these with a ten-foot pole, they're total garbage. the stems are so poorly constructed that when you try to unscrew the pump from them the whole stem comes apart! if i didn't have a multitool with pliers on it with me yesterday (to clamp it back down) i would have been totally stranded in the tahoe wilderness. save money elsewhere and buy good tubes, and if you ever meet Mr Cutter, please kick him in the nuts for me.
I used to think tubes were tubes. How could they mess up such a simple product? Why pay $5-10 for premium ones? Well, apparently, the process of making tubes is a delicate process and hasn't been perfected over the centuries by all. Cutter must've picked up a clueless start-up as a source, that or their rejects are being supplied.

I major design flaw is likely the unthreaded valves that don't screw down to be secure against the rim. 2 out of the 4 tubes developed slits right around the base of the valve, which cannot be patched. You can't even use the valves for ghetto tubeless, for when you get sick of flats with tubes, since they can't be tightened down to seal the valve hole. Also, if you inflate it outside of a tire, you will find some sections bulge out in a shape that looks like an muscular arm with big forearms and massive biceps--if that's any way to judge for poor quality, these would be a showcase winner. I think their best use is to simply act as big rubber bands.

To top it all off, these are more expensive than other generics. Don't waste your money. Try Q-tubes for some quality but inexpensive tubes.