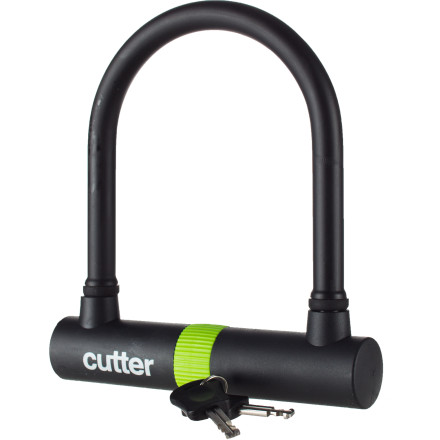 Detail Images
Send an emphatic message to prospective bike thieves with the Cutter U-Lock that your pride and joy is not to be trifled with. Don't let the lock's deceptively portable size fool you; those dirtbags will need more than a bit of elbow grease to best the hardened steel shackle and pick-proof lock mechanism. And when all else fails, hitting them with the lock would also send a pretty clear message, too.

Includes two custom laser-cut keys, in case you manage to lose one
Rotating dust cover keeps the barrel of the lock free of debris
Just terrible.
Familiarity:

I've put it through the wringer
-It's tiny. The costs of this massively outweigh the benefits.

-Has no bent end to the U which allows it to fall if you accidentally let go while locking.

-THE WORST PART is the actual lock portion of the device. It just straight up blows. Even when the U is completely into the lock part and everything seems perfect, it takes at least a solid 3 minutes of jimmying before it seemingly just decides to catch the bolt. Seriously, I've put it through the entire scientific method numerous times and can't crack the case. So frustrating. My conclusion is just that I got a lemon/"it sucks" in online review terms.




Straight shaft
Familiarity:

I've used it several times
Great lock, does what its supposed to. Only gripe is that the ends of the U-shaped piece are straight on both sides, causing the U-piece to drop if you're not holding on to it while unlocking it.
good lock, good price
Familiarity:

I've put it through the wringer
At 70% off it is the best deal on a lock you are like to find. Very well made. never had a problem with it. Refuse to leavevhome without it
Good bike lock
Familiarity:

I've used it several times
Good lock and good price.
The small lock is about half the size of the lock pictured
generous size, nice finish, and weight
lighter than some u-bolts. Key fit is snug. Large is helpful although the small looks neat.
Haven't had my bike stolen yet!
Got the large one, and it gets the job done. Yeah, its heavy, but what do you expect from a u-lock? My only complaint is that you have to be sure that the lock is tight and 100% flush closed when you lock up, or it wont lock all the way. Sounds like a minimal problem, (and I guess it is) but I always feel like its closed when its not so, it throws me off whenever I'm locking up. Solid lock though!
Best deal out there. Get the Large.
Gender:

Male

Familiarity:

I've used it several times
After losing a bike "secured" with a "Brinks" 5/8 cable lock to a scumbag with a simple bolt cutter, I looked at all the iron options. Due to the cost and key designs of a lot of them I was about to go with a 20lb link chain and a giant padlock. Then I found

This deal on the Cutter U Lock. Large allows you to lock your bike and front wheel to a parking meter. Go with it!
Great commuter bike lock
Gender:

Male

Familiarity:

I've put it through the wringer
Very practical/convenient. Bought the smaller sized lock to minimize bulk. I put my shoe (size 8.5) in the picture for size comparison.
No complaints here. Sturdy, easy to use, and I don't see how a bike thief could pick this.

Sucks when you lose your key, though (as I did within a week of purchasing).
Heavy.... Duty?
Gender:

Male

Familiarity:

I've used it once or twice and have initial impressions
I found this in my stocking a week ago. So far it is definitely well built. You can feel the quality when you hold it.



But as said before it is very heavy. You could use it as a club... or a hammer.



So ultralight bikers beware, commuters ( like myself ) its great quality for the price.
What are the dimensions of the large? ...
What are the dimensions of the large?

I'm looking to replace my Trek Streetwise 13mm (4 x 11.5") with something comparable. Also does cutter offer key replacement?



Thanks
Sorry for the late answer ( I received this as a gift for Christmas ) you've probably already made your purchase, hopefully this helps other people.



The large is 5 x 11", fairly close to what you had before.



I'm not sure about the replacement keys, but as pictured it does come with 2.
Feel Safe
Familiarity:

I've used it several times
Yeah, it's heavy! But the weight isn't that bad comparatively. Also the small is very small. I wish I would have gotten the large.
This lock is heavy but it works well. The small size is very small. I didn't measure it but I'd say it was 6 inches. I returned the small for the large and I like it because it feels very secure.
Unanswered Question
Does this come with any kind of mounting...
Does this come with any kind of mounting hardward to attach to my bike?
Not Light
Gender:

Male

Familiarity:

I've put it through the wringer
If you're way into shaving weight and ultralight biking. This is not the lock for you. It's hefty, and would make a great weapon against potential bike thieves as mentioned above.



That said, it does a great job of protecting bikes! It's inexpensive, portable, and easy to take on or off.



If price is more of an issue to you than weight, then get it!



Update: After several months of use, I have to say I really like this lock. It's still heavy as can be, but definitely makes me feel secure.
This is a solid lock at a decent price. At first the lock was just a bit sticky but a bit a graphite resolved the problem. Pick on up and give those bike thieves a curve ball!
Better than the old version
I had the old version of this U-Lock with the circle style key lock and I have to admit I was always a bit uneasy leaving my bike. That circle style of lock is easy to pick to so I'm glad Cutter upgraded to these laser cut keys.

The locking mechanism isn't buttery smooth, I often and have give it a couple tries to turn it all the way. But that may just be because I'm not used to these style of keys and/or the mechanism will break in after a bit more use.
Quality of the lock is good, but the size S/Small is nearly unusable for locking to anything but a narrow-railed bike rack. If you ever find yourself needing to improvise a locking strategy at a crowded rack or less than ideal railing, you'll be glad to have the size Large instead.