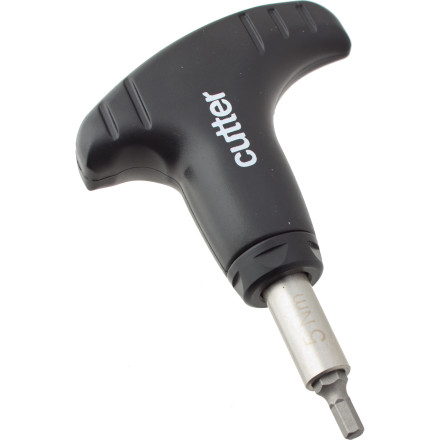 Detail Images
Prevent damage to the sensitive carbon fiber bits on your bike by using the Cutter Torque Wrench when performing regular maintenance. The wrench is preset at 5Nm, which is the most common torque ratio for those tricky carbon fiber clamping points, like seatposts, saddle rails, bars, and stems.
Includes 4, 5, and 6-millimeter magnetized hex tips
Share your thoughts
What do you think of the
Cutter
Torque Wrench - 5Nm
? Share a...
I got the last one...wooohooo
I'd been looking for such a tool, so that I'd not damage any of the fancy bike components (new to carbon bikes) and this tool fits the bill. It does exactly what it's supposed to do; tighten bolts at the recommended torque rating. My LBS uses the Bontrager and I thought of getting that unit, but it only had the one hex head, where this one has 3, but I could find hex heads for cheap though. I probably would've purchased the BR unit if I had not found this one at such a steal of a price; 60 or 70% off, which was dirt cheap and less than the BR.

The first use was to properly torque my seat (carbon seat post to carbon frame) and when it reached 5nm there was a very distinctive click and it did not allow me tighten any further, which is one of the best features of the tool - fool proof. I only wished it had a place to store the other 2 hex heads.

What I like:
1. small enough to store in jersey pockets or seat bag
2. came with 3 hex heads
3. easy to use
4. does what it's suppose to do
5. cost...got a steal

What I don't like: No place to store the other 2 hex heads
Make sure you don't crack your carbon. Inexpensive tool, decent quality. Make sure you don't crack your carbon! Get it right, get it tight!
Super easy to use, works great and is exactly as advertised. I hope next year they come out with other Nm presets even though 5nm is usually fine for 90% of your components.
Good tool. You'll know when you're at 5nm, it's not just a small click. Like the extra bits that come with it.
Takes the mystery out of tightening down your fancy bike bits and the included 4/5/6mm hex heads should be all you need to take care of 90% of the screws on most bikes. As soon as I got it out of the package I re-tensioned all the relevant fancy bits of my bike and the cleats to my carbon-soled road shoes. The wrench works like a charm, fits nicely in hand, and was a great deal off bonktown.

One caveat - I did manage to destroy a set of supposedly 7000 series aluminum screws with this wrench while installing a CF bottle cage. Given the nature of the failure - the heads of each screw simultaneously popped off while I was tightening one down at or near the 5NM limit - I think it has a lot more to do with cheap screws and less with this wrench - so go nuts, just try not to lose sight of common sense (for example, bottle cages don't need to be crazy tight).
its awesome. does what its supposed to. definitely worth the money. fits well in hand. so if you are thinking about getting it i would strongly suggest that you do.