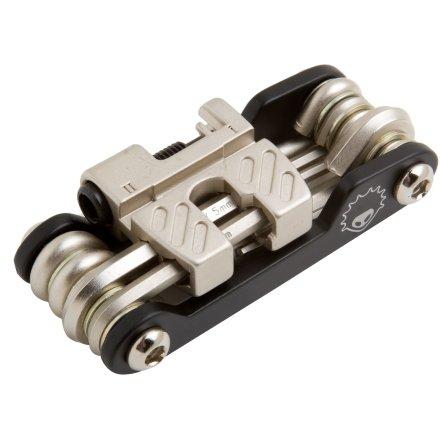 Detail Images
Toss the fix-anything Cutter Shorty Multi-Tool in your messenger pack, load up a spare tube and you're ready for anything from a long Saturday afternoon ride to an all-night bar crawl. The Shorty's chain tool slides on to the allen wrenches for easy storage on the go and the full set of hexes and drivers ensures you're ready for the worst.
This tool does about everything I've needed, and it doesn't show any signs of wear. I've used it for breaking chains, tightening SPD cleats, stems, pedals, seatpost clamps, adjusting derailleurs and brakes, you name it. Even under a lot of force, the tool doesn't show any signs of weakness.



It's not mentioned in the specs, but this tool also has four different spoke wrenches built in.
Nicely made. The right tools included. Good one.
has all the necessary functionality and nothing heavy and extra that you don't want. good profile to fit in a pocket or bag
Almost Perfect: chain tool not for 1/8" chains
This tool has everything I need and is very well built. The one downside is that the chain tool does not work well with 1/8" chains, which is the standard size for track bikes.

With a pin backed out far enough to remove links, the bolt that is supposed to push the pin through will not thread. I have to tap it with a hammer or U-Lock until the pin gets knocked in a bit and then thread the bolt. Unsurprisingly, one day it hit the bolt too hard and it striped the threads from the chain tool. But the rest of the tool has been perfect.
It nice and compact. Compared to my Park Multi Tool, this is better priced and smaller. However, the Park tool is lighter, and more ergonomic. It's simply easier to grip the handle on the Park Tool.
It can do everything but take itself apart.
I was first shocked by how heavy the tool felt. But did some research and it is in fact at the lower end of the scale for tools with similar features.

Haven't had to use it yet but I have no worries: quality appears top notch.
, ☃bcs_badge_alumni_label☃
Multi-tool
This tool has all the attachments I need and I especially like the chain breaker. It saves me from having to carry a separate one. Cutter is great.
everything you could want
Throw this lil guy in your back pocket and you're good to go. I've used it to do repairs at home, and while out on the road. It's a great comprehensive multi tool, and a stellar price. It could use a tire lever and crescent, but hey, you can't have it all. With this multi-tool, you've still got most everything you could want.
Cutter Shorty Travel Multi-Tool
For a modest price this is a great tool, l use this and a much more expensive crank bros multi-tool, and they are equally handy and solid. The allen keys don't loosen up over time as can happen in a cheap tool and the chain tool is usable in an emergency.
Great tool, does it all (almost)
hey guys, this tool is great. short of a cresent wrench and a tire lever, this tool has everything I can think of that you'd need. It is comprehensive enough for a 500 mile tour of the California coast if you are into touring, but small enough to fit in your backpack if you are a commuter. When I go on a sunday morning ride, I even throw it in my back pocket and don't ever notice it. I've used just about all the tools on there, and they all work fine.
I typically refrain from reviewing products but this tool has far exceeded my expectations. I've been using a variety of multitools and most recently have been carrying one of the larger Crank Bros. ones as I need an 8mm Allen for my Fun Bolts on the CK hub. I was drawn to the Cutter tool because it offers the 8mm Allen in a smaller, streamlined package. This multitool manages to improve on the functionality of the CB tool with the spoke wrenches and the chain tool which is a cleverly included separate tool held in place by the 4mm and 5mm Allens. The manufacturing quality is excellent and the ergonomics are superior compared with other multitools I've used. I highly recommend it.
Every thing I need for a long day in the saddle. It is compact, light (compared to others), and tough.