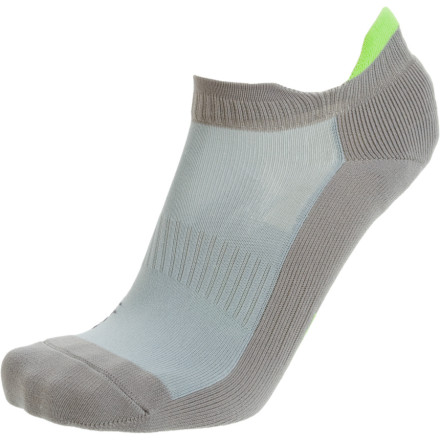 Detail Images
You don't have to worry about coming up short with the Cutter Short Stack Socks. Add a touch of style and a boatload of comfort to your wardrobe with the Short Stack Socks. Featuring a polyester / Spandex blend for moisture wicking goodness and a reinforced heel and toebox for years of wear and abuse, the Short Stack Socks won't come up short—oh, oh, and there are four pairs so you can perform a sock puppet show.
Love these socks. Comfortable. Lightweight. Breathable. Get the job done. Have both grey and black.
Like other reviewers say, these are some good quality socks. They fit low & tight, and are cool in the summer. Just the right amount of padding in the heel & ball to cushion long rides, and they positively do not slip down the Achilles, which happily prevents that annoying hotspot from developing. In the wash, these socks pick up hair & lint like nobody's business, but that's a minor nit...even my beloved merino wool does that. They are "wear 'em & forget 'em"...just as a sock should be
Good socks, but be careful with them.
Bought this 4 pack on sale cause I have been riding to school everyday and I was breaking in my new riding shoes so these helped.

The only issue is that when I put on socks I'm not gentle. I've ripped two brand new sock just from pulling up too hard. None of my other sock do this. I would expect to break a worn out sock(and have..) but not a new one.

Overall worth the sale price, even if they do have an odd looking green back piece on them.
These are my go-to socks for cycling. I have bought the 4-pack on bonktown four times now. They are just that great. The fit is nice as I don't need anything above my ankle covered. They breathe extremely well, and keep my feet nice and dry. I recommend these, and will be sure to pick up another 4-pack on bonktown as you can't beat the price!
These are some great socks. They are super comfy, keep my feet dry, and I don't even notice them when I ride. I've used them for running too, and although they're a bit slippery they work great.

They do pile a bit, which made me think they might wear through, but it seems to be only cosmetic damage.

Got the 4-pack on bonktown, and the sale price makes these socks an unreal deal.
Wore these for a season and loved em! I'm a size 12 and the L/XL fits great. They kept my feet dry in all conditions on all my rides - no swamp foot! Forgot I was wearing em during rides which is how a good piece of equipment should work. I like the low height - they fit beneath my ankles and just above the cuff on my Sidi's.
, ☃bcs_badge_alumni_label☃
Cutter Socks
I bought three packs of these in gray because I liked them so much. I dont just wear them for biking, they are now my every day socks. They are super comfortable and give good support while keeping your feet dry. I would recommend them. I think I might get a pack of the tall boys and try them too.
What's the sizing for these ... S/M? vs....
What's the sizing for these ... S/M? vs. L/XL?
I'm no Dr.....but in my experience, 9.5+ is usually the cut off for L/XL.....I'm burdened with 13's so its pretty easy for me to buy socks.