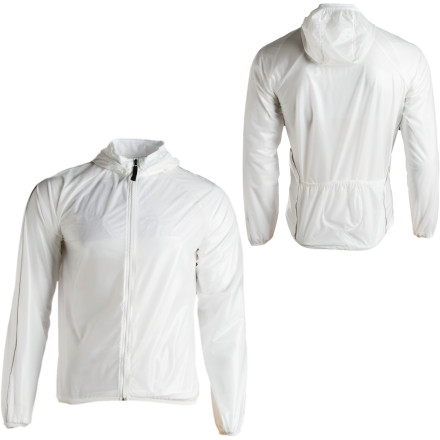 Detail Images
Slide into the Cutter Rain Cutter Jacket and get down to some rain-riding. This super-lightweight waterproof jacket will chase away the rainy day blues with soft, stretchy fabric and enough transparency to show off your team colors.
I was looking for a lightweight and highly visible jacket for my night riding. I thought for the sale price I'd give this a try. It is light, packs down next to nothing and looks good. The only problem is that the back pockets are open/not zippered and are lined with a mesh fabric, so if it rains the water can run down your back and wet you through the mesh lining. So while I don't recommend in heavy rain, it works fine it light rain or mist. I'm mostly fine with this because I didn't really buy it for the waterproofness anyway. A note about the sizing: I usually order up a size in cycling gear because I think it runs small but for this jacket I wish I'd have gotten my 'real' size Medium. I'm 6' and 175 lbs.
I bought this rain jacket, which is awesome...
I bought this rain jacket, which is awesome by the way, Just don't know how to clean it. Anybody have an idea. The tags don't say.
Nikwax tech wash would be a good option.
It's important not to wash it with normal detergent. Use Nikwax or Penguin Performance wash. Only tumble dry low/delicate. Important to wash a couple times a year to clean the membrane of salt deposites from sweat and oil.

Also I cut off the hood and it packs inside out into the middle pocket.
Good in the wind, hence the second star, BUT the back pockets don't zip (elastic) and the inside of the pocket is a mesh liner so any water that runs down your back ultimately ends up in those pockets and therefore on your back! Soaked to the socks twice before I figured it out. Talk about a design fail. Buy one and you too can thank Cutter for designing the perfect rain gutter to the crack of your a**!
I have yet to be rained on but this jacket is sized right, is easy to pack down small and light and has worked great as a breathable wind breaker. Pockets in back are easy to use while on the bike. Reflective material with somewhat transparent fabric means I can wear bright colors underneath and be seen. The hood is large and sits well under my helmet. The hood is not removable but goes unnoticed when not worn. I would buy again.
Does the hood stow in the collar or is it...
Does the hood stow in the collar or is it removable?
Hood is not storable nor removable. I tried running with the hood tucked into the jacket but it would continue to pop out due to the bouncing and the wind. Didn't try it riding mostly because I'm a fair weather rider, all weather runner.
are the seams sealed?does it have any...
are the seams sealed?does it have any vents?Thanks in advance
Unanswered Question
are the seams sealed??
Unanswered Question
Does anyone know what is the breathability...
Does anyone know what is the breathability rating(g/m2/24hr) and the waterproof rating (mm)of the "Cutter Rain Cutter Jacket".Thanks, gary
How does this work in the rain? Does it...
How does this work in the rain? Does it keep you dry from the outside yet breath enough so you get soaked in sweat?
I bought two of these jackets. The tags on them call the fabric Dintex. Dintex is the membrane between the outer layer and fabric lining. It claims to be waterproof, windproof and breathable. I tested it at a snow-fest 1.5 hour bike race last weekend at a temperature of about 32 degrees. This jacket was my outer layer. It snowed the whole time. I stayed dry. Sweat escaped completely and melting snow on the outside did not penetrate the fabric. Pretty good for a very inexpensive jacket. One other thing. My race number could just barely be seen thru the fabric.
If rain is in the forecast
I just got this hoping it would pack well. If you work at it a little it will pack down to the size of a softball in 1 of the 3 rear pockets. As you can see in the picture it does have 3 pockets. The description say it does not have any. It will be a good jacket to pack in a jersey pocket when rain is in the forecast.
how well does this jacket pack down to...
how well does this jacket pack down to stow in a jersey pocket?
Packs to softball size in rear pocket.