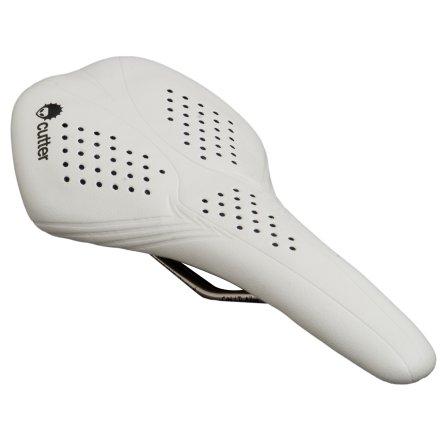 Detail Images

Community Images
The Cutter Racing Saddle supports the most discriminating cyclist's rear with features to continue riding well into the "epic" realm. A low-profile, vented-honeycomb gel makes the journey cush and cool while a soft-leather cover adds some brilliance to your rig. Whether it's for winning crits, or racing yellow lights, the Cutter Racing Saddle has your back.
The most uncomfortable POS I've ever sat on
This saddle would rock for DJ/DH/FR use. Basically, anything where you don't actually have to sit on it. I've never had so much pain right out of the box. I even gave it a second chance with different chamois and it didn't make a difference.
Unanswered Question
Are the rails 7mm?
Really diggin' this saddle on my enduro. Nice look, decent comfort. Probably going to want to choose something a little different for those longer xc rides though.
A little hard for my likings
I rode about 30 Miles on this saddle and knew right away it was gonna be a rough ride. The saddle is reasonably light weight and the shape is not bad but it is HARD. I will be taking this off my XC bike and it will be going on my commuter. Worth the price if you get it off Chainlove. Really looking forward to my new Fizik Gobi on its way.
Rides nice, transformed my bike completely, more padding than it looks, but keep in mind... its hard! Easy to clean. looks good.
I'd give it five stars, but it's a little heavy for a road bike.
I've ridden a few hundred miles on it and it's as good as saddles costing a LOT more.
Bought a second for a back up.
There's really not much too it.. It's ventilated, it's light, it's cheap, it's white, and you sit on it. I just got it recently and although it is a little harder than my old comfy touring seat, it's a lot more compact, so there is less rubage on the legs and other seat-area parts.
good saddle for the price
I have 2 of these for my DH bike. They are light weight and disposible. Its suprisingly comfortable, not that I sit much on this bike. I like the profile of the saddle for pinching between my legs on decents. Can't beat this saddle for the price.
, ☃bcs_badge_alumni_label☃
Best Answer
Dimensions: 285mm (L) x 130mm (W)
This seat has the quality of many higher end seats. Surprisingly comfortable and light. The only thing I don't like is the stupid alien cutter logo. I feel like an 8th grader wearing Jnco jeans, a chain wallet, and an ICP T-Shirt when I ride my bike with this seat.
This isn't the greatest saddle ever, but I think for the money it works great. It has a low side profile, light weight, and a great look. Also, I'm a pretty big cyclist at 215lbs, and I was in the saddle for two hours without cycling shorts on and I must say that the padding felt just right, not too much and not too little. This is even a better buy if you find it on Bonktown or Chainlove.
what are the actual dimensions of this...
what are the actual dimensions of this saddle? i doubt it's 13mm wide...
, ☃bcs_badge_alumni_label☃
The Cutter Racing Saddle is 130mm wide.
Very pleased. I left out a star for only one color way. White is sexy, but i am afraid of the not so clean look after a few miles. Honey comb pattern keeps ya cool though and plenty of "freedom" while spinning.