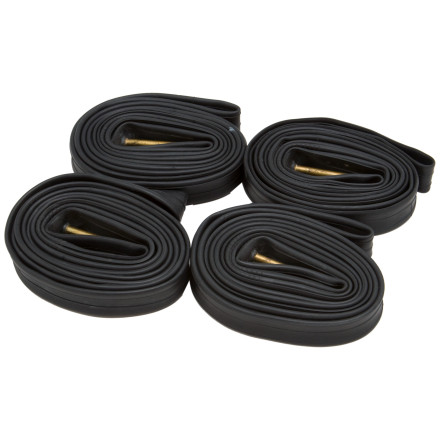 Detail Images

Community Images
Cutter's Premium Road Bike Tubes come in a four-pack because as any long distance or urban rider knows to take only one tube and you'll end up getting two flats -- fate can be vindictive. Although you may not need to carry four tubes at once, having a few on hand may help you avoid Murphy's Law.

These Premium Tube's extra-long Presta valves play nice with your fixed gear's Deep Vs or your road jet's deep dish Zipps. An extra-long valve means you can always come to the rescue when your friends forget a spare on your metric century. The rubber smells like magic right out of the box.

They didn't last past pumping them up
Familiarity:

I gave it as a gift but have feedback to share
I originally purchased these to work with my valve extender (52mm wheel), but after a flat (different tube) and using the extender and finding out its limitations, I immediately determined that I did not want to use extenders going forward, so I sold these tubes to a fellow bike rider. He stated that he lost 2 tubes as he was pumping them up. He stated that there was some problem with the valve stem or something. So, based on his experience, the tubes suck.
Great bang for the buck
Familiarity:

I've used it several times
Can't hurt to have extra tubes on you if you ride regularly. For the value, these tubes are hard to beat. They serve their purpose well and I have not had any issues with them at all.
Tubular
Familiarity:

I've put it through the wringer
These are tubes. Some work as good as any tube I have used. Some blow the seams when pumping them up. Really hit or miss. In case you weren't aware it isn't great to have your spare tube blow up when you are filling it up. I never take these as a spare with me on a ride. I make sure to only replace them at home. The green valve caps are a nice feature, if you are into green.
Complete junk
Familiarity:

I've put it through the wringer
Quality of these are horrible. While the price was right, they continually flat at the seam near the valve stem due to poor quality (5 tubes all with the same flat in the same place). Note, flats were not due to any road debris, but simply poor quality of the product. I had one tube flat on me when pumping it up for the first time when the seam failed.
you can do better
Familiarity:

I've put it through the wringer
these did not hold up - pinch flat if you look at them wrong, they flatted easily at the valve, did not last - horrible product - can't believe CC sold this
Air holders!
Familiarity:

I've put it through the wringer
Cheap and they hold air. Not sure why you'd pay more for "marginal gains" of a lighter tube.
Stems are gold and caps are green. They're dirt cheap and fill my tires with sweet sweet air. What's not to like?
Removable Valve Cores!
Gender:

Male

Familiarity:

I've used it several times
Best bang for your buck in tubes that I've seen in along time. They hold up well and the price is great. I use them with my 58mm Williams Carbon wheels. The removable valve cores make it super easy to add valve extensions. Plus I love the green valve caps!!
Worst tubes ever
Gender:

Male

Familiarity:

I've put it through the wringer
I had a pack of mountain tubes and a pack of road tubes in this brand. None of the 8 tires lasted more than 2 rides. They say on the package that if they suck send them back for a refund. They suck.
You can't beat a deal like this. Perfect to put under the saddle and use in an emergency. If you ask me, tubes are tubes, and these are as cheap as you'll find
good deal...good tubes
Gender:

Male

Familiarity:

I've used it several times
I can't complain about these tubes. They work just fine and are dirt cheap. It's hard to argue with that.
Great Price
Gender:

Male

Familiarity:

I've used it several times
These tubes get the job done and the price is right.
These tubes work great and nice price at $15 for 4. Get them while you can. I ride Continental 4 seasons 25mm and 4000s and they work great.
Very satisfied with this purchase. The price was what I wanted and the tubes allow me to ride my bike. I am stoked on this deal.
Economical Maintenance
Gender:

Male

Familiarity:

I've put it through the wringer
If you only ride as much as I do(3-4 hrs a week), then a tube is a tube whether you pay $10 a tube or $4 a tube. I have had no problems with the Cutter tubes and I have purchased two bundles of them over the last couple of years.
Bought 2 of these packs. Have had ***4*** defective tubes by the valve. Seek other brands!
The stems are not threaded and there isn't a little nut to hold it in place against the rim. It doesn't seem like a problem, I've just never seen a tube like this. The caps are green instead of the usual black, which again doesn't affect performance in any way but just stands out.
Have used 2 of the 4 so far with no problems. I do wish the stem was threaded though.
Based on the other reviews it looks like these tubes can be pretty hit or miss so it wouldn't be a bad idea to inflate them a day before you really need them, just in case.

That said I haven't had any problems with mine. Works great if you want to load up on cheap tubes.
So far they're ok.

I got a flat on one of the tubes trying to install it. This was probably (definitely) my fault, but it points to their fragility just the same.

Other than that, they fill out my tire and seem to roll in a circle.