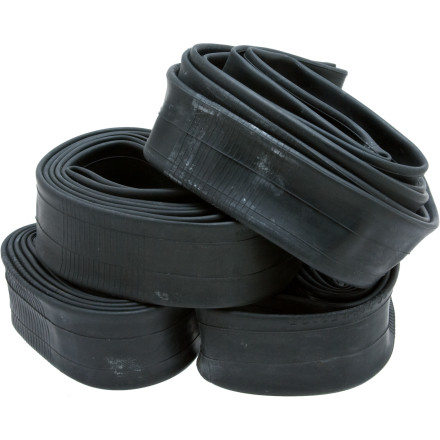 Detail Images
Whether you're rallying the autumn single track or just trying to make it up to campus in time for class, the Cutter Premium MTB Tube 4-Pack sets you up for full success. Lightweight, durable, and 4-times the fun, the Premium MTB Tubes increase your on-trail radness by at least 40%.
Don't buy these!
Gender:

Male

Familiarity:

I've used it once or twice and have initial impressions
The first one didn't hold air for more than 24 hrs. without even riding it. The second one lasted three rides before a slow leak developed. The third one lasted about 30 seconds before completely losing air. The fourth one I threw in the trash. I wouldn't use these again if someone gave me a case for free. But unfortunately sending them back will cost more than I paid for them.
what i needed
Familiarity:

I've used it several times
these are great tubes, perfect for mountain biking! and everyday riding!
Bargain shopping
Familiarity:

I've put it through the wringer
If you are looking for a tube to get you down the trail for cheap then this is the one. These are not the most durable tubes or the lightest tubes but they are a killer deal. So far I have been running 1 of these tubes in my front tire for the last 2 months and not had any problems or flats. I typically ride my bike on the local trails surrounding SLC such as Crest Trail or Shoreline. I also have these as the tubes in my dirt jumper and so far they have held up well and I have not had one pinch flat. Much of that has to do with the rubber I have outside of the tubes, but you don't find tubes this cheap ever so snag some while they are hot!
easy on the wallet
Familiarity:

I gave it as a gift but have feedback to share
These tubes aren't the lightest or the toughest options out there but they're a great middle of the road tube and you can't beat buying a 4 pack for less than the cost of a single tube.
4 tubes for $2.60? That's a no brainer! These have Presta valves with removable cores if you like to add sealant.
are two of them 26x 1.77-2.125 and the...
are two of them 26x 1.77-2.125 and the other two are 26x 2.1-2.6
No. It's a four pack of the same size tubes.

Right now though, we only have the 26x 1.75-2.125 tubes in stock.
Appropriately priced at $1.95
Some hold air... some don't, extremely inconsistent, but at least very cheap
I am not all that technical when it comes to to bike stuff, but I assume these are not the lightest tubes on the block. So, racers will likely pass, but for the average Joe you cannot beat the quality and the price.
I purchased this tubes but how do I put...
I purchased this tubes but how do I put air?
the valve is diferent
These tubes have a Presta valve. If you have a Schader (standard) pump, you'll need an adapter to pump these tubes. See the site below for more information.



http://sheldonbrown.com/brandt/presta-schrader.html
I would buy these again, so I did.
Gender:

Male

Familiarity:

I've used it several times
I like um. They don't lose air. The valve is removeable, so you can slime them easily.
These are Presta Valve, Merrick brand tubes sold as Cutter, made in China.

Not the highest quality, but they do seem to be what you'd put on a real bike rather than something from walmart. The rubber is thinner and so lighter, but not as thin as a lightweight race tube.

If they hold air I don't think you could ask for more given the price. Even at 8.95 these are a deal, even more so if your LBS wants $8-12 per tube.

The other interesting thing is the tubes supposedly have a lifetime warranty. The label says "Lifetime Warranty: If this thing sucks, send it back at any time." Not sure if you get anything back or just get to send it back. Their site is down and the cached version says it's getting a facelift in 2012 and will be back strong.

My guess is they are out of business and the reason for the pricing on the tubes is because they're stock that Realcyclist got stuck with and just wants to get rid of. So the lifetime warranty is probably worthless. Not that it matters, I'd never expect a warranty on something like a tube. If it holds air until something sharp gets stuck in it, and a patch will stick to it, I'm satisfied.
What valve stem is on them?
What valve stem is on them?
Presta 48mm
The link is below in Thomas Ogasawara's previous answer.
Um, Presta or Schrader? Come on, thats...
Um, Presta or Schrader?

Come on, thats the most basic info one needs when buying tubes
Best Answer
Presta: http://www.cutterbike.com/?cat=36&p=187
I have 26 X 1.95 tires, will these tubes...
I have 26 X 1.95 tires, will these tubes fit in them?
Yes. Since 1.95 is between 1.75 and 2.125.
To me, tubes are tubes. I've had good luck with these. It beats getting gouged for $10 a tube at the LBC.
Snag it of ChainLove for even more savings. Mine hold fine i ride a hardtail, primarily XC with the occasional AM ride thrown into the mix. A friend popped a tube, gave her one of mine holding strong to date i believe... Im a bit of a lightweight so that probably helps, bottom line: if you ride clean XC lines and are on a budget get them, other wise look elsewhere
Failed at holding air...before put into tires
I got these on Chainlove and thought it was a good deal. I mean, tubes are tubes, they hold air, they go into tires, that's it, right? I ride tubeless on all my mountain bikes anyway so these are really only for backups.

I discovered, however, at a race when I lent three of these to teammates that all three of them did not hold air; they all had significant splits along seams. In fact, one of my teammates did get a flat that race and had to walk most of the course because the tube didn't hold air. We only discovered the other two didn't hold air when we got back after the race and inspected them; luckily no one actually needed one because they were worthless.

So...three out of four don't hold air right out of the package. That's just unacceptable. Tubes are easy, they should work.
Unanswered Question
Does anyone know the weight of these?
Does anyone know the weight of these?
You' laugh, you'll cry, you'll kiss ten bucks goodbye.....
I should have known with the price, but everything that I've bought from Huck n Roll has been great qualitiy stuff. So, lets just say that two of them didnt even make it out of the garage before failing. I had one of the remaining two in my pack for emergency but Im not trusting them, who wants to change a flat and more than likely not make it to the car much less thru the day. Bye bye tenner........
HISSSSSSSSSSSSSSSSSSSSSSS
That is generally the sound I get from these tubes. Spend some more money and invest in some better quality product.