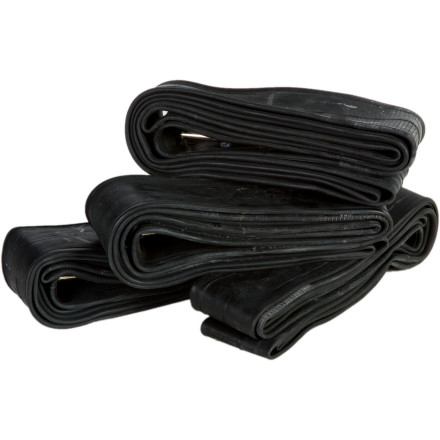 It happens to us occasionally; Bluebird skies, mid-70s temperature, no one is on the trail, and 10 miles into our singletrack fantasy, we get a flat. With two Cutter Premium 29in Mountain Bike Tubes in our repair kit, the crisis is averted and we are back on the trail in a few minutes time.

Keep Cutter Premium 29er MTB Tubes as a backup in case of a downer premature air release. The last thing you want is to be bummin' from the side of trail.

Cutter Premium 29in Mountain Bike Tubes come with a presta valve and removable core. The 29 x 2.3in tube comes in a 4-pack so you can keep to in your repair kit and two in the car.

There is no reason to pay more than you have to for tubes. No matter how conservatively you ride your 29er, if you're putting weekly miles on it you're going to have a flat at one point. 4 for $20 is much easier to eat than $10 a piece. I have run these tubes for the last year and have had no issues with them.
The first one I've used out of the 4-pack works great. No leaks and has proven dependable. I have ridden on it daily for a couple weeks, including downhill mountain biking at Snowbird Resort over some sketchy terrain (loose gravel, big rocks, etc). Can't beat the price. I'm very happy with the purchase.
They have both. Do they leak, like everyone says? Not yet. Will they? Maybe. Can't say for sure. But if they get me (or friends) down the mountain when a tube pops, well I won't ask for much more than that. And I can't imagine them doing less.
Been using these for a few months on my 29ers. They hold air!
You can never have too many spare tubes, and these are solid. Only had to use one so far. It is holding up just fine. After several miles haven't had any problems yet. For the price, you cant beat it.
What length stem do these have. Im looking...
What length stem do these have. Im looking for a long valve(60mm)
These have a long valve in the neighborhood of 2.5 inches or ~60+mm.
Of 4 tubes, 1 lost all the air overnight before the bike ever turned a wheel, 2 have held air for a week & 1 hasn't been used. NOT a good average!
Been using these exclusively for awhile now and have had no problems...long stem will work with any rim.
, ☃bcs_badge_alumni_label☃
4 pack of tubes - for you and all your unprepared friends
the 4 pack just comes in handy. friends can show up unprepared. the presta valve will work on presta or schraeder rims, and the long stem works in any size rim. a 29er tube will fit into a 29er or a 26 inch rim in a pinch. I like these cause i can get the core out, and add a bit of sealant.