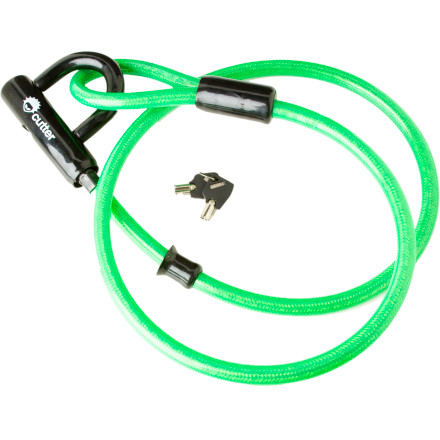 Detail Images
Roll up to the bar, bust out the Cutter Noose 'N' Shackle U-Lock, and lock your bike to the nearest light pole. You roll with quick-release skewers because it makes changing flats a hell of a lot easier, but it opens you up to wheel theft. The Noose 'N' Shackle solves the conundrum with a combination U-lock and cable lock to secure your entire ride without having to carry that tow chain you stole from your dad. The sheathed stainless steel cable resists bolt cutters with the best of them, and the tubular keys fend off the pickers.
this thing is huge
Gender:

Female

Familiarity:

I've used it several times
This lock is huge, so I wouldn't want to take it with my while cycling. But I used it to lock up a bike cart in the back yard, it's great for that. Super heavy duty.

Also, I don't see how this can be opened with a Bic pen , as the key hole isn't even round; it's long and like a slit. It is heavy duty and impossible to open with anything but the key.
Bike stolen with this lock :(
Unfortunately my bike was stolen with this lock. It was locked to a bike rack in the locked basement of my apt building. Major bummer. I live in Brooklyn and with all the bike thieves in NYC it doesn't even seem to be safe to lock your bike up anywhere, including your own apt building! Crazy!
I bought one of these early Spring as the weather started to get better and I could ride again to work. I usually locked my bike up using the cable in and out of the wheels and around the bike stand in front of my office. I thought it was pretty durable and strong but one day after work I came out and the bike and cable were both gone. It couldn't have taken too much effort, as it had happened in daylight roughly before 6pm in front of an office building with a lot of foot traffic and many people around to see.
With my new rides I am only trusting a larger U-lock from now on.
I usually use a U lock ( http://www.hucknroll.com/planet-bike-super-guard-u-lock-standard ) for my bike. But when I'm rollin with a crew out and about I need a bigger lock. I went with this. It's burly, a lot heavier and thicker than I expected. Not something I can roll around my cross bar, now I always throw it in my pack. tubular lock is a pro/con at the same time, if someone knows what they are doing then they'll get it, but that is the case with any lock. Hopefully this deters someone or delays them long enough for us to catch them.
I use this for my mountain bike too, when I need to lock it in the back of my truck. ( I still haven't upgraded to a lockable rack ) I'm using the Yakima Bettyjo rack.
Looks like this lock would probably not pass a BIC pen test. BUYER BEWARE!!!
I like this lock as it look beefer and durable. It's not as flexible as I thought but still a good buy.
Opened with the barrel of a Bic Pen. NO Key required to unlock..
I saw a review that said it failed the bic pen test.. I was hopeful that they had changed the design.. No dice. I received the package and went to my desk for a pen, opened on the first try in 10 seconds.. Filled out the RMA and sending it back..

This is not high security..
Bought this lock to secure my road bike during an upcoming two day event I am participating in. I agree totally with the first reviewer that this is a beefy cable and locking mechanism. I found the cable length satisfactory to secure both rims, and frame to most bike racks. I too, agree that any locking system is just a deterrent and can be defeated with ample time.
The Noose N' Shackle U-Lock is the perfect compromise if you need a heavy duty lock for your bike. To give you a little insight where Im coming from on bike locks I had over a dozen and all types of them. I've had kryptonite's fagettaboutit chains, U-Locks, cable locks, etc. and i find this lock to be about perfect for my needs. Sure it's not at strong as fagettaboutit chains but this isn't a cable lock you would be able to cut with a wimpy pliers either its a thick cable and beefy little U-Lock. Don't let the picture fool you its larger than I had perceived but I was happy about that. I can easily wrap both my wheels and frame up with this combination. Bottom line here is if someone wants to steal your bike bad enough they can and will but they will have to put in a decent effort to get at it with this lock.
Theft Coverage? any coverage if bike is...
Theft Coverage? any coverage if bike is stolen whilst using this lock and cable- doesnt seem like any of the Cutter brand do?
No but the lock is solid.