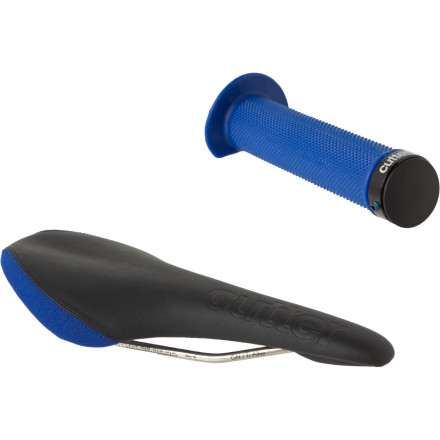 Detail Images
Outfit your dirt machine with the Cutter MTB Saddle Pack, and gleefully rip your local trails a new one. The saddle's super-durable, Kevlar-reinforced side panels resist abrasion from your gnarly bails, and the lightweight titanium alloy rails won't drag your bike like a boat anchor. Also included is a set of low-profile, locking Cutter grips with a tacky dual-density rubber, because what good is a saddle if you can't hang on?
The best deal on Backcountry.
Familiarity:

I've used it several times
I just ordered these last week because I was in desparate need of a seat because my girlfriend drove into a parking garage with my bike on top. I saw the price and I was sold! The grips work very well and the seat is not the most comfortable seat in the world but you really cannot beat this deal.
Great, Comfortable and Cheap
Familiarity:

I've used it several times
I purchased this Cutter saddle/grip combo despite having some reservations about the quality. Picked them up from the warehouse by my house and thought at that price, it wouldn't hurt to give them a try. I got the black/red set which look pretty cool on my black/grey/red bike.



Both were pretty easy to install, and took about 10-15 mins. The saddle was a little rough on my first ride, but then I broke it in and rather enjoy it now! The grip is excellent, even if my hands get sweaty and don't feel like I have to use too much strength to hold on to.
Great Deal!
Familiarity:

I've used it several times
As the previous poster says you just can't beat this deal for the price. Bought as a replacement for my (circa '98) GT Palomar. After purchasing my Kona Hei Hei DL I just wanted to make some inexpensive upgrades to the GT so I could have a 2nd bike. Replaced the cranket (<$30) and bought this seat/grips ($15) to replace the stock seat/grips after replacing a broken twist shifter ($12). Cut the fins off the grips so as not to interfere with the shifters. The results are incredible. I've used both on the road as well as MTB and this seat delivers.
A stellar deal worth repeating
Familiarity:

I've put it through the wringer
At $80 this would be an okay package interesting mostly for the color coordination, but at $16 it's an absolute steal. The grips aren't very cushy but they hold on and hold up well. Saddle choice is very personal, but this one fits my bum better than the one that came on my $2500 cyclocross. I have two sets now and might get a third just for the saddle. Thumbs (& bums) up!
Value!
Familiarity:

I've used it several times
Bought two these to replace saddles on a MTB and Cyclocross bike and replace grips on two MTB's. While the MTB grips are a bit annoying becuase of the fin on the inside end of the grip, they work well and the locking pieces work well. I eventually had to cut the fins off with an exacto knife! It might affect durability, but we'll see.



The saddles are comfortable for most rides, even forest road or shorter road rides if you need them for that. Just make sure you are wearing good shorts if you'll be on the seat for more than 30 miles. The sides don't rub on my legs and it looks good on the bike. All in all, it's an awesome deal if you can take the small tradeoffs!
Awesome for the price...
Familiarity:

I've used it once or twice and have initial impressions
I bought this saddle/grip combo based on reviews here and others I've seen for my Trek 3900, and I've enjoyed it so far. I went on a ride for a few miles and not only was the seat really comfortable and sturdy, but the grips also allowed good handling on the road and stay dry. And for the price, you can't really go wrong.



This was my first purchase from Backcountry, but I'll definitely be coming back. Good prices and knowledgeable/helpful staff!
At the currently sale price of $12 this is a no-brainer. I didn't even need grips so I haven't used those, but they feel great. A nice medium thickness and softness that should be pretty comfy for most hands. The saddle is what I was after. It's a bit longer than average which makes it look kind of funny, but it's a respectable weight (considering the dirt cheap price) and is actually super comfy. I generally ride 10-20 miles at a time on single track and haven't run into any comfort issues with this seat. Can't comment on longevity yet, but for the price if I get half a season out of it I'll be happy. Although it seems plenty burly to last as long as the average saddle. In short, if you're considering this and have any need for a saddle OR grips then get it! It's a crazy deal, and you or a friend are likely to need the other part of the package eventually if not right now.