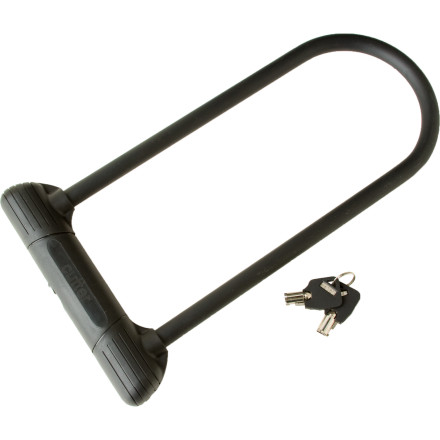 Detail Images
Protect your ride from bike thieves—the lowest people on earth—with the Cutter Master Commuter U-Lock. Stuff the U-Lock in your pack, and forget about walking home from the bar at 2 a.m. Key operation means nobody can get lucky guessing—not to mention one less number for you to forget.
Low-cost commuter lock
Familiarity:

I've put it through the wringer
This lock does a great job for quick commuting around town on an inexpensive bike. Even though it's a U-lock, it's not unbreakable by any means! To see if it's possible, I have gone ahead and opened mine up with a bic pen. That means that anyone familiar with breaking into bike locks should have a pretty easy time nabbing your bike if you're not careful!
Get what you pay for and deal with it
This lock is effective if you don't want to pay much to 'kind of' secure your whip. The way I see it, this is the perfect grocery store lock, not left for a ton of time and only used for your beater bike
Cutter Master Commuter U-Lock
Familiarity:

I've used it several times
$5.00 and a solid lock. Can't be beat.
Nice strong lock
Gender:

Male

Familiarity:

I've used it several times
The Cutter U Lock is a strong piece.When locked I don't think there is going to be a problem with some one trying to pick or pry this lock open.I'm not sure what the gage is on the steel but it is pretty thick.This is not the lightest lock I have come across if weight is your concern.I do feel comfortable when using the Cutter & leaving my bike.For the price this is a great deal.
5 seconds to open with out a key
sturdy construction, but pointless as it takes 5 seconds to open with a bic pen. I've used it for a few months and don't even bother taking a key anymore.
Solid construction with enough metal to make you feel comfortable locking your bike up. I use this lock primarily for commutes downtown and have had little issues with its functionality. The key was troublesome at first, but seemed to improve as use increased. Great price, quality product, more secure than a cable.
Bought a couple of these for me and my kids so that we could ride our bikes more. We live in a pretty low-theft town, so I can't testify to its durability, but it looks pretty solid. It looks like the kind of round lock that can be picked iwth a Bic - wouldn't use it in downtown NYC, but most other places where there are unlocked bikes on the racks it's probably going to be fine.

The lock is well-made and pretty nicely finished. There aren't any real edges on the lock, so it slides in and out of a backpack really easily. There's a slide over the locking mechanism. The slide isn't watertight, but it keeps lint and other gunk from the bottom a bag from getting into the lock mechanism.
Unanswered Question
Just ordered two sets of the long size....
Just ordered two sets of the long size. What's the difference in size/length between the long and regular? Thanks!