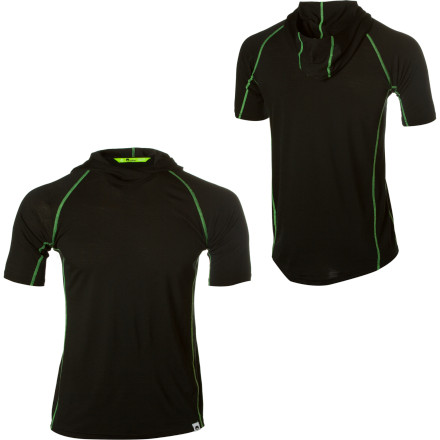 Detail Images
The Cutter's merino wool Hooldum Shirt cuts the shivers out of autumn evenings and rides home from the bar, and the ergonomic hood offers ninja-like protection from the evening chill. Wear this soft-as-butter merino wool shirt underneath your town duds for under the radar warmth, or wear it hood-on under your helmet during long backroad rides through the autumn Technicolor. 17.5-Micron gives the Hoodlum a damn-that's-soft feel, and the flat-locked seams take the bulk out of layering.
I bought this thinking I could wear it over a long-sleeve base layer in the winter. My hope was that it would look casual and feel technical. It fit fine but looked weird. Ninja-like is right, but not in a good way! I returned promptly.
Like all their stuff, this shirt is weird. Why would you want a hood on a short-sleeve shirt?
Also, the lifetime guarantee is B.S. I emailed them three times about another item and still no response.
Does the sizing run on the small side or...
Does the sizing run on the small side or big side or right on?
Best Answer
Sizing is kind of interesting when it comes to this. The best way to describe Cutter so far, is that its an "athletic" fit. Long and slim. So size that according to your body geometry.
first the good- the stitching is seriously hot. the hood is very practical thou a bit flimsy.. it form a great sunshade or morning hood?
my one thought and keep in mind this is great cutter for what it is; but id make a simular shortsleeve model with a pockets? or a pouch? flat fabric of the same type with black stitching instead of the green and stretchy. with a loop inside! ?? for keys..

this packs small and for a backpacker is flashy but i might pack it for a trip. otherwise bars, commuting, running, biking, scooter@nite its perfect.
This is a nice product. It's a very thin, yet relatively warm merino wool layer. The hood is nice.

This definitely is not a European fit, so there is no need to size up. I'm 5'8'' and 170 lbs and am wearing a medium as a base layer should fit.
This shirt is excellent. I'm 6 ft, 225, and I ordered an XL. I'm wearing it now and it feels like a warm comfy wrap, not skin tight like I'm flexing a body suit, nor loose like a normal t-shirt. It feels like I'm wearin' nuthin. I'd wear it as a casual day shirt, or as a base layer on a mild winter day, which is what I am about to do now. I don't think you'll regret buying this shirt.
Super base layer for 30 - 50 degrees
I ordered one of these hooded wool shirts to use as a base layer for cold-weather riding, but I wasn't sure about the sizing. First off, I have a 43" chest and I ordered the Large, which has a 40" chest according to Cutter's unique way of measuring. Spot on for me: form-fitting but not super tight.

On rides when it's in the mid-30s I've worn this under a long-sleeve jersey and a midweight jacket. I start out with the hood up over some earwarmers, and then midway through I might peel back the hood. If it's in the upper-40's you might get by with this and an insulated long-sleeve jersey. It's not super, super warm, but it allows you to layer nicely. And no scratchiness against the skin. I love it and just ordered two more at Bonktown prices.