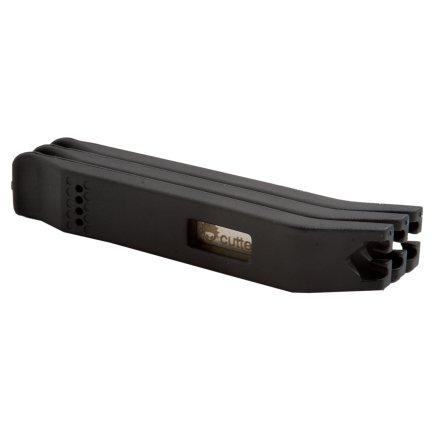 Detail Images

Community Images
Light enough to fly business class in your messenger bag 24-7 and tough enough to lend out to friends, the Cutter Crowbar Tire Levers fit the bill for road-side fixes. The Crowbars' self-linking system keeps singles from going AWOL, and the PU exterior won't rub your tires the wrong way.
GREAT
Familiarity:

I've put it through the wringer
super strong! for prying tiers off.
It gets the tire off alright
Familiarity:

I've used it several times
What else to say?



These are pretty thick levers so you don't have to worry much about snapping them changing your tube.
These levers aren't the smallest or lightest but they also won't fail when you most need them.
They are tire levers with metal guts that don't break and they are cheap! What's not to like? Do it! Do it!
These bad boys are a must have. Say goodbye to swear words when you use these levers. I have broken tire levers in the past but those days are over. These make changing tubes a breeze. They are tough and reliable and recommended for anyone who needs a cost effective yet bombproof tire lever. Buy em!
These appear to be very strong with their steel core, but they are not that light. I have never really paid any attention to the weight of something like a tire lever, but these weigh probably at least twice as much as the blue Park Tools levers, and those are pretty strong too. They're cool, but maybe overkill.
These have worked great for me thus far. Very sturdy and I definitely agree with Vinny and Sunn who have posted below!
Let's be honest, cutter stuff can be hit or miss. In this case though, it's a complete hit. These are the best levers out there. I can't stand flimsy fragile plastic levers so I've been torturing my rims with metal levers the last couple seasons. Then I found these, burly plastic reinforced with metal. They make me and my rims happy. These levers are a cheap way to improve your quality of life, so buy some.
Best levers I've ever used
Gender:

Male

Familiarity:

I've put it through the wringer
Best levers I've used across the years. Extremely durable I have yet to snap one. Will not scratch the hell out of your rim on stubborn tires.
The nice part about these tire levers is that they don't bend over time. Like so many other cheap tire levers out there.
...you will have a flat and need these. they sure dont do much but they definitely are needed for the quick fixes.
I bought these Levers for my husband and he says that they are a great product. They are very durable and are very stiff. They easily fit into the pack as well
Better than the back of a spoon
They're inexpensive and they take off tires!

They seem to work better than the back of a spoon (this is probably to be expected), which is what I think I was using before.

They are a little thick, which can make getting tighter tires off a little tricky. Otherwise, I'm surprised by the build quality. So far I'm pleased.
they help me take my tires off
and put them back on
Just got these AND a new road tubeless set-up. I don't think I've ever owned a set of levers that could hold up to those insanely tight tires. These had no problem. Definitely not the lightest, but who wants useless ultralight levers?
No bending like cheapo plastic levers. No scratching like all metal levers. Any questions? The best.
Pretty damn good actually
great little levers, the only problem is that the metal inside bends, instead of snapping so i guess its better? after though the levers get a little wonky. definitely better than any lever i ever used.
So you buy something that cost 5 or 10 bucks and you think, well if it sucks i'm only out 5 or 10 bucks. Well even if you dont want to be out any money dont worry, the packaging says right on it " If this thing sucks, send it back at any time." Lifetime Warranty baby! These little guys are dirt cheap, but high quality. They are metal wrapped in plastic and feel way strong. If the plastic makes you feel "ify" I would like to have you think of a Glock ( that is a handgun that most state and local law enforcement carry, in case you dont know ). The Glock is half plastic and wicked strong and reliable. These tire levers feel of good quality in much the same manner. And come on, they are 5 bucks!
These little things are handy, but maybe a little too heavy for the pack if you're really concerned about weight.