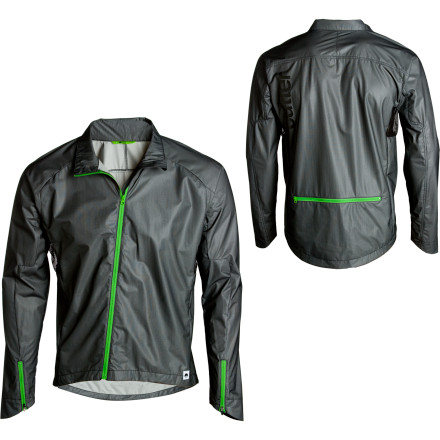 Detail Images
While most religiously check the weather before a ride... and wimp out if there's any indication of a green blob on the Doppler—you just stuff the Cutter Cosine Jacket in the jersey's rear pocket and hop on the ol' two wheeler. Your weather reports are from saddle time, not a hussy television reporter who's employment is solely based on appearance. Thanks to the Cosines water resistance, breathability, and wind-cheating, 3D fit you'll be nice and comfortable if it just happens to start pouring.

3D fit with articulated sleeves provide a wind-cheating, form-fitting fit when in the cycling position
Asysmetrical, zipped cuffs cover the wrists and provide adjustable airflow
Under arm mesh for optimum ventilation
Drop tail for spray coverage
This is a great wind and rain blocker. I wore it on a cycling trip in the wettest summer Belgium has ever(?) had. Wind and rain for 5-6 hours per day! I'd say for the first four hours I was quite dry. After that, it gets a bit overwhelmed, but for its lightness and ease of packing, I've rated it quite highly.
Great lightweight, packable jacket for those rides into the hills that are always colder coming down than going up. I'm 5'6", slightly narrow at the shoulders, and the Small fits very nicely.
This is a very nice jacket for basic wind-blocking on chilly morning rides, like those transition days when you start out in the 40s, but know it'll warm up into the 60s/70s by mid-day. It fills the gap where leg & arm warmers are over-kill, and you want a simple, minimalist, easy-to-stow solution to get you over the hump. Also good for warmer rides that wander into higher elevations with their 20º temp changes. What really shines about the jacket is the construction. Fit is slim & right-on as far as the size chart...no flapping around at speed. The sleeves are cut long for very comfortable positioning on the bike. White is translucent, so you can see your kit underneath. The zipper is at an angle which feels awkward at first, but then you realize you're not getting stabbed in the neck by the zipper when you have it all closed up. Good stuff
This jacket is pretty cool. Its not ment for really cold weather but it does good in wind and light rain. I wear it for almost every ride and it keeps the wind chill off while keeping me warm but also vents really well. It fits great, snug but not tight. Great jacket.
Unanswered Question
Why oh why do you guys refuse to put any...
Why oh why do you guys refuse to put any reflectivity on Cutter rain gear? When it's raining, chances are it's a little darker outside, so any extra visibility helps, you know? I have the Cyclical jacket and it's the same way. A dark brown jacket with no reflectivity. What gives?
Is the whitewall color somewhat transparent??...
Is the whitewall color somewhat transparent?? Hard to tell from the pics.
Yes, the white is translucent. You can see whatever you're wearing underneath