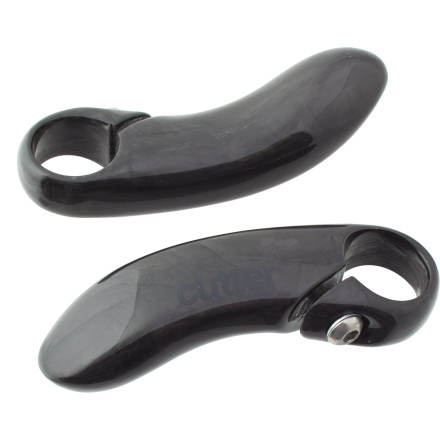 Community Images
Enhance your bike's climbing prowess with the Cutter Carbon MTB Bar Ends 2.0. You'll get better bar leverage, and a stronger platform off of which to launch your last big push to the top.

Bar ends will clamp to a variety of bar diameters
Perfect for Medium Sized Hands
I ride both trail & XC, and recently installed these bar-ends on the latter bike. It's not too long, the curvature/ shape is very comfortable and just right for medium sized hands (I generally wear gloves in Medium). Depending on your gloves, I found this a very secure grip even with full-figured gloves on ascents. Overall, very happy with this product.
These bar ends are comfortable on accents, and look good while killing it down hill. The only problem i've seen, and all carbon fiber bar ends will do it, is that when i set my bike upside down on them they scratch and wear.
Anyone know the weight on these bad boys?...
Anyone know the weight on these bad boys? Or for that matter, the length of them so I don't have to guess off the picture?
Best Answer
length is about 4" according to my office ruler. Weight is approx 1.5 oz. each.