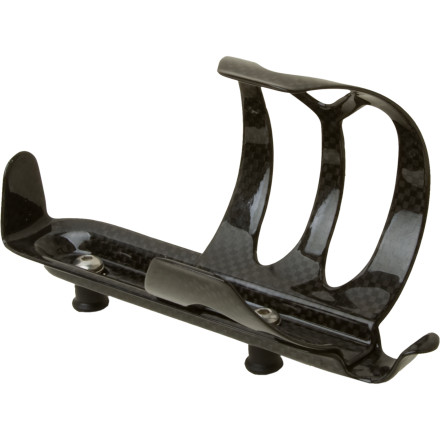 Detail Images
Your water bottle finally gets the deluxe ride it has always deserved inside the Cutter Carbon Cage 2 Bottle Cage. For ultra-light long distance cyclists, weight is everything. Minimize the weight you carry while you maximize your hydration potential with this carbon fiber cage, which fits most regular-sized cycling water bottles.
Share your thoughts
What do you think of the
Cutter
Carbon Cage 2 Bottle Cage
? Share a...
It depends on your bottles
Bottles are not all created equal, some of them are a little skinnier than others. Yes, if you have a skinny bottle this and (several other cages) will eject your bottle. I used this cage on a MTB with a Cleanbottle and had no issues what so ever. This was a rocky course in a race situation so if it was going to eject, this course would of done it. In my experience this cage has been just fine with a proper fitting bottle.
I very tight fit for the bottles. I prefer not to wrestle my bottle in and out of the cage. I returned the product.
Would be ok on a road bike, but like a big red eject button for bottles on a MTB. Bought it because it was cheap, carbon, and I was bored. Not recommeneded for MTB or road, unless you ride alone on smooth pavement all the time!
It looks nice. A little thicker and heaver than most carbon fiber cages. But for the price I am happy and I like that I can pull the bottle out from the side. I use it on the seat tube and have not lost a bottle yet. Maybe only done a couple hundrad miles with it.
This bottle holder looks nice, and its light, but it doesn't hold a bottle worth a damn. I had 6 ejections in 100 miles. A real safety issue on a group ride.
Disappointed -- won't seem to hold bottles consistently
I've bought a bunch of Cutter stuff off RealCyclist and Bonktown and am always impressed -- but these bottle cages really have disappointed me. They look great, priced well -- but the one thing they have to do well they don't -- I've lost 2 bottles now on road rides. Twice now I've reached down to grab my bottle and it's gone -- and it's not like I was riding the pave in Belgium, just regular city roads. But the cages don't seem to hold bottles well enough that they pop out.

And I'd even bought the Cutter bottle so it shouldn't have been a fit issue!!

Maybe it's the side opening that's the drawback. Wish I had the front opening instead maybe.
I got two of these, partially because of the low claimed weight. Actual weights of my two cages with carbon parts only, no screws, were 34.4 and 35.8 grams. This is a 50% percent difference from the claimed weight, and in the wrong direction!

Sent mine back..................