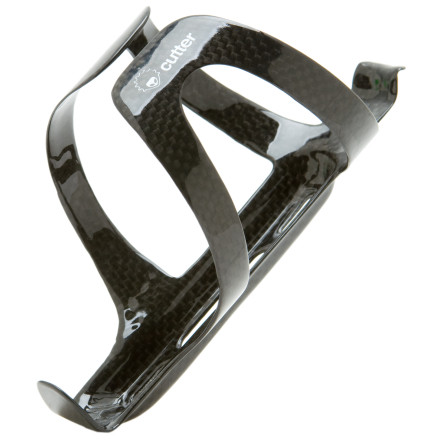 Detail Images

Community Images
Holds the bottles securely. The smooth finish and sloped fingers allow you to insert and remove bottles without a fuss. Mounts easily to the frame. Looks to be a quality product.
Good looking carbon cages
I bought two of these for my new road bike, and I couldn't be happier with them. They are very easy to use while riding, and I haven't lost a bottle yet, even over broken roads (not like the aluminum cages I've used in the past). A little pricey, but they are carbon fiber and only 23 grams each.
Holds water bottle securely over rough roads, easy removeal/reinstall of bottle while riding and looks great.

To make it even sweeter (lower total wieght), buy yourself some "nylon" bolts to hold it it place = much lighter than the hardware that normally secures the bottle cage to the frame.

Go to your local hardware store and purchace 10 X32 (thread pitch) Nylon screws and aluminum washers = cost less than $2,00 to fit two cages. * threads in bike frame are metric, but the #10 X 32 will work fine and not hurt the threads.

Ride safe !!
Why pay $60 for the ZIPP or LOOK logo to be screened on a carbon cage? This carbon cage is light weight and strong. In fact, when I used it on the cobbles in France & Belgium - I felt that it held the water bottle better than my aluminum cage. I wouldn't rule this cage out for XC mountain bikes. Nice touch.
, ☃bcs_badge_alumni_label☃
Perfect Fit.
Real Carbon, Real Light, Real Sweet.
Super light, real delicious carbon (not plastic that looks like carbon,) attaches securely with the included bolts and washers, has just enough tension to hold my water bottle securely without making it hard to replace the waterbottle without looking down.

To be honest, I am juuust bike-nerdy enough to disklike the idea of putting an ugly aluminum bottle cage on my beautiful carbon bike.

I'll probably get another one for the same bike when summer rolls around. BOOSH!