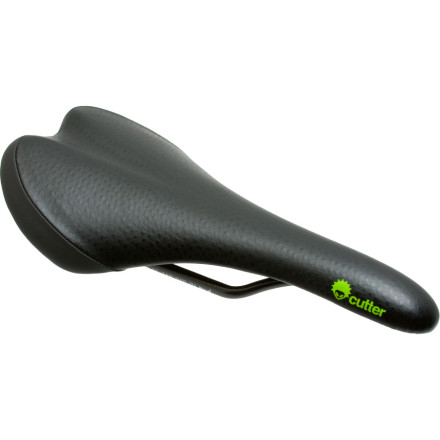 Detail Images
Weighing in on the low end of the scale and dark like its song, the faux-ostrich microfiber Cutter Blackbird Saddle avoids radar detection with carbon rails and ultra-light padding. 159-Grams of lightweight, crotch-cradling awesomeness puts your seasoned, cracking saddle to shame, and the faux-ostrich microfiber material will have all the club-ride ladies swooning.
Low price, low weight, and comfy(ish)
If you're buying this saddle you're not worried about cushioning so you'll be happy to know that it weighted out to 159grams on the nose. All things considered, it's really comfy. I mounted it on a full-suspension mountain bike and have done rides in excess of 5 hours without any concern or discomfort.

Even though I'm worried about the padding for longer rides on my road bike, I'm going to give another one a shot since, at $27.49 it's not exactly a costly roll of the dice.
Great for weight savings, comfort/endurance not so much
I purchased this saddle last year to replace a broken one on a second-hand road bike. I needed something relatively inexpensive (and in a hurry), and was able to get one for a great price at the time. Weight wasn't really a deciding factor.

As others have pointed out, don't expect any sort of comfort from this saddle. I rode mostly 40+ mile training rides on it, and ended up using it for the annual Seattle To Portland road event (~204 miles).

It's a good seat for most occasions, but I don't recommend it for long rides. Docking a star because shorts with padding are a must, unless you have a leather bum. Ergonomics could be a little better as well, even with the minimalist padding built into the saddle.
Superlight on weight, padding too.
Anyone buying a 159gram saddle is concerned about weight over comfort. It was a good price on BT, so I picked one up for the road bike. Weight was spot on on my postage scale.

Just be warned, this thing is minimalist- As in VERY stiff with little padding. My butt is still deciding whether to keep it in service, as I only have about 12 hours on it so far (on the mountain bike). I've had a few minimalist saddles in the past that were sub-200 grams, but none as stiff as this one. It replaced a cushy WTB saddle that weighed in at 310 grams- so saving 150 grams (5+ ounces) is cool. When I put the Cutter saddle on, I had to raise my seat about 1/2" (that's how little padding it has).

Bottom line, if weight weeniness is a priority, check it out. Also worth a look if you have previous experience with minimalist saddles. If you want comfort and squish, avoid this one.
Not bad at all for the price.
For the price its great. Weight was 159 grams as advertised. Its not as sleek looking as the Selle Italia racing saddles especially with that green alien thing. I hope it rubs off quick since it does not match anything on my bike.
Light in weight! ...and in cushioning.
For this price, below $60, I don't think you will find another race saddle this light, with a very slim and sleek profile and carbon rail. I just switched out the stock saddle on my racing bike, and this saddle clocks in at 55% the weight of the old one! So it is great in that sense. But where it is lacking is in creature comfort. They don't seem to have considered padding very thoroughly. The lack of padding and dimension in the nose of the saddle leaves much to be desired, in terms of your nether regions after a long ride. But for what it is, a light racing saddle, it does the job.
Alrighty, so I just took some measurements off of my new Blackbird saddle.

-Saddle Length: 274mm
-Saddle Widest Width: 129mm
-Saddle depth at nose: 19mm

I hope those help!