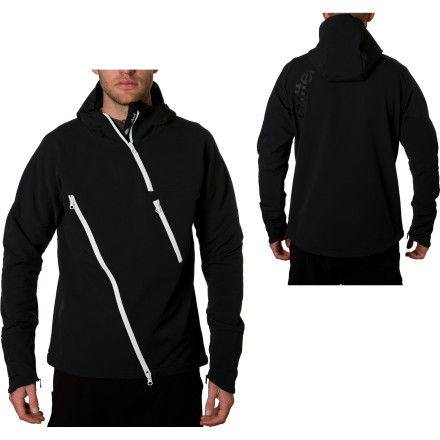 Detail Images

Community Images
Ready for duty anywhere from the bike lane to the bar, the highly-breathable, water-shedding Cutter Men's Asymm Softshell Anorak wants to be the new recruit in your cycling outerwear barrage. Cutter designed this slant-zippered softshell with pedaling in mind—the athletic in-the-saddle-fit creates a silhouette that offers complete protection from the elements while you work on your cadence, your delivery time, or your bar-to-home-while-drunk time. Zippered cuffs offer options depending on the chill-factor on the streets, and the asymmetrical design offers an un-inhibited fit while you're in the crouch. Pull the Asymm's hood up over your head as walk out onto the wet pavement, and thank Cutter for the Asymm's weather-shunning, body-heat-shedding softshell material when your heart rate spikes on your ride home.
Great Jacket, Weird Styling
Familiarity:

I've used it several times

Fit:

True to size
Great jacket for the price I paid. Water beads right off and it has a generous stretch to it. Thumbholes increase this jacket's warmth. The only drawbacks include it not being a pullover and only one pocket.
Nice Jacket
Gender:

Male

Familiarity:

I've put it through the wringer
bought the jacket with the green zip, loved the pics so ordered it, when it arrived i was surprised it wasnt as black as the pics but actually grey, still looked nice, been using it as a running jacket and hiking and even climbing. Its a nice shell when the weather catches you off gaurd.Performs well in donwpours.
Exceeded All Expectations
Gender:

Male

Familiarity:

I've used it several times
I had been searching everywhere for a nice and affordable soft shell I could use for mountain biking. I bought a North Face Apex Android, but returned it due to its heavy weight and baggy fit. I kept searching and found this. The day I got the jacket was the perfect day to test it, cold, windy, and wet. I wore just a t-shirt under it and I was sufficiently warm in about 50 degree wind and rain, and more importantly kept me absolutely dry. The next day I wore it on a 30 mile bike ride, it kept me warm throughout the ride but the double direction zippers allowed me to cool when needed. A few days later I had the jacket with me in the snow. Snow slides right off it, and I stayed warm with just a thermal beneath. Bottom line, its an amazing jacket, warm, very windproof, very water resistant, good looking, functional. Keep in mind the jacket only has one pocket, and the zippers dont move as good as other jackets, the cinch cords on the hood and waist work really well and the slim fit is definitely slim, but thats what I was looking for, it also is fleece lined. Also the picture shows the jacket as black but its dark grey.
Great looking jacket and is very warm. I am 5"9 and about 165 pounds and got the small but had to return because of the tight fit. M is much better.
Minor flaw escaldes to serious issue
Gender:

Male

Familiarity:

I've put it through the wringer
Before I add my thoughts on this product I would just like to say that Backcountry is awesome and their service is exceptional.



Now as for the jacket. I could go on a long-winded rant here but I will just give you the skinny. This jacket arrived last night, it was rainy and 40 degrees...the perfect night to try out this jacket on short bike ride. It was flawless in every sense, I loved it and went much further than expected because I was bone dry and comfortable. At this point I was prepared to write up a 4.5/5 star review on my cycling product review blog...until I got home and couldn't find my keys. Long story short, I was locked out of my apartment, the offices were closed and I didn't bring my phone because of the rain. So why blame this jacket? Well, the only pocket on the entire jacket had a hole in it. To make matters worse, the hole was on the side of the pocket (rather than the bottom), meaning the keys wouldn't have fallen out right away (around my garage) but instead they would have fallen out anywhere along my roughly 15mile bike ride. Since I was locked out of my apartment I re-rode my trip and had no success finding them. Once I returned home and was let inside by my neighbors, I cleaned up and headed out on foot for the first 2-3 miles, then attacked my search in my car for the portion further out. By shear luck I located my keys about 6 miles from home in the middle of an intersection in the dark of night.

I must say I loved this jacket for every second I had it on until I recognized it abandoned my keys (house, garage, mailbox and high-security related work key). Something as simple as a 1 inch hole in the pocket of this jacket nearly forced my employer to re-key their entire building and locked me out of my house.

Maybe this deserves a better review but it ruined my night and gave me a serious scare. I can't bring myself to give this jacket a positive review even though I would be raving about it if not for the key incident.
I'm 5'9", 148lb, 30" waist. Small or...
I'm 5'9", 148lb, 30" waist. Small or medium? Thanks.
Hello, i 'm 5'10" ,weighing at 154 lbs with 30-31" waist, i ordered the medium and it fit perfectly, i know the reply is a bit late but better late than never.
What would be the right size for me? I'm...
What would be the right size for me? I'm 5'8 and i have a 30" waist and a 35" chest. Also, what is the cutter website? I can only find retailing websites.
Hey,

I'd go small for sure.
Unanswered Question
im 6' 3" 170, lanky, med? or large? reviews...
im 6' 3" 170, lanky, med? or large? reviews ive read have been mixed as far as size.
I have had this jacket for about a year and a half. I wear it ten times more than any other jacket in late fall, winter, and early spring in Colorado. I have used it commuting on the bike in all types of weather. I have used it with a Craft thermal baselayer walking around campus in single digit weather. I have gone backpacking with it and climbed 14ers with it. It is the most versatile jacket I have ever owned. I am planning to order another for when this one starts to wear out.

I am 6'1", 158 lbs, and I have a medium that fits great.

From the description on Realcyclist, it's hard to tell what materials this jacket uses. It is like a windproof fleece jacket, except with a thicker shell and thinner fleece than a Mountain Hardware Mountain Tech jacket. It is very durable. Mine has no signs of wear, except I think it has lost some stiffness.

It is DWR (Durable Water Resistance) treated, and when new it will be a champ on wet roads or light rain/mist. DWR "fades" over time because of weather, sunlight, and washing. I had to reapply DWR after about a year and many washes.

The sleeves are awesomely long compared to other non cycling jackets, especially in a riding position. The cuffs are shaped such that they extend over the top of the hand, but not the palm, so it doesn't feel baggy. There are internal thumb loops to keep drafts out of the sleeves. Paired with gloves, everything is nicely sealed in.

The hood has draw strings and is helmet compatible, the waist also has draw strings. The top zipper zips up high to protect your neck. When I am inside, or it is not very cold, I usually have the top zipper completely undone. There is only one pocket, a chest pocket that can hold sunglasses, a phone, or keys, etc.

When riding, drafts will get in because of how much your body moves on the bike. No jacket can keep out all drafts because of this. When the air is too cold, try a skin tight baselayer to mitigate this.
This jacket is really awesome. It's crazy how cheap it is. I was expecting something that looked really cool but wasn't the most practical of garments. I was very wrong. The material is very flexible and the fit is superb (I'm 5'9 I got a med.). I took it for its trial run today at work (courier) in the mid 30's. I could not have been more pleased. At first I was worried about layering but unless it's in the single digits, you wont need more than t-shirt or two. Despite it's warmth, this thing breaths like a champ when your heart rate spikes while spinnin down a hill (I feel like fixed gear'ers are the only people that would get this jacket). The huge front vent is way more effective than pit vents in my opinion plus the zipper is waaayy easier to get to when your actually riding. When the top is fully zipped it covers your neck and chin very well and the diagonal zipper never cause a problem with uneven flaps. I never even noticed it. This thing makes me want to get on my bike in the shittiest of weather. Oh yeah, did I forget to mention that it sheds water like a poncho. I'm sure I'll have to give it a spray (waterproofing) sometime down the road but for now bring on the aqua!
Excellent buy for the money!
Bought this shell specifically for winter and really have been QUITE happy with it, with very few exceptions. Everyone else's reviews have been pretty fair and accurate with regard to size, pros and cons etc etc... the thumb holes in the cuffs are pretty rad for keeping your sleeves from pulling up. Breathes plenty and yet keeps you warm with the right layering system underneath. The arms ARE a bit snug, but not so much that it's uncomfortable. The asymmetrical zip system works nice as well.... I figured that zipping from the bottom to the top BEFORE taking it off and then putting it ON that way really helps the process :) I think pit zips would really be the only other feature that would be helpful (and slightly better waterproof material -- but hey, it doesn't rain in the winter!)

Overall great jacket!!!
It is more of a utility jacket, nothing fancy or stylish. The material is dense and heavy. My husband normally wears M, but this size M is too wide for him, though length is good. He is 6' 140lb. So we had to return it.
Got this jacket based on the good reviews. As far as the fit goes it bunches up in the chest area a little, but other than that fit is snug, but loose enough to be relaxed. I'm 6'5" and 210 and the large fits perfect. sizing is right on. This jacket keeps me warm on 6 mile commutes to school and back on 40 deg. portland mornings. One morning is was dumping rain like crazy, and I decided to test the waterproofing on the jacket. for the first mile the rain beaded up on the jacket, and I was impressed, but starting mile 3, the beading stopped, and it started to soak through. by the time I got to school my arms were a little wet, but for only having a t-shirt underneath this jacket, it really held up better than I expected. I was even wearing rain pants, and my crotch was wet. So This jacket is perfect for light rain repelancy, and cold days riding with moderate excersion. Pricing is good for the value you get, and the hood is thin enough to fit under your helmet so you don't have to wear a hat.
I have to say that this jacket does an amazing job at keeping me warm. I used it a few times in the cold fall here in Bend, OR on the trail. Temps varied between the 20's to 40's. Then last week I wore it while splitboarding and it was pre-dawn, snowing and windy, in the teens and I wore a underarmour and a midweight shirt underneath. I was sweating while touring. I definitely won't need more than that jacket for anything. This jacket is high quality gear at an affordable price.
This jacket is amazing for cold weather rides. The zip functionality is convenient and the sleeves and hood are perfect for adjust to change in body temp. I ordered a size too small but I almost dont want to send it back for exchange because even thought its a bit snug, it feels amazing and does a great job protecting from the elements
This jacket is amazing for cold weather rides. The zip functionality is convenient and the sleeves and hood are perfect for adjust to change in body temp. I ordered a size too small but I almost dont want to send it back for exchange because even thought its a bit snug, it feels amazing and does a great job protecting from the elements
Cool jacket.... Questionable practicality...
Good jacket.... I bought it to commute to school with. Its comfortable, and warm, but it is a little frustrating having to pull it over my head. I get into class late, and have to leave it on so as to not make a scene in the class. The other thing is, there is only one chest pocket. The hand sleeve things are great, and the hood is awesome. Really, its an awesome jacket if you can get over the weird parts... Got plenty of compliments. Also, I am 6'2" 200 lbs, and the large was a little small.
I'm 5'8" and 170 lbs, do I get a small or...
I'm 5'8" and 170 lbs, do I get a small or a medium? thanks.
get a medium. better to be a little big than too small.
Good looks, good features
I liked this softshell because of its looks. So far wore it a couple of times and it is an eye catcher and makes an impression.

I haven't used it for riding but has some interesting features and details such as sleeves that can cover your knuckles and inner elastic sleeves.