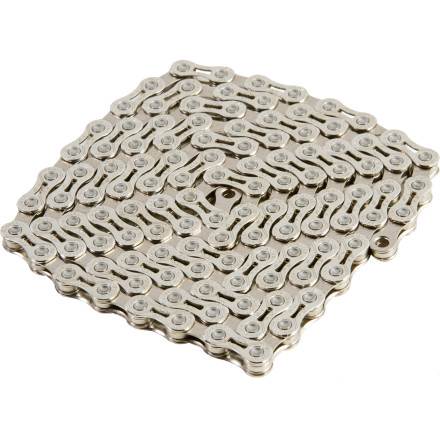 Thread the Cutter 10 Speed Chain over your cassette and through your derailleurs, and forget about it for a season. It won't mind. This Cutter chain is made with nickel plated steel, and features a PTFE coating to keep you spinning fast. Its super-light 273 gram weight beats other ten-speed chains by over thirty grams –a no brainer decision for the gram conscious.
Unanswered Question
Is this compatible with SRAM 10spd MTB or...
Is this compatible with SRAM 10spd MTB or SRAM 10spd road drive trains?
Cheap, shifts, works, I'm happy.
I've had it on for about 500 miles or so and for $20, works just as well as higher price chains I've used. Haven't had rust issues, or poor shifting either. I would toss the quick link it comes with and throw on a KMC to make taking the chain off much easier. Besides the bad kidney shaped link thing, good chain. (Especially for the price)
I'd have to respectfully disagree with the other review...I've been running both the Cutter 9 and 10 speed chains on my bikes and have had nothing but good luck with them. Both are on mountain bikes and so they've been taking a lot of abuse and neither have rusted out or stopped shifting well or broken. And I'm a big guy who knows a little something about breaking chains. I definitely recommend.
This chain looks pretty good and runs quiet, it's got that going for it. I thought I found a nice non-name brand chain that I could use on my commuter (full Ultegra build) for the long haul.
I used this chain in the wet Northwest for about two months (it was actually only ridden about 5 times in the rain). It stretched beyond 1/16th of an inch well before the 1000 mile mark. It rusted every time it got wet.
The chain comes with a non-removable master link that is asymmetrical (kidney bean shaped). Directions say to make sure the link curves "inward". That made sense. While it made installation super easy, the link caused the rear gears to skip a lot as the link flipped through the derailleur pulleys. Not all the time, but enough to get annoying.
Less than two months; under a 1000 miles; skipping gears for $45 MSRP. Even if you get it on sale, is it worth it for you?
Do you suggest lubing this chain before...
Do you suggest lubing this chain before the first ride or is the factory lube (and fancy PTFE coating) sufficient to start with? The general comments on the internets seem to be at odds about this topic.
I don't have history with this chain but in my experience the lube that comes on the chain from the factory is very sticky and thick and intended primarily to avoid any corrosion. I don't mind this type of lube on a commuter or beater bike but on my main bike I always degrease the chain and lube with whatever race lube I am using at the time.
Leave the factory lube on until it loses its effectiveness (usually around 500km), then degrease with a rag and put on your normal lube. Degreasing a new chain is a bad idea as it removes all the grease from the internal surfaces of the chain which is where most wear occurs.