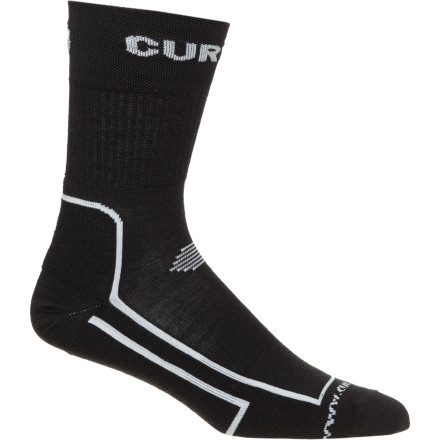 Detail Images
While you may have a drawer full of cycling-specific socks, chances are good that they're designed for warm weather riding. So what to do when the weather turns foul? You'll need something like these Curve Boulder Pro 2 Socks.
They're designed to offer more warmth and comfort for cold days on the bike that may otherwise be an exercise in managing your discomfort. Towards the goal of making your winter riding a better experience, Curve uses SST Wool, a merino wool/polypropylene blend, to knit these socks into a shape that conforms perfectly to your feet. They also knit them as right- and left-specific to minimize wrinkling inside your shoe or a too-squeezed-in-the-wrong-spots feeling as you ride.
The Boulder Pro 2 Socks also have strategically-placed padding to manage the spots that are often the most prone to hot spots for cyclists -- the ball of the foot and the Achilles area. The toes and heels are also reinforced so that they'll last longer against the constant abrasion as your feet move in the shoes as you ride. Curve includes Lycra to give them a stretch that helps them stay comfortably in place as you ride.
The Curve Boulder Pro 2 Socks are Black with White logos and are available in Small, Medium, and Large. The rib knit cuff is 14cm tall.