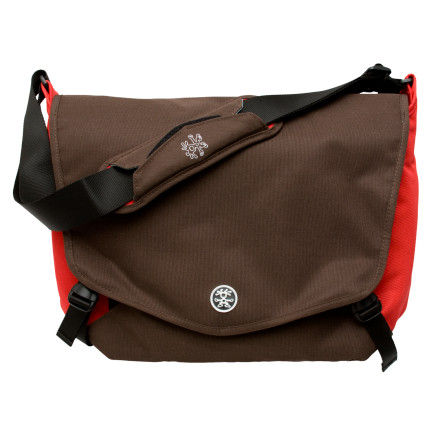 Detail Images

Community Images
No longer must I carry my 15" laptop in a duffel bag. This laptop bag has compartments for everything with multiple options on how to stow your gear. It easily holds three large size books with a laptop, power supply and mouse, and there is still room for a few other odds & ends. The padded laptop compartment keeps my small investment safe from bumps while the top flap secures nicely and covers everything up. The padded shoulder strap feels comfortable, even with the bag fully loaded, and does not cut into my neck on short jaunts. Very happy with the product.
I purchased this bag as a gift, so I can't really give an opinion on how the bag is. However, I have purchased other Crumpler bags before and love them. I did inspect the bag before gift wrapping it and was impressed over the amount of pockets it provides. The person that I gave this too, is still using it and I haven't heard any complaints yet.
A good bag,..could be better for the price
Don't get me wrong. I really like the bag and am convinced this is one of the best bags I could have purchased for my 15.4" lenovo. It fits very snuggly in the compartment and there's LOTS of extra space to carry other goodies, e.g. paperwork, newspapers, mp3 player, the whole-nine. You can tell by inspecting the bag that it is very well made with quality materials and won't fall apart anytime soon.

Anyway, my qualms with the bag are in two specific areas. I don't feel like there is enough padding on the rear side of the bag that's hitting your leg all the time as you walk. The other qualm, I wish, wish, wish there was a quick grab handle on the top. I underestimated the convenience of having one when I bought the bag.

All-in-All a great bag. Crumpler lives up to the reputation.
I loved this bag; it fits my macbook perfectly as well as my giant law books. However, it's horrible to carry around fully loaded because of its design. My back and shoulder pain has become so ridiculous that I've finally ordered a shoulder backpack and am returning the dreadful embarrassment. So, if you want a funky bag in a great color and don't plan on loading it with anything heavier than a laptop and maybe one book, get this bag. However, if you plan on maximizing its full capacity, stick to a regular backpack and save yourself the pain!