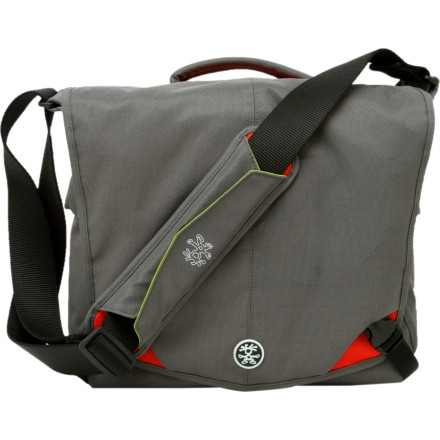 Detail Images
Share your thoughts
What do you think of the
Crumpler
8 Million Dollar Home Camera Bag - 1098cu in
? Share a...
This bag is bombproof, truly. here are the Pros and Cons as I see them.
Pros
1. the bag is built indestructible, and comes with a lifetime warranty- i throw it in my rig pretty much wherever I go 2. It holds quite a bit of kit (see cons below) 3. the bag is stylish, and comfortable to wear- it doesn't look like a camera bag, which is awesome for security as thieves won't be eyeing it thinking it's a camera bag (your girlfriend, if she's a stinker like mine, will call it a murse though...)
Cons
1. this bag is not as big as you'd expect for the cash you're throwing down! 2. it could use some smaller zippered pockets. some of the smaller camera kit gets lost in the zippered pocket inside the flap 3. tripod straps on the underside would be nice, like their brazillion dollar bag from Crumpler, but you can make your own and attach it to the side loops if necessary 4. my bag's flap was missewn, so the webbing portion connecting to the flap is askew, and shows when closed. not a big deal, but for the money they're asking it should be perfect

This bag is pretty neat, just small quibbles with it overall. I've got a lot of my stuff inside the bag, and it leaves me room for sunglasses case, book, etc when I'm carrying it on a plane. the bag does fit underneath the seat in front of you on a plane. I have the grey/red as pictured, with a green interior, and it's tasteful looking, yet easy to see stuff inside the bag.
I threw it a four-star because it's more expensive than it should be given what you're getting, but it is a sick bag.