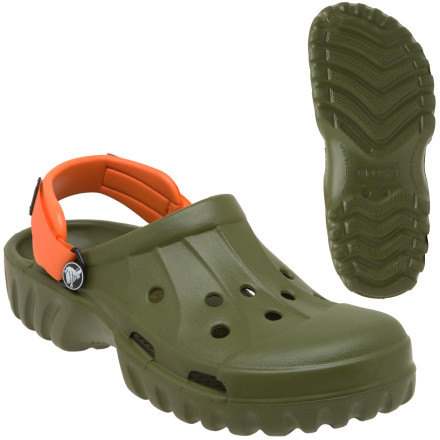 Detail Images
The final decision..Off Road or Cayman CROCS
If you read my reviews of the CROCS OFF ROAD and CAYMAN clogs you know that I was testing both to see which I liked best. At Last after a lot of wear and comparison the verdict is in.....IF YOU BUY ONLY ONE PAIR OF CROCS...BUY THE
"OFF ROAD"!!! I now have three pairs of OFF ROAD CROCS. My original pair impressed me so much that I asked Santa for 2-pairs for Christmas!!! When you read in the other reviews that they are better than barefoot beleive it!!! I used to look forward to taking my work shoes off when I got home. Now I look forward to taking off my shoes and putting on my Crocs! I truely beleive that the Crocs Off Road is one more proof that GOD loves us and wants us to be happy!!! And you can't get them from nicer folks than those at this site!!!
Ordered the Off Road Crocs for my husband. He loves them. His original pair mysteriously disappeared when our son left for school. He loves them and obviously my son does too. Hard to find the XXL in retail stores. You had them. I bought them. End of story. Price was right, delivery was swift. Thanks again.
I can't say enough about how great these shoes are. Really comfortable, wear anywhere (except to work), wear with or without socks, almost all year round (don't know about deep snow!... might have to pick something else.) I got a great neutral color (brown) and recommend these to everyone.
IT IS An EXTREMELY GOOD EXPERIENCE, TOO MANY COMFORTABLE, SMOOTH Ones And ERGONOMICOS, I RECOMMEND BY ITS GREAT QUALITY And SATISFACTION When USING THEM!
Light, Comfortable, but Don't Take the 'Off Road' Title too Seriously
Crocs are some of the lightest and most comfortable shoes on the market. They are also sturdy, and they hold up well. But be cautious of the marketing campaign that labeled these "off road" crocs. I decided to take the phrase literally and used them over Labor Day Weekend in Yosemite. As hiking shoes they have 2 distinct negatives. 1. You will get very dirty on a dusty trail. 2. Rocks get into the boot easily. So buy and enjoy, but get more traditional boots for serious hiking.
Cool back up shoes for adventure racers. Be sure to wear them in for a couple of weeks. I wore mine during a couple of the 40km running stages in the Gobi and Atacama deserts whilst my Montrails dried out and they were GREAT! On the really long stretches its advisable to wear socks - looks odd but prevents the shoe from rubbing your skin off. 10 out of 10.
If GOD wears shoes he wears Croc's Off Road!
As you read in my review of the Croc's Cayman's I am still trying to decide Between Off Road and Cayman. I won't give either one up but if I am going to be walking all day I'm going to wear the Off Road. Totally stable and as comfortable as a cloud. Also if you are cursed with one foot that is bigger than the other like I am. A little warming with a hair dryer will allow you to custom fit your Crocs to your trouble foot in no time. After wearing them through 3 county fairs I can truly say the only way you'll get my Off Road's is how you will get my guns...BULLETS FIRST!!! I really mean it when I say...If GOD wears shoes HE wears Croc's Off Road!!!
Husband loves these shoes!
I bought these for my husband for Father's Day. He really like this style of croc. It is just more durable, more traction and suits his style. Uses them to work around the house and is really happy with them.
Off Road Clog - FANTASTIC!
These were a TOTAL impulse buy at checkout time. Been wanting some Crocs but never really liked any I'd seen. This style was unique so I bit. AMAZINGLY comfortable, versatile - I normally wear Keens, but will start wearing these instead (although more casual). Great to hook on your pack and wear at night around the campfire while relaxing...
Just like Crocs, only more so
They are a bit on the clunky side but they have all the comfort of regular Crocs and are able to take more punishment.
well, they're lightweight and easy on the sole, but that's where it ends. They don't fit my foot right because of their stylish design: they are angled drastically at the front so that when worn with the strap, your big toe is forced to the top while your pinkie presses up against the plantar side of the toe-box (plantar= furthest from center of body on the foot). This makes the entire foot rotate away from the big toe--clockwise for the right foot--causing further rubbing along the inside of the foot. I got blisters from the hinge-buttons.
On top of this, the foam irritates the tops of my hairy feet when I sweat.
Finally, I rode to school and found that one of the plastic strap-buttons has broken out! A forty-dollar sandal should not have plastic parts, let alone pieces less than 1/16 inch in diameter! I'm still thinking of a way to fix them, only to have the option of wearing them in the water, which I still haven't done, but meanwhile I'm happier with flip-flops. Plus, now I can get that healthy sandal-tan I've been looking forward to!
DON'T BUY THESE UNLESS YOU'RE FOOT-HAIRLESS AND SPEND MOST OF YOU TIME ON THE COUCH!!!
These are the best camp shoe ever! A rainy weekend in Moab put them to the test. They also worked great in Fruita with nice weather. Easy slip on/off makes in and out of the tent a breeze.
Hola soy de Costa Rica, compre mis Crocs Off-Road aproximadamente hace un mes y son amazing!!
Las puedo andar puestas todo el día y me encantan.
Son muy cómodas, prácticas y super confortables.
Las recomiendo a todo el que se quiera sentir free!!
I got one pair for my boyfriend and the back strap broke off less than a day later (through normal wear), then I sent them back and got a second pair and the same thing happened. After two pairs breaking I dont think it is coincidence.
Most comfortable shoes and they don't slide or twist when walking on hill sides. I just love the adjustable heel strap.
I couldn't get my husband to try the Crocs until I found this very "manly" pair. I have a regular pair of Crocs which I love so I figured what the heck! And I am glad I did.. He has worn them several times and was surprised with several people commenting on them at Sea World. Great Value. Save your legs and feet from being tires, buy Crocs you won't be disappointed.
i will be honest. i am stoked on my gear dude. for real. um, the croc offroads are rad. and extremely comfortable. they are the real deal. i absolutely love them. the comfort level is waaay up there plus killer colors and back country sent it fast and was easy to work with. fantastic experience.
I've wanted a pair of crocs for a while, so when I found the cash, I spent the little extra to get the 4x4's, and it was worth it. I use em mostly for the hot springs by my house, and they climb the steep and icy without a hitch. Now, I just want to get a pair of street crocs to save these ones for the off-road!
Last summer, I did a triathalon in Montrose, CO. Some guy passed me on the run in crocs! I couldn't belive it, but now I can. So comfortable, supportive and light!