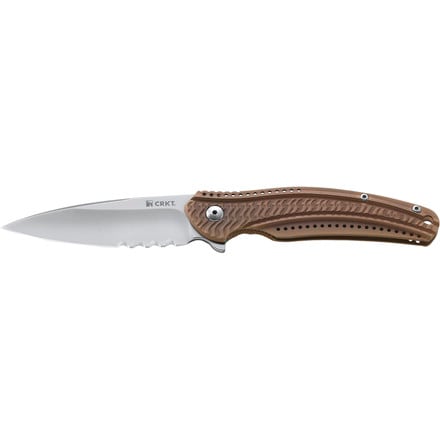 Whether you need a good, solid, lightweight knife for work or camping, count on the CRKT Onion Ripple Titanium Nitride Knife to stand up to life's daily abuse. Thanks to its Acuto+ stainless steel alloy materials, this Ken Onion-designed folding knife with a combination blade has no problem dealing with the workload of a mechanic, carpenter, or avid outdoorsperson.
Acuto+ stainless steel alloy is known for its high chromium and molybdenum content and hardness of 59-60 HRC that offers a blade with increased hardness, toughness, tensile strength, and wear and abrasion resistance
Combo blade features a Razor-Sharp edge and Triple-Point serrated cutting edge for improved versatility
A hand-buffed black titanium nitride coating on the handle gives it a worn look that lightly reveals the underlying stainless steel on the high points
Grip is CNC machined with a complex "ripple" textured pattern with 44 small lightening holes for superb grip and function
IKBS ball-bearing system consists of eight uncaged ball bearings on each side of the blade pivot that enables the Ripple to open and close virtually free of friction for incredible smoothness and ease of use
System requires little maintenance, provides durability, and yields a folder with great rigidity and no blade play
System also adjusts at the blade pivot screw if ever needed
Frame-lock open-build knife design with stainless steel frames for ease of use
Frame-lock doesn't create an unsightly gap in the right frame, while its cut is neatly integrated into the grip design of the frame
Stainless steel mirror-polished pocket clip is high mounted and has small CNC-drilled holes for lighter weight
Share your thoughts
What do you think of the
CRKT
Onion Ripple Titanium Nitride - Knife
? Share a...
Posted on
Chyeahhh, brah!
Opens beer, cuts rope, slices fruit, get's the people going. Lightweight for backpacking, very slim EDC, sexy enough for your lady friends. Imagine that a honey badger and Steve Jobs had a baby, while at the same time Jude Law and Willie Nelson got together and popped out a kid. Then, by some miracle, these two babies got together and f*cked.... you might have the Onion Ripple. This thing is elegant and refined, but doesn't give a sh*t. It's rugged and handsom, but knows how to Fu%&ing party.
10/10 would buy again.
Also, Drew Kirsch, you little hipster, hows Arcade Fire treating ya?