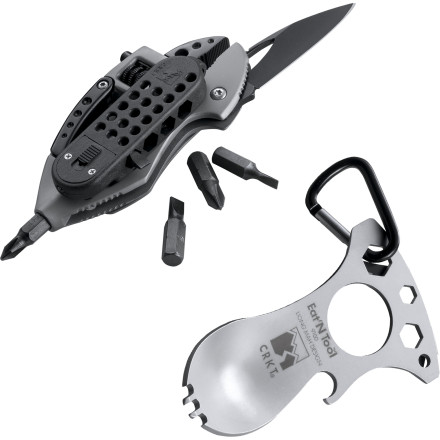 Community Images
The CRKT Guppie and Eat'N Tool Combo Pack gives you a multi-tool for daily tasks in one hand and a spork-style eating tool in the other. CRKT made both tools strong, lightweight, and versatile enough to handle anything your office life or backcountry travels throw at you.
Lightweight but durable aluminum carabiner chassis makes it easy to attach this tool to clothes or gear (not weight-bearing)
Folding, drop-point stainless steel blade has a tough finish that resists dulling
Removable bit carrier unit has 2 flat-head and 2 Phillips bits, and the end of the bit carrier has a bright LED light on it
Bit driver has a magnetic detent that accepts one of the four included screwdriver bits
Adjustable wrench slides to a maximum opening of 0.5-inches and opens and closes with thumbscrew adjustment
Eat'N tool is made of strong, lightweight 2CR13 aluminum and has a screwdriver extension, a bottle opener, and drive metric wrenches
Love this gadget combo
Gender:

Male

Familiarity:

I've used it several times
Thank you to Backcountry.com and CRKT for hand-selecting me to review this piece of gear for the benefit of the backcountry.com community.



I guess you could say I'm a gadget fiend. I love how innovation and utility can come together to offer solutions to whatever difficulties we encounter at various points in our lives. Sometimes they're frivolous and sometimes they're life saving, but they're always cool to the nerd with MacGyver-like delusions of grandeur.



So you could imagine my excitement when this combo package of gadget-y goodness arrived in the mail. Packed in one diminutive box was the CRKT Guppie and Eat'N Tool. A funky, anthropomorphized multi tool and a minimalist backpacker's barebones utility-tensil (I just made that word up on the fly, I'm really proud of myself). Let's take a closer look at each:



The Guppie may be one of the weirdest incarnations of a multi-tool that I've seen. That being said, It's thoughtfully designed and kind of lovable in its own way. The tool is comprised of two pieces: The main component features a crescent wrench, carabiner, bottle opener, knife, belt clip, and magnetic hex hole that accepts standard screwdriver bits. The second component attaches to the main component with a magnet and acts as both a holder for 4 screwdriver bits and a small yet bright LED light. What you end up with is a really versatile tool that is packed with a variety of really sensible functions that are actually useable.



(review continued in comment section)
Pretty cool tools
Familiarity:

I've used it several times
The Guppie and eatin tool are pretty sweet.. I got them for my birthday.. the Guppie has found a home in my desk drawer. the bottle opening won't get used much, but i'm sure my class of sixth grades will create a use for all of the other applications! I really like that it has the adjustable wrench. I doubt i would ever rely on the guppie in the back country, but it is pretty sweet to have around.

The eating tool is quite compact. If you're into saving weight, it is definitely for you, but personally, i'll carry an extra few ounces for full size eating utensils!