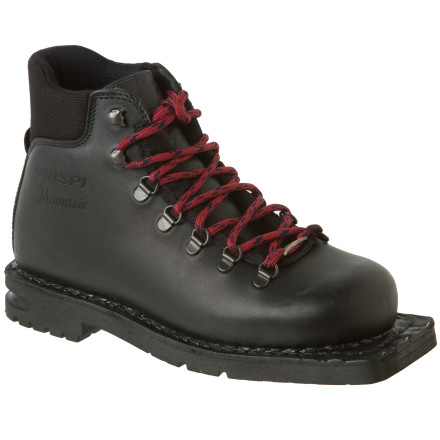 Detail Images
Whether you're a nostalgic pin-head, or a fledgling knee-dropper, Crispi's classic Mountain Boot offers tried-and-true comfort and performance for the explorer in you. A classic leather upper offers plenty of range of motion.
What do you think about this product?
Have questions about this product?
These are way big like a size or size and 1/2.
First, is this boot waterproof/breathable...
First, is this boot waterproof/breathable (e.g. goretex inner liner)? Second, any recommendations for maintenance such as wax or polish? The tag seemed to imply there is a goretex lining but it is not mentioned anywhere else..."Excessive foot movement inside the boot can cause premature wear of the...GORE-TEX booties" Wondering if this may a generic statement regarding their entire product line and not this specific boot. Thanks in advance!
This boot is constructed using a water-repellent leather, but does not have any sort of membrane like a Gore-Tex. Crispi makes a very similar boot called the Sydpolen that does have an inner Gore Tex liner. I think using Nikwax leather care on the boot would be a good start - it's treated out of the box so you would be fine to just ski them as they come but a little extra won't hurt.
Will the Crispi Mountain or Antartic boot...
Will the Crispi Mountain or Antartic boot fit a light weight, old style 75mm 3 pin binding?
Yes

I ordered a Crispi Mountain 75mm boot in size 47. It fits into a 40-year old 3-pin 75mm binding on my Splitkein XC skis. The 75mm binding was the simplest binding available in the 70's. It's a tight fit but that's a good thing!



My original Lifa leather XC boots (size 45) were great but I simply grew out of them. As we age our feet get bigger...my size 11.5 hiking boots are now size 13WW.



The 47 Crispi is wide and roomy enough for heavy socks. It's stiff out of the box and much heavier than the Lifa...something I actually appreciate.