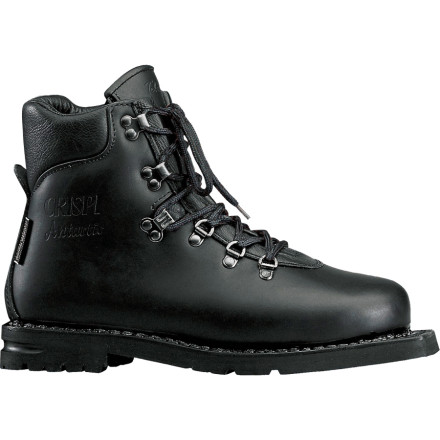 Get back to your telemark roots with the ultra-comfortable Crispi Antartic Telemark Ski Boot. Enjoy the unmatched comfort of synthetic leather uppers while you tour the backcountry. In this time of big, heavy plastic boots and burly, aggressive lines, getting back to your roots has never felt so good.
Thinsulate insulation keeps your feet toasty
Thick Vibram sole gives you solid, predictable traction
Compatible with both three-pin and telemark (non-NTN) bindings
Soft, comfortable synthetic leather uppers allow your feet and ankles to bend and flex naturally
Size
Familiarity:

I've used it once or twice and have initial impressions
These boots have to be ordered AT LEAST 1 size larger than your normal size - even then it's a bit tight to fit enough socks in there. So, if your boot size is 44, order at least 45 or even 46 (as I did, and it's not too big ). I use 2 or even 3 socks when I have to use boots for several hours, because their protect my feet. My method: silk liner, tight quality sport sock and thick hiking sock.
Don't hold up
Gender:

Male

Familiarity:

I've put it through the wringer
I purchased these boots in Fall of 2010. I've probably skied them over 100 days. They were a great boot for XCD style skiing. It was great being able to trade weight for balance and skill. They have always been cold in single digit F temps, but this last season I noticed my feet getting cold in 20-30 degrees F. They now don't seem to provide them same support that they used to and I find my feet cramping up when skiing in them. I'm not sure what the working lifespan should be on these badboys but I think that I've re

Gaiters are also a necessity with these in snow of any real depth.
gorgeous, lightweight minimalist boot
very high quality european leather boots - beautiful to look at. Good solid support but not particularly high up the ankle or stiff.



Unfortunately I've got a wide toe box - not going to happen with these boots. Both these and Scarpa's leathers are far too narrow for my wide (EE) foot, especially the toe box. These are not boots for wide-footed folk. Will someone please make leather tele boots in wide sizes?



Also, I also found them to run slightly long for the size, maybe a half size larger than expected.
I am seeing conflicting reports on the...
I am seeing conflicting reports on the weight of these boots...all the way from about 5lbs to around 8 lbs per pair. Could you please settle this and get me an accurate weight for size 45 euro. Thanks, Bob
Definitely closer to the 6 lb mark for a pair of 45s. I would start a chat session with the Backcountry folks - perhaps they can weight a pair for you.
Will the Crispi Mountain boot fit a light...
Will the Crispi Mountain boot fit a light weight, old style 75mm 3 pin binding?
I ordered a Crispi Mountain 75mm boot in size 47. It fits into a 40-year old 3-pin 75mm binding on my Splitkein XC skis. The 75mm binding was the simplest binding available in the 70's. It's a tight fit but that's a good thing!



My original Lifa leather XC boots (size 45) were great but I simply grew out of them. As we age our feet get bigger...my size 11.5 hiking boots are now size 13WW.



The 47 Crispi is wide and roomy enough for heavy socks. It's stiff out of the box and much heavier than the Lifa...something I actually appreciate.
I've worn these boots for around 150 days during the past 3 years, and I'm very satisfied. I mainly use them for cross country skiing, and in combination with the Berghaus Yeti gaiters, your feet almost can't get wet ;)

Seems to be very durable too, so I can strongly recommend these boots!
Got this boot to use with my Madshus Epoch skis. Very well made, may take a little bit to brake in. They seem to run a half to full size big. If you usually wear a 44 I would order the 43. I have a low volume foot and these boots fit snug. Great boot.
Great all around boot that takes 20-30 miles to break in. Durable around the camp fire and you don't get cold.

I use this boot for touring the Adirondacks in -0 weather for days and don't have any problems.

One note, replace the laces upon purchase for a tighter fit (Graff waxed hockey skate laces are perfect).

Regarding synthetic; it's mostly a one-piece leather boot with synth on the top, backside via the picture.
I need sizing help. If I normally wear a...
I need sizing help. If I normally wear a 42, should I get a size 41 in these boots? Anybody out there got an opinion?
I haven't tried these boots, but I'm pretty sure they're sized to fit heavy socks, so it depends on how cold you're planning to ski.
Great boot. Sized a bit large.

I use this boot for rugged touring and light tele. As long as it holds up I'm giving it 5 stars.

I also have the Crispi leather Mountain (or Mountaineer?) that I use for more all around touring. Another 5 star boot.
These boots rock!! They are extremely comfortable and warm. I have bad feet, really flat footed no arches and wide. The boots I skied in before really hurt after only a couple hundred yards. I tried all the expensive foot beds and eventually no foot beds just to get out on the trail. I thought I was going to have to give up the sport all together. I literally have walked out in my wool socks with my skis on my pack and boots in my hand. I thought, I will give these boots a shot, because it couldn't get any worse. The first time out I put some different foot beds in them and had very little pain. I thought maybe it was a fluke. I only have about 30 miles on them now, but they just get better and better. I have no pain in my feet at all skiing in these boots.
I would highly recommend these boots to anyone wanting a light touring, comfortable day in the back country, and yes they are a little harder to turn with, but that may be the guy powering the boot too!
Hi Chris: I'm looking for a good quality...
Hi Chris: I'm looking for a good quality cross country ski boot that is good for minus 35 deg. c. It must be very well insolated, and come in a E or EE with, leather uppers prefered. The reason for leather is because, on many occasions the snow has a frozen surface and wears the uppers out very quickly, I ski back country and on most occasions with no groomed trails.
Thank you for your input.
Anyone ever answer this? I'm kind of in the same boat.
I have these boots, and when it gets down to single digits (in F) they get cold. You would want overboots for them. These are more oriented for the "touring for turns" crowd and you could probably find a better pure CC boot.
Unanswered Question
1. how is this boot for telemark skiing? 2....
1. how is this boot for telemark skiing?
2. is it real leather or some kind of synthetic? i am looking to replace my leather snowfields