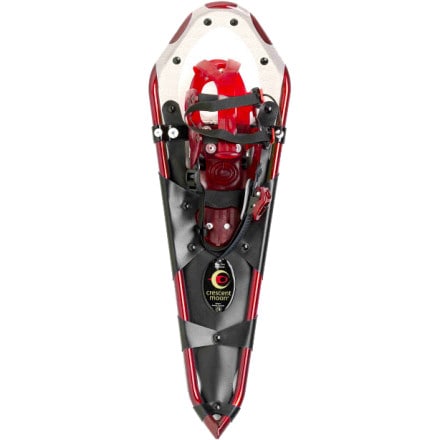 Description
Crescent Moon's Gold 13 Performance Snowshoe has strength, durability, and the design to make a women's stride feel just right.
For a snowshoeing gal's smaller, narrower stride, Crescent Moon made the Women's Gold 13 Performance Snowshoe. Your hiking steps will feel more natural with this lightweight frame's exaggerated teardrop shape. Since no one likes to wrestle with difficult bindings, the Gold 13 Snowshoe has a Single Pull Loop system that gives you a responsive binding for your treks. With a simple pull, the molded polyurethane stirrup cradles and supports your foot, and your heel is secured with a polycarbonate ratcheting buckle. The mountain won't feel like a slippery slide with the Gold 13 snowshoe's three stainless steel claw crampons. The durable TGS decking doesn't freeze, and the Hypolon boot straps won't expand when they get wet.
Share your thoughts
What do you think of the
Crescent Moon
Gold 13 Performance Snowshoe - Women's
? Share a...
Posted on
What is the weight specs for this...
What is the weight specs for this snowshoe??
Responded on
Pretty sure they're 3.6 lbs/pair!
Posted on
Can you run in Performance Snowshoes?
Can you run in Performance Snowshoes?
Responded on
"Crescent Moon was the first to design a shoe specifically for women's smaller, narrower strides. The exaggerated teardrop shape makes hiking much easier than any other shape." FYI, the above is from the Crescent Moon website regarding their Gold 13 Performance Snowshoe. You could run in these snowshoes but a smaller profile one would be better especially if you're running long distances on a track or on packed snow.The most important attribute in a running shoe is that, one, it's light, and two, the entire shoe picks up as you pick up your feet (ie. no pivot). This is important because you don't want a snowshoe dragging behind you as you run. This obviously takes away from your stride. The Crescent Moon's, though not the most ideal for ascending mountains, etc., are excellent as a running shoe and as a casual strolling, flatland/rolling terrain-type shoe (to be fair, in deep snow and on long hikes, not having a pivot means that your back will be covered in snow from the shoes kicking up and flinging snow on your back. This typically causes a very wet back and can be quite uncomfortable). The teardrop shape allows for easy gliding and they are relatively light weight.