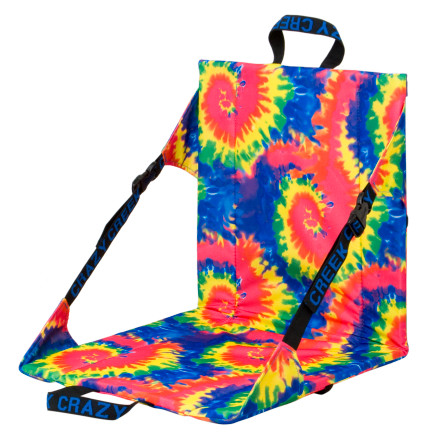 Colors

Detail Images

Community Images
Thumbs up
Familiarity:

I've used it several times
This chair is great to take anywhere you want a comfortable place to sit down. I've used it hanging out next to some waterfalls, in my room at home, on the deck, and now it's going on a canoeing trip! It fits perfectly in the back of the pack for a nice comfy backrest while portaging. You don't have to worry about sitting on the wet ground, or finding the perfect place to pop a squat, it's super comfy and adjustable to lean back as far as you want. I bought the ash/moss colored one and love it because it's a beautiful green. I'm planning on taking it on many many trips to come.
chairs
Familiarity:

I gave it as a gift but have feedback to share
I bought these as a gift for friends, they are so comfy and easy to bring along to a picnic, camping or concert. We even used them floating the river on our SUP.
Classic never fails
Familiarity:

I've used it several times
I purchased two chairs for an upcoming backpacking voyage. One of them came in on time, unfortunately not mine, needless to say I was super jealous the whole trip as I sat on a log.



When deciding on color the debate was between tie-dye and black for my boyfriend. My influence was tie-dye because why would you buy a black chair when you could buy a tie-dye one?! Tie-dye was the result and it is freaking awesome, plus it's decided the chair will never be lost nor will anyone ever be accidentally shot by a hunter with it strapped to a pack.



The next debate, should we take it hiking? The chair didn't make the hike, but as soon we reached the summit and sat down for lunch, the words "I should have brought my Crazy Creek," were definitely spoken. So, a photo in camp it is!



The chair is as simple and functional as it gets, just make sure you have enough for everyone.
Happy Camper
Familiarity:

I've put it through the wringer
I am always the envy of the campsite when I bring this along. It makes sitting around the fire that much more awesome.

My brother packs his on backpacking trips and uses it as a sleeping pad. I don't know if I would ever do it, but maybe you could give it a try.
Nice little camping chair!
Familiarity:

I've used it once or twice and have initial impressions
I have used these before but have never had my own, so far, I am really liking it. The pattern is a lot of fun, and it is comfortable to sit in around the fire!
Old faithful
Familiarity:

I've put it through the wringer
Over the years, I've owned three Crazy Creek original chairs. They are solid and pack well in my photo kit. They are used and abused and are well-worth the money I spend on them every eight years or so.
Unanswered Question
Does this chair have a pocket/pouch?
Who needs a recliner when you have this?
Yes, Just Yes.
Familiarity:

I've used it several times
This chair is awesome. Sit anywhere comfortably. Got this as a gift for my husband, he loves it. I love it. Tighten the straps to sit up straight or loosen them to recline. The fabric seems to be holding up well in the 4 months we have owned this.
Do these have a spar inside? Something...
Do these have a spar inside? Something to keep the back from curving, and that can be used as a splint?
Best Answer
Hi David,



The Crazy Creek Original use carbon fiber support stays on the inside, but they aren't designed to be used as a splint. If I needed a splint outside, I would likely first try to find a strong stick first--not go digging into one of my CC chairs.



So, in conclusion--they do have carbon stays, but I'm not sure how you'd use them as a spar.



Thanks!



Thomas
Great pack-able chair
Familiarity:

I've used it several times
This thing is awesome, always throw it in my pack, or strap it to the outside. From sitting around the campfire, to taking it to a BBQ, always finds its way out of my pack to grab a comfy sit spot. Pretty self explanatory on how to use it, comes in awesome color options.
perfect guest seating
Familiarity:

I've put it through the wringer
When traveling by (canoe, bike, sled, anything but backpack) these are a perfect respite and well worth the weight. 6 years and still going strong. At home I have them in my small apartment for extra guest seating around the coffee table; much more fun than cross-legged.
This weighs in at a light weight 745 grams or 26.7 oz or 1.6 lbs. This is supper durable and should support up to 250 lbs.
The Original Gangster.
Familiarity:

I've put it through the wringer
Mine, had it for 20 years. Forgettaboutit. Its still going strong. I scooped up an additional for the girlfriend. She huffed and puffed claiming she wanted something with legs. Rubbish! She used it while fishing in a canoe, opened to share a seat on a downed fireside log, ate while sat in it by the fire every meal, and folded it under her lower legs to complete her shorty sleeping pad. She loved it and no longer wants a chair with legs. High fives!
This is by far the most comfortable camp chair I have used. They are durable and awesome. Don't waste your time with cheap imitations, just get the Crazy Creek.
This piece is essential to any camping trip. Though you're obviously not bringing it along for a lightweight backpacking trip, it's ideal for canoe camping and the like. These are perfect for around the campfire, and the bottom material is bomber. Being able to get off your feet after a long day in the mountains or valleys is priceless, and it's all thanks to these beautiful Crazy Creeks.
We've only had to replace one of these chairs in the past 15 years and that was because a dog ate it. They last forever. We've taken them everywhere. Backpacking, car camping, bleacher seating and boating. We did a 2 week dive trip in the Pacific and these were great a) they packed in our luggage, b) we were the only ones on the dive boat with back support as we were bouncing over the waves, c) even after getting soaked in salt water and gasoline, these baby's have lasted the test of time.
, ☃bcs_badge_alumni_label☃
get me one of these!
i just had to get me one of these after i saw how supportive they are. they make your back not get sore at all. usually after a long wrestling tournament all i wanna do is drop like a fly, but after using this amazing technologically advanced backrest, i was ready to wrestle a polar bear into submission.
I'm teach Kindergarten to 5th grade music,...
I'm teach Kindergarten to 5th grade music, and we normally sit in a circle on the floor during class. I was wondering if these chairs would work as comfortable support for the kids' backs, but could also be quickly put away when we got up to do movement activities. Also, would they be durable enough to stand up to being used for five 50 minute classes of children each day?
These chairs are great for back support, and, if you have the funds to get one for every student would for sure hold up to the serious abuse kids can dish out. They are also super easy to fold up and stow away, I'm picturing a long hook to hang them from their carrier handles.
I'm a teacher, too, and that sounds like a good idea EXCEPT.... these chairs would be very "fun" for the kids. When you sit down they lean back a bit and you can easily tilt your whole body back to rest just on your butt. I can totally picture kids rocking back and forth in these things, some falling backwards, possibly getting hurt. I feel like it would be more of a distraction for them than a comfort. And I think the kindergarten kids would be a bit too small to fit in the chair properly.
Excellent idea, though! Let me know if it works! :)