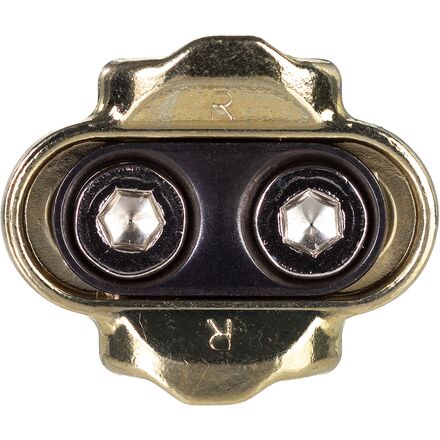 Community Images
Description
Float and release.
Add another pair of shoes to your collection or freshen up an old pair with a new set of Crank Brothers Premium Bike Cleats. They feature six degrees of float and a slightly asymmetrical design to allow either a 15 or 20 degree foot release angle depending on how they're mounted. These cleats clip into your Crank Brothers Eggbeater, Candy, or Mallet pedals to get you out on your bike and onto adventures in a snap.
Six degrees of float
Release angle of 15 or 20 degrees
Two-hole mounting pattern
Compatible with Crank Brothers Eggbeater, Candy, and Mallet pedals
Excellent Choice
Familiarity:

I've put it through the wringer

Fit:

True to size
These are the best cleats that you can buy and cant find them for a better price anywhere else, quality and long lasting
Nothing better than fresh cleats
Familiarity:

I've put it through the wringer

Fit:

True to size
Replace your cleats often. It will help keep you connected to the bike better, which leads to better and safer riding.
Keep them fresh. Keep your feet in.
Familiarity:

I've put it through the wringer
Solid brass, solid cleat. Like the float and the simplicity of my Eggbeater pedals. Don't love replacing the cleats, but the system works and the new cleats keep my shoes on the pedals. Hate slipping out and the worst time when riding worn out cleats. Good price. Good product.
better these than your pedals or shoes
Familiarity:

I've put it through the wringer

Fit:

True to size
These are the same cleats that come with crank bros pedals. I love them, and when you walk around with shoes in the grocery and other places, its nice to know that the cleats are cheap to replace. Stick out just enough to lock into pedals easily but stay back when they're supposed to. Easy to adjust and don't rust out too bad (unless you ride lots of beaches):)
Awesome!!!
Familiarity:

I've put it through the wringer

Fit:

True to size
I bought these cleats for a pair of new shoes. These ones had been a step up in the ones that I use with other shoes that I have. These ones perform wonderful mounting and dismounting from the pedals. Sturdy, easy in and out.
Putting on fresh cleats is like putting a tune on your skis or snowboard. Get some for your toolbox.
Decided to grab these in addition to my purchase of the eggbeater 3s to one hopefully last longer, and so far they are wearing pretty well after a few 100 miles of cross and mountain riding.
Great for cross
Gender:

Male

Familiarity:

I've put it through the wringer
I use crankbrothers for my cross bike and always have a couple extra cleats laying around in my tool box. Grab an extra pair so you are not stuck with warn out cleats at the start of a big ride.
Left neglected on the bottom of my sidi's for years now these little guys have had my back through some sketchy adventures. Figured it was time for a replacement and it's amazing what a difference it makes to have cleats that are not worn down beyond recognition. My egg beaters feel brand new again. Don't wait, replace your nasty old cleats!
Several thousand miles later....
This shows the cleats after a summer of training and racing NUE's. Still in pretty good condition, good enough to train on this spring. I replace my cleats once/twice a year to keep the fit snug and the action crisp. The cleats are made of a softer material than the pedal so that it wears and not your blinged out Egg Beaters. Replacing cleats is much better than pedals. If you keep your cleats installed for 10 deg til release and replace them periodically you will be happy and the action will dis-engage without effort.
what can you say about a cleat?
Crank brothers cleats come well packaged, with clear instructions and everything you might need including shims as an option.

The crank brothers mechanism is different from SPD I'm not sure if I like it yet. It may not be a good choice for a novice rider. There is no adjusting release pressure. In my opinion a novice does better with a very easy release. Easy release does not mean accidental release as long as your technique is good.

Crank brothers pedals such as the mallet are great blend of flat and clipless, but it may be better to just commit to one or the other.
What's to say about cleats? Since I don't like messing with degrees of float, I prefer these to Shimano's two-bolt cleats, for their total simplicity - left side gets the dot, for a quicker release. Have 'em on all three pairs of shoes I own.
Your shoe/pedal interface is super important. Professional bike fits are becoming really popular and one of the most important aspects of a bike fit is where your feet touch the pedals. Front to back adjustment is not the only important adjustment. These cleats allow for custom side to side placement to accommodate different width hips and Q angles. This is key for avoiding knee pain and injuries.
Work for what they are supposed to do. These are my first set of cleats but didn't take long to get used to. I only fell over with bike attached twice, go ahead and laugh. All in all I'm happy with how they perform and would buy again but then I've only been using them for about a month so take it for what it's worth.
the description says "cleat" not "cleats." is...
the description says "cleat" not "cleats."
is this a pair or just one?
I don't use my cleats every time I ride, because I have a mallet pedal (so I only use them on days with uphill). But, they seem to be durable, and they release well (once your pedal is broken in).
Lighter than my SPD cleats. But wears out faster though. I change cleats at least once a year.
These work great. They didn't wear out as quick as I thought they would, but I can say they really don't last quite as long as steel cleats. I'm just pumped to have crank bros. pedals in the first place....