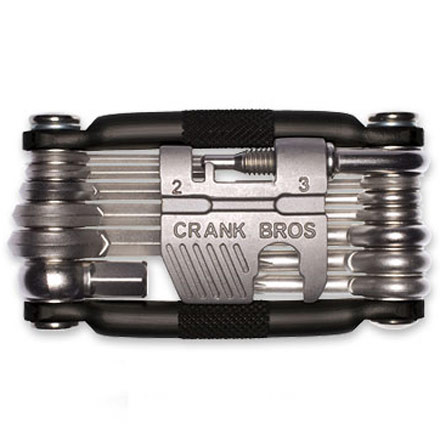 Detail Images

Videos

Community Images
Description
Fix up and go.
The day you don't bring tools on the trail is the day you'll break down, so stick the Crank Brothers Multi-19 Tool in your pack as a prophylactic, at the very least (but not that kind). Even if this have-it-so-you-don't-need-it voodoo doesn't work, you'll have 19 tools to fix whatever goes wrong, from loose bolts to shakey spokes to broken chains. Seven hex wrenches take care of most issues, while the screwdrivers, open wrenches, Torx driver, and spoke wrenches handle pretty much anything else short of a broken frame, in which case you'll be walking home no matter what tools you have.
Chain tool
Seven hex wrenches
Four spoke wrenches
Torx T-25
Four screwdrivers
Two open wrenches
tooooolss
Familiarity:

I've put it through the wringer
I have one, my GF has one, my dad has one, most my friends have on. Great slim tool that dose almost everything you need.

The chain breaker can be a little tough to operate but it has always done the job.
Seems good
Familiarity:

I've used it once or twice and have initial impressions
Haven't had to use it yet on the trail, but did use it to adjust seat at home. I do like the metal holder it has.



I don't see how anyone could complain because it has a lifetime warranty. If it breaks or doesn't work just send it in and get a new one.
Highly functional, durable tool.
Familiarity:

I've put it through the wringer
I've had this tool for about 6 months, and I can say that it's one of the better multi tools out there. it has everything you might need on it, from a full set of allen keys to two sizes of both philips and flat screwdrivers. It also has T25 and T10 hex keys, which is useful, because a lot of modern componentry is starting to switch to those sizes. I'm a mechanic, and I leave my full set of tools at the shop I work for, so this has actually turned into my "home tool set". I've done everything from install stems, to adjust cleats, pedals, even sized and removed a chain with it. Still holding up strong. It's not a bad idea to put a couple drops of chain lube on the pivots of the tool to keep it running smoothly, especially in dusty climates. It's a bit on the heavy side, which some people may get bothered by, but it doesn't bother me at all since I ride with a backpack full of all sorts of things. A couple extra grams here and there isn't a big deal. Well done crank brothers, now fix your dropper posts and pedals and we'll be talking.
Crank this brother!!!
Familiarity:

I've used it several times
Great tool. Pretty light and everything you need. Too bad their dropper posts don't measure up.
Dont be a fool, sport a tool
Familiarity:

I gave it as a gift but have feedback to share
Ever get stuck in a situation where you could have saved yourself alot of headache and frustration by having that ONE little tool that could have saved the day?? Ever fumble with tools or lose them in your backpack, losing precious moments as the light faded into the horizon? Do yourself a favor and pick up this tool, it has just about everything you need for on the spot fixes, comes in a compact easy to open case, is easy to use and even comes apart in case you have an especially tricky component to repair. From quick adjustments to on the spot repairs this tool has worked out great- only complaint is that the threads on the chain tool are a bit too short, so you have to have the tool dialed right in to the link for it to keep it from flying apart, and it is a bit of a headache if you dont have a buddy to help hold the chain.
Solid
Familiarity:

I've used it several times
Great accessory to have during the ride. Compact case and solid design make for a long lasting tool. Won't help to change a tire but should be good for about anything else. Bits are slighly stumpy but hasn't caused any problems yet.
Don't roll out without this
Familiarity:

I've put it through the wringer
I hate being that person asking for tools/tubes/pumps on the side of the trail - y'know, the pitiful, unprepared rider depending on the mercy of passersby - although, I've definitely been there. I've had my share of experiences kick-scooting a busted bike back to the house, so I try to avoid that now that I carry the Crank Brothers Multi-19 Tool in my jersey pocket.

The chain tool is a cinch to use - well, the first time I broke a chain, I had to call a mechanic buddy to talk me through it, but I did manage to fix it and pedal back home instead of hike 8 miles in my bike shoes...

The range of tools handles pretty much any bike catastrophe or small adjustment you need to make on the trail. Yes, the tools are on the short side, and it's not ideal for wrenching on my bike at home...but that said, it's not meant to do that. It's the perfect size for dropping into a jersey pocket and forgetting about it until you actually need it.

The tool is bombproof and will probably last longer than your bike.
Everything I need.
Familiarity:

I've used it once or twice and have initial impressions
This tool will get me home when something goes awry. The case is a convenient place to put a few wraps of duct tape, and also a convenient place to stash a few bills. You know, for the espresso.



It's got all the tools I'll need, and with a CO2 inflator and mini-pump, and spare tubular, I'm covered. Some Velcro wrap, and it all gets strapped together, and fits in a jersey pocket. 690g all up.



As mentioned in other reviews, the case is a bit tough to open, but I view that as a positive. The bits aren't the longest, but a) they all reach what I need while executing a triple toe-loop/double axel roadside repair, and b) this is not a shop tool.
Solid tool built for the long haul
Several seasons and countless repairs later, this tool is still working flawlessly. Has the essential bits you'll need and won't let you down
Solid tool for the road
Familiarity:

I've used it once or twice and have initial impressions
This thing has pretty much everything you need for any adjustments on the trail. Does what it says it does. The only downer in my opinion is the case is kind of a PITA to open and close. Still 5 stars
Solid
Familiarity:

I've put it through the wringer
Love this tool! Has everything I would ever need to get back home in a pinch. I bought this to replace one otherwise this thing will survive nuclear winter. Plus, the gold finish is just so pimpin'
Crank Brothers Multi-19 Tool
Been carrying this for at least 6 months now and it seems to be well made and designed. The driver bits are not very long, as others have mentioned, but it hasn't been much of an issue yet. I have not used the chain tool, I should try that out at home sometime on an old chain. I ride alone more than 90% of the time, so I have to be able to deal with whatever issues arise. This tool is a main component of my get back home insurance policy.
A little wide for my taste, but comes with all the tools you may need. Feels very rigid, but the tools can be a little short in length depending on the situation. Nice case.
This is a solid tool for most adjustments. It fits perfectly in a tail bag. It's rock solid and great for emergency repairs. I really like the stainless steel case that comes with it.
easily the most compact and flexible use tool you can have in your pack. takes up next to no space and gets the job done every time when you need those on trail adjustments. the chain breaker also works wonders for those worn out or busted links.
Unlike the other multi-tool I had, none of the opposing tools overlap so you don't have worry about folding it up the right way. It's a minor convenience but it's nice.
Small and compact, everything works like you expect it.
Good tool but there is one important problem. the chain tool is useless. You either have to be a superhuman with superhuman strength or be packing a larges pair of pliers. If you buy this tool do not count on the chain tool. it will leave you stranded. there is better multi tools out there. I am now packing my park tool and a spare chain tool so i can actually fix my chain. My riding partner and me were not able to get chain tool to work and had to walk bike out of the bush. Bottomline, don't count on the chain tool.