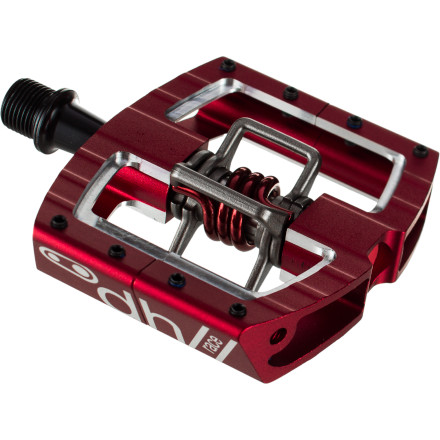 Colors

Community Images
Description
Secure for downhill devotees.
Take a glance at any World Cup Downhill race and you'll readily spot the slick anodized appearance of a Crankbrothers Mallet DH Race Pedal. And that's for good reason. Between its user-friendly Egg Beater retention system, extra-large concave platform, and smooth-spinning inner needle bearings, the Mallet DH Race Pedal is purpose built to destroy downhill courses with unflappable confidence.
Its two-piece machined aluminum platform, cast steel wings, and stainless steel spring reduce the chance of shredding 'em to pieces after pedal strikes on rocks and other obstacles. Eight adjustable traction pins keep your feet firmly glued to the pedals at high speeds. Additionally, the adjustable 15-to-20-degree release angle facilitates quick dismounts to avoid wrecking yourself.
Concave aluminum platform
Egg Beater retention system
Cast steel wings; stainless steel spring
Inner needle, outer cartridge bearings
8 adjustable traction pins on each side
Premium brass cleats included
Share your thoughts
What do you think of the
Crank Brothers
Mallet DH Race Pedal
? Share a...
I couldn't be happier with these pedals. I would definitely buy them again.
I've had these for two seasons and have gone through 4 - 3/11 rebuild kits. I ride more than average in typically dry forested conditions (Jackson, WY) but still they recommend to clean these every 35 hours of riding and using the rebuild kit after 70-90 hours all depending on conditions. Cleaning includes completely dissembling the piece and reapplying grease. Usually takes about a hour. I don't believe a pedal is something you should have to clean this regularly especially when it's biggest competitors don't require this kind of maintenance.

Otherwise, they are light and the large pad makes it nice for rubber shoes.
Sexyness + Performance
Familiarity:

I've put it through the wringer
The Red Pedals with "DH" on it will totally bling out your bike. I think it looks the "best" out of all the Mallets. Weight Weenies - Just keep in mind these aren't the lightest Mallets, the other red ones are.

I was using the old school Mallet C pedals for a long while, until one day I smashed it into a rock annnnnnd it was over. Then I picked these up - definitely no regrets. They are bombproof and you can adjust the pins on them. Pretty cool.
Lighter weight but inferior clip mechanism when compared to my shimano dx pedals.
SOLID!
Familiarity:

I've used it several times
I'm running these on my 2013 Specialized Demo 8. I ran the Mallet 2 for a while, but they blew up on impact with a rock. I've hit rocks hard with the DH Race and they hold up great. They're heavy, but worth it to not have to worry about them getting damaged on the trail.
The Mountain Gods are clearly not happy
It wasn't design flaw, at all, it was human error. These pedails were working so well I decided to use them in the bike park. It was on that fateful day I unclipped unintentionally & threw a David Lee Roth off of a jump. It's moments like that when you appreciate the simple things in life, like not picking your teeth out of a pine tree. I'll use these for general XC, and DH, but it's time to get some flat pedals. As much as I love the man (early Van Halen days of course) I don't want to be impersonating David Lee Roth on my bike at the Canyons...
Bomber Platform !
Familiarity:

I've put it through the wringer
Been using these on a 2015 Nomad C I'm testing. It's nice at 225 lbs to not have to worry about gear disintegrating at high speed. I've slammed these pedals on rocks so hard my rear tire came off the ground!
My pedal of choice
Familiarity:

I've used it several times
I love these pedals for DH! I have a nice stable platform that handles anything I encounter. They work perfectly with my 510s and help me get all the power needed out of each pedal.