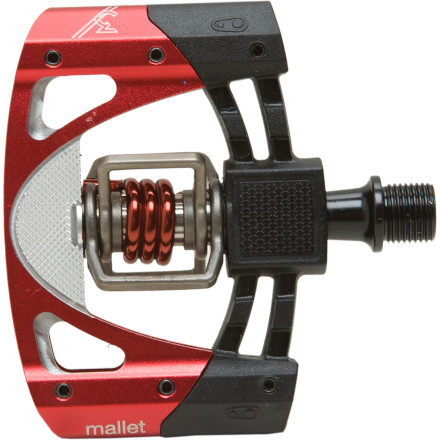 Colors

Detail Images

Community Images
Description
Extra stability and confidence.
Designed as an elite downhill pedal for crushing high-speed descents, the Crankbrothers Mallet 3 Pedal offers bombproof durability and a large platform for pushing your limits on the trail. Designed a bit larger than your average trail pedal, the Mallet 3 obviously caters to gravity junkies, but it's also a great pedal for beginners learning to clip in and out. Its two-piece aluminum-composite platform stands up to rigorous use and abuse, regardless of whether you're shuttling trail laps or using this as a commuter pedal on your urban workhorse.
Its Egg Beater retention system is insanely easy to clip into, and it offers 15 to 20 degrees of adjustable release for quick dismounts on the trail. The inner needle and outer cartridge bearings keep 'em rotating smoothly. Moreover, you'll find six adjustable traction pins on each side for sure-footed confidence, especially if you unclip before a no-fall zone or treacherous stretch of trail.
Two-piece aluminum-composite platform
Egg Beater retention system
Cast steel wings; stainless steel spring
Inner needle, outer cartridge bearings
6 adjustable traction pins on each side
Premium brass cleats with shims included
Great Pedals
Familiarity:

I've put it through the wringer
I have these on a Santa Cruz Nomad. They are great as I can unclip when it gets really technical and still have a solid, secure platform to stand on. I'm not super concerned about weight, so having these be a little heavier than other clipless pedals is not a big deal to me.
Not a bad in between.
Familiarity:

I've put it through the wringer
I have used the non flat style crank brothers in the past, only complaint is that you have limited tension ability. Still if you need to be in and out for the terrain your in and need to have the grip of a flat pedal at those times then this is a nice option. The spikes are nice, since most others with clipless don't offer that. Funny to read others reviews and complaints about pedals not lasting. If you're hard on gear, thats the way it goes, rocks aren't soft and nothing lasts forever on the trail.
Awesome pedals, until they aren't
Familiarity:

I've put it through the wringer
The Crank Bros. clipless concept it awesome. Its easy to get into and out of, and it sheds mud. These pedals ride great, but they simply don't have the durability to last a full season of shredding. I've had broken wings, snapped spindles, and seized bearings that refused extraction, after I got a rebuild kit. For a similar ride, but bombproof construction, try TIME.
I had to wait a few months for these pedals to get restocked. Swoop them up when they become available. Supplies are limited.
Not as good as prior generation
The current generation of Mallet 3's dont have the grip and holding power as the previous version. I find myself inadvertently coming up clipped when I never had the issue with the previous model. In all I think that the Crank Brothers system is superior to the SPD design because there are more exit options.



I think the new downhill pedals look like winners because they are much closer to the last generation design, I wish I had held off a couple more months and got the downhill pedal.