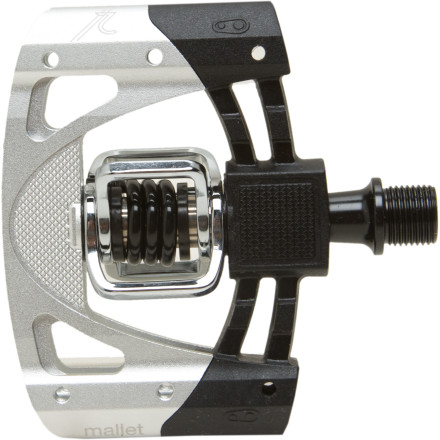 Detail Images

Community Images
Description
Extra confidence on technical descents.
The Crank Brothers Mallet 2 Pedal offers extra peace of mind on the technical descents, catering to downhill junkies and all-mountain riders who live for steep trails. Its extra-large size gives you a stable platform for your foot, especially when you un-clip before a no-fall line or treacherous stretch of trail. The large platform also makes the Mallets a great choice for around-town use, allowing you to use 'em with or without your cycling shoes. Six adjustable pins on each side of the pedal add customizable traction where you need it most.
Crank Brothers' signature spindle sits at the center of this pedal for incredibly easy use on the trail. Its adjustable 15 to 20-degree release angle allows a quick release when you need to place a leg down or hop off your bike at a moment's notice. Plus, the Chromoly steel spindle and stamped steel wings take a beating when you're rallying through rough stretches of trail. This design also sheds mud and trail debris for easy-clipping confidence in the nastiest conditions imaginable.
Chromoly steel spindle
Stamped steel wings
Aluminum/composite platform
Six adjustable pins on each side
Brass cleats with shims included
The pedal I've been waiting for
Familiarity:

I've put it through the wringer
Normally, I'm an SPD guy, and in the past never really fell in love the traditional Crank Brothers pedals, largely because the traditional CB pedals are so small that if you were not clipped in, the platform was too small to have any stability and you'd fall off the pedals too easily or on any kind of bump. SPD's seemed better with the larger pedal size, but the flaw with SPD's is that the pedal itself clogs too easily with mud or sand.

This pedal works better in both situations. The CB system is way less likely to clog with mud, but if you can't click in (or you want to pedal down to the coffee shop in your Chuck Taylors) the platform is big enough and grippy enough to still be totally usable.

My only complaint with the pedal is that the cleats (that attach to your shoes) are not as robust as SPD cleats - so expect them to wear out quicker and need replacement from time to time.

Other than that, I couldn't be happier with these.
Solid for price
Familiarity:

I've put it through the wringer
I use these pedals primarily for trail riding, freeride and urban freeride if I'm feeling dangerous. They allow for a solid foot hold without adding discomfort. They are very nice for someone with a bad knee or ankle as I have both and it really limits fatigue. I would suggest the 2s over 3s any day because of the price but are not so competitive with the high end Mallet DH Race pedal.
DH at J?rvs? bike park in Sweden
I love these pedals!
Familiarity:

I've put it through the wringer
I've been riding these pedals for four seasons now and they have been great! I use them mainly for DH but they are great for XC as well. I definitely prefer the trip down the mountain so having a beefier base is important to me. I want to be in control even when not clipped in and this pedal does the trick!
Good pedal for the faint of heart.
Familiarity:

I've put it through the wringer
I have been using these pedals mtn biking in southern AZ for 2 years and I love them. I usually ride unclipped when approaching a big hazard and I am still able to control the pedals. When not clipped in you can feel a little bump from the clips which makes for not the smoothest grip surface for your foot.
Versatile pedal
Familiarity:

I've used it several times
I got these because I don't always want to get my clip in shoes on to go for a ride and I don't like switching pedals either. This pedal gives you both options with little hassle.
Can you feel the "clip in" part of the...
Can you feel the "clip in" part of the pedal when you are wearing non-clip in shoes?
You can feel it but it isn't bad. I still feel like I have plenty of grip on the peddle.
Pedal Power
Familiarity:

I've put it through the wringer
Crank Brothers have been my go to pedal for quite some time now. These platform style pedals are awesome for more area to use to "crank" on. The Mallet 2 is a clipless pedal that feels like a flat pedal while clipped in. With these pedals , you get a secure feeling of no float and feeling like you are glued to a large platform. With these pedals you get that feeling you have a bit better pedaling efficiency. These are not flat, they do have a bulge from the egg beater. These can come in handy with single speeds and when you may not always want to be clipped in.
Is the recessed cleat area on the Louis...
Is the recessed cleat area on the Louis Garneau Terra MTB shoes too deep for the actual cleat to clip into these? Does the tread on either side of the cleat on the shoes get in the way of clipping in?
Best Answer
I do not own the shoes you mention, but from what I see on google image they look like they should work just fine. I use these pedals with my sixsixone MTB shoes and have never had a problem clipping in, and they also have some fairly deep tread on them.



attach is a picture showing my shoes with the cleat on them. as you can see the cleat is about level with the shoes outer tread.
Thanks! I ended up ordering the Terra shoes and they work great with this pedal when you install the clips with the shim that is included.
Awesome, I have never had a problem with Crank bro's stuff not integrating, so I would have been very surprised if they didn't fit.
I am new to all of this, are these pedals...
I am new to all of this, are these pedals compatible with Performance CM401 Mountain Bike shoes and what type of cleat should I get for these pedals?
if your Performance CM401 fit SPD cleats they will fit these. there of the 2 bolt design



and mallets come with a set of cleats
Excellent Clipless platform
I ride All Mountain, that means Up, Up, Down, Down, and Left, Right, Left, Right.

There are 3 important factors for me in a clipless pedal:
#1 Must not clog
#2 Must be able to bash on rocks
#3 Must provide a platform for riding downhill in technical sections.

I have been very curious about Crack Brothers for a long time, having always been a Shimano guy.
I am happy to report that the Mallet 2 is the just the right pedal for All Mountain trekking.

I need to be able to use my upstroke to help in the long sections and uphill, I need the platform for some of the more hairy downhill sections, and I need it not to clog up on me when things get wet and muddy.

If you are looking for a great pedal that will hold on to you in the flats and the ups, but lets you stand up with confedence when bombing down, this is the one for you.
Ok, I'm a waffler. I have egg beaters, they're great. But I bought some cheap platforms for jibbing around town, and found it frustrating that I didn't have clips, or was having to wrench to different pedals. So I decided to try these Mallets - I just received them, great price, perfect condition, a day earlier than expected (which is the norm for HucknRoll orders, love you guys!) I paired them up with some new SixSixOne sneakers with the cleat, this is an AWESOME system. I'll still keep my egg beaters and race shoes for serious days, but now I can jib, run to the mailbox, tool around downtown - in street shoes, and still clip in for proper pedal power when it's time to get home. I've never been disappointed in Crank Brother products - I run cobalt wheels and their pedals too, and I can already see that this new pedal won't let me down. I've converted several Shimano users to Crank Bro - the clips are simpler, more rugged, and they work better - release right every time when they need to, and don't release when they shouldn't. Great product, great quality, great innovation, and for HucknRoll, great service. Buy these, you'll love them.