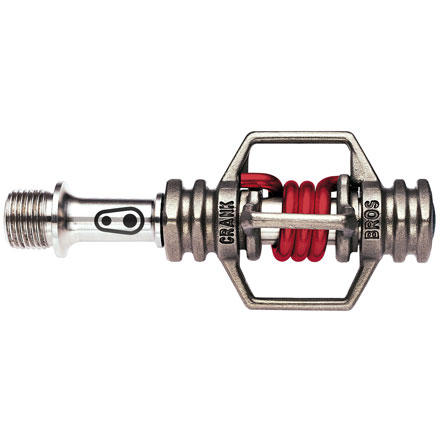 This pedal design has been proven in many different iterations over the years. They come in all different price points to meet anybodies budget. As a minimalist piece they will require a little more bearing and bushing maintenance. But for the lightweight simplistic design of the pedal makes up for the necessary maintenance. So if you are looking for pedal that doesn't clog with mud and you don't need a huge platform this is your pedal.
Great performance + bling
Light, blingy, spendy and I love them. My previous two setes of pedals were Time ATAC Carbons, and it took me a couple rides to get used to the feel of the eggbeaters. The biggest difference was the eggbeaters' much more subtle "click" when you clip into them.

I have my cleats set to releast at 15 degrees on my Pinarello roadbike. That setting, with the 6 degrees of float, feels great on the knees and has never caused me to tip over because I couldn't get out of them in time.

I'm probably going to get a pair of Candy Tis for my mountainbike in the spring, as I like a little more of a platform on a mtb. Thanks Brothers that Crank!
The Standard Ti pedals do not have a rider weight limit on them like the guy below posted...I believe that only the 4Ti's have a weight limit on them now and it is 185 lbs. Crank Brother pedals are simply amazing and I rider only Crank Bros. (road and mtn) and their customer service is as good as it gets....These guys stand by their products!
Crank Bros Ti Egg Beater Pedals
Love these pedals~ easy in, easy out! Took me 2 years of serious abuse to wear through a chromoly set and even then only one pedal gave out.

These aren't rated as the lightest set in the beater lineup, however you can feel the difference between these and the chromoly.

There is a weight limit set for their use, but if you fall into that zone, they won't disappoint!
I ride these pedals, or a different variation of them, on every bike I own including my road bikes. I am hooked on them.
Great power transfer, easy to come in and out of, low profile, lightweight. I have no complaints in this pedal. Highly recommend.
does SteveP (17) work for shimano ???
does SteveP (17) work for shimano ???
Best Answer
Is this serious? No. I just wrote a review based on what I have used, which happens to be shimano pedals. If i thought they were better than shimano, would I be accused of working for Crank Bros?Tom Keeley you are a silly goose. -Phunk
I have always ridden with shimano SPD clipless pedals and decided to try the eggbeater style. I really wanted to like these pedals but I found I was having far too many painful falls because I could not unclip. For me I found unclipping too variable, in some cases they would unclip unexpectedly when trying to get off the back of the seat for a big drop-off, but at other times I would fall just trying to unclip coming to a stop. Clipping in was also not as easy as I had expected. Sometimes you get a positive click and others you don't, so I was always double checking if I was really in. They are also touted as great in dirty conditions, but I have ridden in everything from mud to sand to dust and never had a problem with the SPD. I found the sand caused some problems with the eggbeaters. The other drawback is that the cleats don't fit SPD pedals, so you are stuck riding only eggbeater pedal bikes. So when you friend buys a brand new shiny carbon framed Ibis Mojo and puts SPD's on it, you are the only guy who can't test ride it. It was definitely a very steep (and painful) learning curve to make the switch, so much so I had to switch back to SPD. I can't specifically blame the pedals, they just didn't suit my style. If these are your first clipless pedals you might have more luck.
Does it come with cleats? I don't see any...
Does it come with cleats? I don't see any on the site. Seems odd that you'd sell the pedals but not the cleats.
Yes, all the Crank bros pedals come with cleats and mounting hardwear.
Best Answer
Someone asks this question on every single pedal on the site. HELLO PEOPLE... Every single clip-in pedal comes with its own cleats.