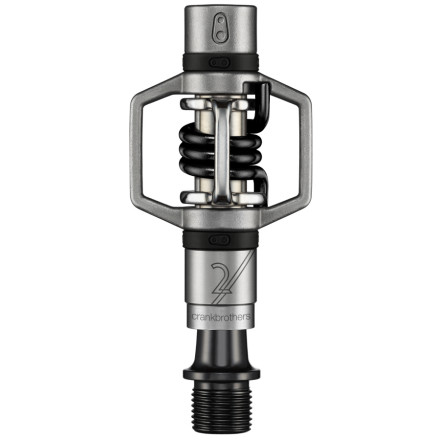 Description
To make an omelette ...
Crank Bros Egg Beater pedals have been the favorite of many of today's riders for good reason. Over the years, Egg Beaters have earned a solid reputation for reliability and ease of use. The knee-friendly float is also a plus for many riders, especially those who need to be a bit more careful to avoid knee injuries. Egg Beaters have always been a good value, as well, and the Egg Beater 2 Stainless pedal may be the best value yet.
The biggest difference between the Eggbeater 2 and the Eggbeater 3 is that the Eggbeater 2 uses needle bearings at the crank end of the spindle, where the Eggbeater 3 uses steel retention bushings. The Eggbeater 2 is also about 6 grams lighter and $20 more expensive. The Eggbeater 3 retains the famous four-sided clip-in and the comfortable float provided by all previous Eggbeater pedals.
The Eggbeater 3 uses investment cast stainless steel for the main body. The wings are stamped and chrome-plated steel. The spindle is super-strong chromoly steel. This all adds up to a pedal that's tough enough for anyone to use—no weight limits. Eggbeater cleats are so small that they recess flush into the sole of your shoe for easy walking and less cleat damage.
Stainless steel main body
Chrome-plated steel wings
15- to 20 degree release
Brass cleat included with spacers
Forged chromoly steel spindle
GOAT IS GOOD
Familiarity:

I've used it several times
Been using shimano branded SPD pedals for years. Now that a couple pedals (XTR set and the more affordable LX/XT versions) are finally starting to fail me from years of use and abuse (ie no service, maintenance of any kind), thought I'd venture into the 21st century and see what these egg beaters are all about. After a few months of regular mtb riding and a few bikepacking trips, I'm pleased to say I like them. Super simple—no adjustments beyond making sure the cleat in your shoe permits clipping into the pedal. Clipping into the egg beaters is second nature, just as getting into my shimano spds were. I have several spd shoes—some race oriented (stiff and light) and others more compatible with walking off the bike (cleat recessed a little and the sole flexes with your foot). I was a little concerned that the small form factor of the egg beaters may result in a sore fore foot but I don't feel the pedal even after multi day bikepack trips with the more flexy shoes. I'm giving the same level of care to the egg beaters as I did the Shimano SPDS—which is to say, nothing. Bought the stainless steel version to fend of corrosion although biking in the Rocky Mountain west (often dry) may not be the best test for this. I'm expecting years of service from them and will be buying more to put on the rest of my bike stable.


Before buying a pair of these, I heard from multiple people how they weren't durable and don't hold up. If my experience and the experience of those I usually ride with is typical, those people were wrong. I have had no issues with them, even with multiple hard rock strikes. The only slight quibble is that a rock strike will sometimes eject your foot from the pedal, but that is the price to pay for 4 sided entry. I have these on all my mountain bikes and they will stay there.
Very Reliable
Gender:

Female

Familiarity:

I've put it through the wringer
After some time of thinking I decided to buy these pedals. A friend of mine kept telling me how good they were. I was into the SPD Shimano before, but now I can't turn back. These pedals after a rainy muddy ride, were easy to clean (not the same with the SPD). I'm very happy with these reliable pedals.
These are a solid choice for any kind of biking. I have moved them from my road bike, to my commuter and mountain bike with them excelling on all fronts. I have gone through 2 sets of cleats but as for these pedals,they have yet to fail.
I got these pedals yesterday and went out on a short ride and love them. They replaced an old pair of Candy pedals and the egg beaters are much easier to clip into than the Candy's were for me.

I'd definitely recommend them.
I'm on my third pair of eggbeaters and I love them. These pedals eventually break, but it takes a lot of hard riding. Every time I have to buy new ones I feel like I got my money's worth. For ease of entry and pedals that wont get mucked up with mud, you can't do any better.
I train on this pedal year round and have had unparalleled success with this platform (7-8K miles per season). The pedal clears mud, dirt, and snow. These pedals will provide a clean interface between your foot and your bike. I typically replace my cleats a few times each season to keep the pedal feeling tight. The pedal is completely re-buildable and recommended to keep the bushing feeling new. I use them to train and race on my Ti 11's. I like the way they feel the same and it saves your 11's from training abuse. I have an original pair I still train on that will be six seasons old this summer.