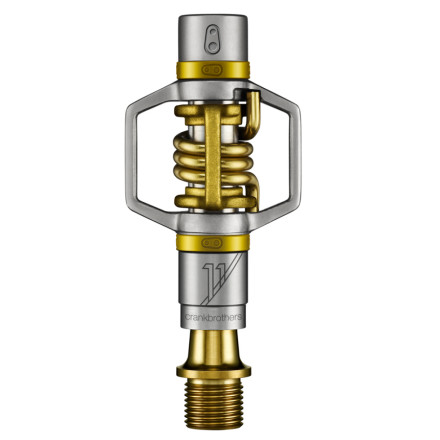 You have to break some eggs to make an omelet, as the saying goes, but you'll be able to whip the trail into a muddy meringue without dinging the Crank Brothers Egg Beater 11 Titanium Pedals. Egg Beaters have become an institution for numerous reasons, but what really sets the 11 apart is weight (an exquisite 117g) and speed (no pedal is easier to clip into). The Egg Beater wing spins in both directions, so it'll snap into your cleats no matter how you step onto the pedal, and the titanium body, wing, and spindle are supremely light and durable. The spring is stainless steel, which will hold tension almost indefinitely, and neither stainless nor titanium will corrode, so you can ride through endless mud and rain without worrying about your pedals degrading.
Speaking of mud and rain, another advantage of the 11 is its gunk-shedding capabilities. The open design lets muck pass right through, and needle-and-cartridge bearings keep the pedals spinning smoothly for season of riding (they're also incredibly easy to service). Crank Brother's included brass cleats offer 15 or 20 degrees of release, and feature a low profile that reduces wear and allow for easier walking. Shims are also included, to reduce wear and eventual slop where your shoe meets the pedal.
Titanium body, wing, and spindle
Stainless steel spring
Needle and cartridge bearings
15- or 20-degree release
Brass cleats and shoe-sole shims included
200lb rider weight limit
EASY IN EASY OUT
Familiarity:

I've put it through the wringer
I like these pedals for XC racing as well as CX racing.



Things I like best:

1) Light weight

2) Just the right amount of float

3) So easy to engage and disengage

4) Engagement is certain

5) Easy maintenance keeps them going for years



Note:

- I change bearings and re-grease at the start of every season. Takes about 10 minutes and requires a $10 rebuild kit.

- For comfort, this pedal requires a very stiff, carbon sole.
Best pedals for XC and CX!
Familiarity:

I've put it through the wringer
I switched over to Eggbeater pedals a few years ago and now I can't imagine riding anything else for cross-country riding. The key to riding Eggbeater pedals and reaping the benefits over their competitors (weight savings, effectiveness in mud, ease of clipping in...these points are covered in the description) is to seasonally rebuild your pedals and replace your cleats before they get too worn out. This is generally a good rule of thumb for any pedal but it's especially important for the Eggbeaters. If you take care of those things, you'll find the Eggbeaters will last and continue to perform well.



When setting up Eggbeater pedals with a set of shoes for the first time, there are a couple things you'll want to pay attention to for optimal performance. First, make sure you install your shoe shields underneath your cleat. These will protect your shoes from the pedal wings which, if not used, may lead to some unwanted slop in the shoe/cleat interface over time. Second, make sure there's some contact between the tread of your shoe and the pedal body when you're clipped in. If you shoes rocks side to side while clipped in, this indicates there's not enough tread/pedal body contact. If this is the case, you can use the Crank Brothers tread contact sleeves on the pedal body to eliminate any rocking. Once you've set up your pedals, you'll be good to go!



One more very important thing, you can easily use your Eggbeater pedals as a bottle opener. Enjoy!
I ran XTRs previously, but switched to Eggbeater 11s this year. Coming from the Shimanos the engagement is vague and the float is a bit much, but now that I'm used to them I have no complaints. I don't baby my gear, so they've taken their fair share of rock strikes and seem to be more durable then my previous Eggbeaters, actually.
The only pedals
Familiarity:

I've put it through the wringer
Ultra light and beautiful. I wont use anything else. I like the eggbeaters much better than the Candy's. I find that the platform gets in my way. I've races this pedal for cross and mtb for the past 4 years. Go get some!!!
Burly but sticky
Familiarity:

I've put it through the wringer
Overall I like these pedals. I have used them on both my Mt. Bike and my cross bike. They come in fun colors and add to the overall steeze of your ride. With that being said, I find that I have to constantly adjust my pedals for easier release. I have had a few unfortunate incidents with mazaneeta bushes while I was fully clipped in. Regardless, I still use these pedals and would recommend them.
This is an expensive pedal for a very high-end XC bike. If you are building an ultra-light XC dream bike (like a near 20 lb hardtail) this is the way to go. You need a stiff carbon soled shoe to mate with this pedal as there is no "platform" on this pedal. I would stick with the Candy pedal if you are doing bigger drops or ledgier trails, or are close to 200 lbs.