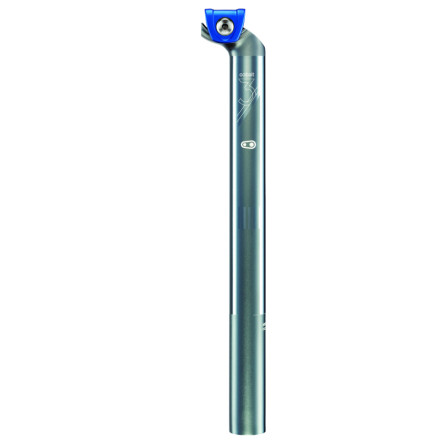 Your seat can't do anything without a seatpost, so pick up the aluminum Crank Brothers Cobalt 3 and give your saddle a place to perch. The easy-to-adjust, single-bolt clamp securely holds 7mm seat rails so you don't have to worry about a migrating saddle as you shred.
Had mine for 6 months. I have to take a hammer to hit it hard enough to knock off one side of the mount in order to tip the seat to the correct position. Torx T25 is also a very poor choice. DO NOT BUY IF YOU EXPECT TO MAKE SEAT CHANGES ON THE TRAIL. You really really really have to WAY overtighten the ONE bolt if you want to have the seat clamped in firmly. Even so, the seat will with hard but-hits. Yes, the rails are the right size for the seat post.



Looks great, but it must perform!!! Giving it one start for looks. Otherwise a goose egg.
Deleted my last review because it was a whine fest. Figured it out finally. First off it's a b*tch to install and adjust. And it doesn't take a 5mm allen wrench, it takes a "T25" torx. And then I had to remove one of the TINY little C-clamps just to get it to fit tight on my saddle, which isn't some rare weird saddle, it's a Serfas with Ti rails. After all that it's a bomber little seatpost coupled with a Thomson collar so hopefully it doesn't get stolen. Originally I gave it 3 stars, but I'll kick it up to 4 now that I figured all that crap out, but I still think the design could be better especially the 5mm bolt, which is a joke. On sale for 47 bucks is nice! Or else I would have just got a Thomson.
Looks great, and much lighter than my stock post. Issue was tightening it enough to be secure. I'm not the lightest at 210lbs and the first attempt resulted in the seat angle changing after the first few minor bumps. I Really had to crank down on it to get it to stay put, but now its just fine.
Great looking saddle post. Light and strong. Can't go wrong with Crank Bros...