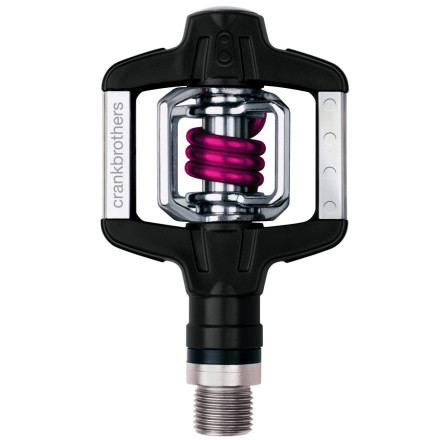 Detail Images
Share your thoughts
What do you think of the
Crank Brothers
Candy SL Pedals
? Share a...
These pedals have broken on me twice, leaving me stranded in the middle of nowhere both times.
Quick delivery, good price, everything came in the box. Easy to get in and out of. Feels sturdier than my previous eggbeaters.
Does the platform on these pedals get in...
Does the platform on these pedals get in the way of the tread on mtb shoes? It seems like that could be a problem . . .
I have yet to have any interference with any of the shoes that I own and these pedals. Over the years I have used four or five different shoes with these pedals. Also to note, we used these as pedals on our demo fleet of bikes and no customers had any issues.
I have had these pedals for about a month now. I have riden them lots of times on the pavement. Only a couple times up/down the mountain. My first experience with them up the mountain resulted in my handlebar punching me in the center of my chest, and has been bruised for weeks now. I am still learning the unclipping techniques. But over I love them so far, no complaints. I went with the SLs cause the price was right and also the variety of color choices.

The only reason I gave 4 instead of 5 stars was because within days after I purchased them, Crank Brothers redid their whole line-up and the Candy pedal was part of it. And now the Candys are metal, and not the plastic (except for the 1's).
Love everything about these pedals. The weight, the price, the durability and the performance all come together in one awesome package. These were my first pair of Crank Brothers style pedals so it took a few rides to get the entry down pat, but now I have it dialed and never miss a beat. If your looking for an all-around middle of the road pedal these can't be beat.
It took me a while to decide to start clipping in and I love it. These pedals are easy to get in and out of and give you just enough of a platform to help get into the pedals when you really need to get in in a hurry. I highly recommend these pedals. The price was amazing (almost half of what I would pay at a local shop)!
These pedals are very hard to clip in and out of. In fact, when going in to my bike shop for a fitting I had to have an assistant help me clip in. Now, that's sad!!!!
I've been running these pedals for a year now. Many races and joy rides later they're still great. The tension is perfect strong enough keep you in yet you can get your foot out if you need to bail. I ride in SW Missouri so we have rocks and mud... No problems with clearance of the mud which is a huge plus. They have held up great over the past year of torture.
these are pretty light pedals -150 gms for each pedal - and they have a neat cleat/adapter system for road shoes but i needed a lot of float for my knees and i was fooled by the float description- the release angle is 20 degrees-the float is only 6 degrees. would have tried them more but i couldn't get past the float issue. good price on bonktown- a real steal for a light pedal
I picked up a set to use for BMX racing and ended up using them for XC too. They were definitely priced right and offer tons of float. The float really helped when tackling tough terrain and switch backs on the XC bike. I talked my friend into a pair of these because he just had knee surgery and the ease of entry and exit is unbeatable.
First pair of crank brother's pedals and I was stoked after the first ride. I've used SPDs for the past 7 years and decided to try something new this year after finally getting a new bike and new shoes. Much easier to get in and out of than I expected (just as easy as my old SPDs -i was always a little worried about not being able to change the spring tension, but it really doesn't matter), lighter than my old pedals, and feels solid on the downhill.
I am relatively new to clipless pedals and I am stoked on these pedals! I like the fact that the entry/release point can be dialed in which I take advantage of on varying terrain. They are not the lightest pair of clipless on the market, but they certainly do the job.
Click in and go, but extra if you miss.
The ultimate all-round pedal. The original egg beater is unquestionably lighter, but the extra platform offers so much more stability and an easy of use that I am willing to cope with. Not only do these pedals look cool, but I have used them in all conditions (ie. Mud, dirt, etc.) and I have had no issues clicking in. With one tap of your shoe, the mechanism is designed to grip the cleat and allow you to keep rolling. These things rule, and I have used a lot of different pedals in the past. These win.
I purchased these pedals a while back, but hadn't been able to use them until these past couple of weekends. This is my first experience with clipless... I didn't make the switch until now because of the overall cost associated with them (pedals and shoes, repairs, replacements), but my new employer reimburses for wellness expenses, so I thought I would give it a shot. With a pair of Sidi Bullet 2 mtb shoes, Ive gone about 25hrs on fairly rough terrain and they seem to be holding up fairly well. However, no matter what you buy, they're always going to be more susceptible to the trail than the solid steel beasts that come standard on all mountain bikes. At times they can feel a little loose, but this may just be my inexperience in being attached to the bike. I could see the composite platforms degrading quickly¦ the stainless steel kick plates seem thin and couldn be attached by anything more than some glue (no visible bolts or screws), so I wouldnt be surprised to find pieces missing after a while. I only ride a couple of times a month, so they'll probably last me more than long enough, but if I do have to replace them every 12-16 months, it would be worth the hassle of waiting for a reimbursement.
Are the Candy SL cleats compatible with...
Are the Candy SL cleats compatible with eggbeater pedals, or vice versa?
Best Answer
Yes, they are compatible.
Great pedal, good float, easy entry
I love these pedals and have used them for years on a couple bikes without any problems at all. I read some others complaints about them loosening after a year or two or becoming sloppy. Duh! Cleats wear out and need replaced, they are not meant to last forever. The brass cleats need to be replaced after 500 miles or so to get that new pedal feel again. I have serviced my candy sl's once not because of a problem, just because I like to take things apart. So, they are serviceable and Crank Brothers offer a bearing service kit.

Best thing about these pedals is you can just bolt them one and ride, no finicky adjustments of cleat or pedal tension required. So an A+ on ease of use.
Beats Shimano hands down.
I bought these 8 months ago to replace my finicky SPD's. No comparisons. Easy in and easy out, yet they pull perfectly with no shifting at all. I've smacked these into who knows how many rocks, and it has yet to affect their performance one bit. I plan on getting a pair for my wife and another for my other bike.
These took a few rides for me to break in, but I have now been riding them for 6 mos with no issues. I have ridden spds egg beaters and candy c, and off all these the Candy SL have the best performance combination. Easy to clip in, easy to get out, hold in the clips well on tough terrain, as well as hard pulls. As far as durablity at this point I would replace them every six months if I had too based on their performance so far.. But the ones I have are still in good shape, so ride on!
I have not had my pedals as long as the other reviewer, but I really like them so far. I'm a huge fan of the egg beater style and I even ride them on my road bikes. the platform design of this pedal is more conducive to the road than the standard egg beaters. Both are highly recommended for the trail though.