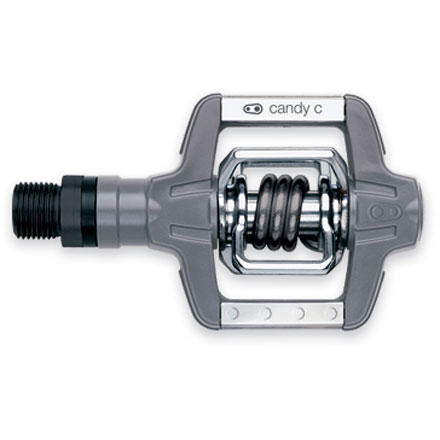 Community Images
This is my first pair of 'clip-in' pedals and they did not dissapoint! I previously rode with baskets and was hesitant to go to clip-in pedals for fear of not being able to unclip in the event of a fall or crash. This fear was realized when I rode them on trail the first day and wasn't able to unclip in time. That being said, I would recommend just trying them out in a comfortable setting (like a field) and practice unclipping in and out for a while. Getting into the pedals is cake considering you have three options..rolling your foot forward or backwards over the pedals, as well as just stepping down on them...gotta love Crank Brothers. Now that I have used them at least a dozen times I don't know how I ever rode without them! Tremendous gains realized overall, but particularly with climbing and technical stuff. I also like this particular model pedal because it has a wider base that gives added stability...which I think is a great feature for someone looking into clip-in pedals. I use them with Northwave Rebel shoes.
Simple, Cheap... I've got 4 Pair
I slap these between all my different bikes and love them overall. They aren't as lightweight as the eggbeaters, but I like having the small platform and I really like the price. I've had no issues with any of my Candy's... yeah they do get a bit scuffed, but they continue to perform just fine. I took this pic at Interbike yesterday. Got to test out the new SRAM XX component group and it is AMAZING!
getting beat up but still love 'em
I'm down with the egg beaters, love the clearance. So, I thought I'd like these too, but I wasn't sure how much. well, the foot contact with the outer pedal is impressive. Its more stable and more comfortable too somehow. so riding wise they are every bit what I had hoped for. They have been taking some abuse, and handling it moderately well.
These pedals are great. I actually bought them for my road bike so I could wear my mountain bike shoes instead of having to buy a new pair of road shoes. I ride 20-30 miles a day and I've had these for 3 months now. Haven't had any problems at all. The plat form around the beater is just wide enough to ride without shoes if you have to, without the pedal being to bulky.
I've been using these on my mountain bike on and off for about 2 years. They've held up well; however, I don't ride every day. That being said, I have smashed them into rocks, slammed them against the ground and generally abused them and they've survived.

They're a breeze to clip in and out of. I've never had mud or anything else interfere with their functionality. I'd give them an A++ for ease of use.

The platform is just big enough to use with regular shoes if you're only going a mile or two. Beyond that and I'm fairly positive your feet would not be happy with you.

Basically, it's a great pedal for a good price.
I have been riding these pedals since last October and have yet to find something I dislike. I never have a problem with them getting gunked up with mud, dirt, dust, or anything else on or around the trail. I switched pedals with a friend who has spd's for a ride and hated the spd's. The friend I switched with admitted he bought the wrong pedals on that ride also. I would like to try the SI version, but I am stoked on these and will ride them into the dirt.
great function, not so good quality
These are the easiest to use pedals I have ever tried, your feet just stick to them. The extra platform is nice for helping find the pedal when you are just try to mash to get going or come unclipped. The cleats wear out quickly and the pedals themselves are not very durable. The warranty is good though. If you ride a lot you will be sending these back every year or so for new ones, but they are good about replacing them.
Great all around clipless pedal
This is probably the best pedal if it's your first time going clipless. I've been riding these for over 3 years and with no complaints. I've never really cleaned or greased them, or had any issues with my shoes fitting as some other reviewers have noted. I use them for single track, adventure racing and commuting.
While I wouldn't say these pedals are the most durable I have ever used I still like them. Simple design, able to get in and out very easily. Whenever I break a pedal I simply send the set back to Crank Bros for a warranty. I have a couple pairs to swap in when this happens.
Great pedals, I've had a couple of falls on my bicycle and the pedals are still running strong, and like everyone stated before, they are quite easy to clip in and out even with heavy mud on them.
We bought these pedals for my girlfriend who previously used Shimano exclusively. She loves them. They are super easy to get in and out of, seem relatively bomber, look sweet, and the price is definitely right.
What type of clete do I need for a Candy...
What type of clete do I need for a Candy C pedal? Any brand of shoe will do?
Best Answer
The pedals ship with crank brothers cleats which are compatible with any shoes with two-hole bolt pattern (also known as SPD)
Bought these on the suggestion of a friend. These are my first go-around with clipless pedals and I love them!!! Easy to get in and out of after a little practice, keep my feet steady on the pedals, and I can get up some hills I used to not be able to get up. I'm not too hard on them, a little XC here and there, so I can't really say whether or not they're the toughest, but they hold up to Western NY singletrack.
I bought these to replace old, worn out SPDs. I've been using SPDs since 1992, so I figured it was time for a change. Of course, they've taken a little getting used to, but for the past month, I've rode them all over and raced them once. I'm satisfied...for now.
I got these pedals as a birthday present from a good buddy of mine. He saw that I was having problems with my Shimanos and was like "Try these, I think you'll have much better success." And without hesitation I slapped 'em on my bike and hit the trail. It took a little getting used too, but now I'll never go back to Shimano. I've actually talked my girlfriend into making the switch as well. Crank Bros are definitely the way to go! If I ever need to replace the Candy C, I'm going to go with the Candy Sl
These are great pedals but I have gone through a few pair of these. The springs tend to break on me. I've even had a broken clip. I've heard the SLs or the titanium are much better and I'll be trying them out next.
Use these pedals if you like a product that breaks, bends and fails whenever you need it to perform. I have had these pedals for only two months and am very disappointed. The cleats are already beginning to wear down after only two months of riding. The "platform," while I like the concept and the size have actually begun to seperate and crack, cheap plastic design needs to be beefed up a bit. One easy crash also caused the "egg beater" to bend in making it a two sided pedal only not as convenient because I can't tell where that bent part of the pedal will me when I am trying to get in. Lastly is the unexpected release. Just grazing a log or rock on the down stroke with the bottom of the pedal cause the springs to release separating you from your pedals. I loved the simplicity and design of these pedals at first but in practice they did not meet my expectations
Great pedals... simple design
The only 4-sided entry clipless pedal on the market... the Crank Brothers eggbeater design kicks serious booty! I've used the whole spectrum and I think the Candy C pedals offer the best in light weight, small platform design. Easy-in, easy-out with good float for zee knees. I used a buddies Time ATAC pedals earlier this week and found them clunky compared to the Crank Brothers pedals. Switch over and accept the fact that Shimano, Time, Speedplay and others just plain suck compared to the elegant simplicity of Crank Brothers pedals!
I have candy c pedals, but I am not sure...
I have candy c pedals, but I am not sure if they are just the regular c's or the sl version. I want another pair of pedals for a 2nd bike but I don't want to have to buy another pair of shoes. Will either pedal have the same cleat?
All the Crank Brothers pedals use the same cleats
Pros:
-lots of float (good for people with bad knees, like me)
-simple design
-mud/snow is never a problem

Cons:
-the cleats suck... I went through 3 pairs last year alone.
-this one's the most annoying: the outer platform is so thick that it conflicts with the treads of all the mountain bike shoes that I've been able to get my hands on. Be prepared to file down the soles of your shoes.
-you have to grease them frequently or else the egg beater won't spin freely from the outer platform