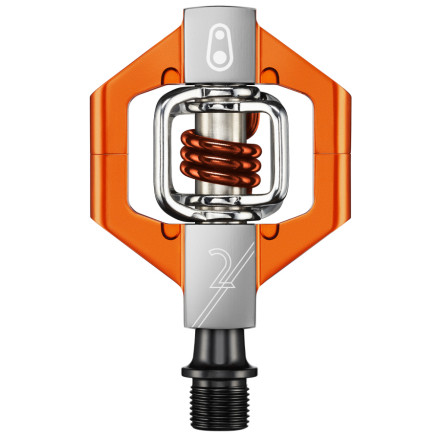 Community Images
Description
Everything everywhere should be anodized.
The Crank Brothers Candy 2 pedal is everything that the original Candy was, but with much, much more style. The new, two-piece machined aluminum body is more durable than the old plastic body, but it doesn't add weight. Plus, it looks really, really good.
Candy 2s give you 6 degrees of knee-friendly float. Depending on how you install the clearly marked cleats, the pedal releases at 15 or 20 degrees. Candy 2s are also designed to be serviced easily, so you can re-grease the cartridge bearings in a matter of minutes without specialty tools.
2-piece aluminum body
6 degrees of float
15- or 20-degree release angle
Easy maintenance
Do these include the cleats?
First set of clipless
Familiarity:

I've used it several times
These are my first set of clipless pedals. I was advised to go with these because of the "float" that these have with the cleats. Crank Bros offer a zero float cleat as well, so if you are not a fan of the float and want a more sure feeling connection you can go with those. I don't ride as much as I would like and dont have very many days on these but they are a great XC pedal.
Great pedals, first time clipless!
Familiarity:

I've put it through the wringer
This is the first time I use clipless and it's really easy to clip in and out with the candy. The platform gives you confidence and makes easier to clip in. I set them up to clip out at 20 degrees, I recommend this setting if this is you're first time using clipless pedals.
Better than eggbeater
Familiarity:

I've put it through the wringer
Let me preface this review by saying I've always been a die hard shimano fan when it comes to pedals, both road and mountain. They just work, and keep on working. I was given these as a demo to try and convince me that crank brothers have figured out their problems, and I was about 50% convinced.



They are definitely better than the eggbeater, the cage surrounding the clipping mechanism is great, and the retention system itself is substantially better than the flimsy wire on the eggbeater pedal. They've taken quite a few rock strikes which would have broken the eggbeater, and they're still working great. The bearings still spin true, although they have developed a little bit of play in them after about 2 months of hard riding.



The downside of them however, is the release. The step in is fine, almost an identical feel to shimano. The release however, leaves much to be desired with me. I like the positive click and release from shimano, and the crank brothers have a more mushy release with a lot more float in the pedal. I prefer to feel solid and secure in my pedal, and these pedals just don't give me that (same reason why I don't like speedplay on the road). That being said, this is more of a personal preference thing, so definitely give them a try. For 80 bucks they're definitely a good value pedal.
Awesome Candy!!!
Familiarity:

I've put it through the wringer
I make a change from the Eggbeaters to these. I found these pedals better to ride when not using cycling shoes and also when in use with those. You have more base for your feet and there are more stable that others. I'm in love with these candy! Love Candy.
After 10 years jury's still out
Familiarity:

I've put it through the wringer
I have been using various crank brothers pedals for 10 years on my mountain, cross bikes, and commuter. It most conditions I love the pedals. Easy in and out and if you don't power wash directly in the pedal the bearing will last a really long time. I am still using my original pair. I have been using the candy 2 on my cross bike for that last two seasons. I am fairly satisfied but two things bother me.
1. Sometime the disengagement seems inconsistent meaning coming into the barriers with any speed is unnerving. "Am I going to get uncliped or not?!!!! Okay, it working this time". I have followed advice to use the stainless carbon sole protectors and change shoes to sidi and still have the problem.
2. While the pedal is known to shed mud well the cleat to pedal interface doesn't seem to work well when muddy. After a muddy runup a few weeks back I seemed to have far more trouble clipping in for the descent than other riders.

Judges Decision: I am going to try the new Shimano SPD next season for cyclocross.
Great for the price
Familiarity:

I've put it through the wringer
These are the cheaper version, but for an average mtb rider you won't see the difference. The platforms are a little squeaky, but they have handled some serious abuse. If you haven't road with clip in pedals put the exit at 20* and practice before you hit the woods!
Great Pedal, but took getting used to.
I got these Candy Pedals after having to replace my old Crank Brother Acids. Loved the Acids for the slightly larger platform and rubber coating. The Candy Pedals still have enough of a platform to stand on, however I have found that right out of the box they tend to be a little slippery when standing on to clip in, and god-forbid your foot should slip as the edges are a little sharp! After several rides they have buffed out and become much easier to use and not a lethal to your calves. I would recommend these for anyone not wanting a full egg beater style, but doesn't need a full platform like the Mallet.
So far, so good...
Familiarity:

I've used it several times
This is the first time I've run clipless on my mountain bike, and other than a few tip-overs where I forgot I was clipped in, it's going well. After a few rides, they have gotten easier to clip out of, but I'm not sure if that's due to the release mechanism loosening up, or the cleats wearing down (they seem VERY soft - which according to the product description, was intentional so that they wear instead of the pedals). The orange color adds just enough flash to your ride. As an FYI, the spindle is totally round, so plan on your pedal wrench being useless during installation. You'll need a big ol' allen wrench instead.
Go crank brothers
Familiarity:

I've put it through the wringer
There is always a mass debate between another bike cleat pedal company and crank brothers, and if you ride any mud, heavy dirt, wet conditions or simply don't want to service your pedals this is the way ahead. I'm running crank brothers on every bike, some of which are 10 years old this year. Love the candy, solid build, consistent cleat tension and next to no servicing. Have both the candy 2 and 3. Both excellent value for money.
The best pedals!
Gender:

Male

Familiarity:

I've put it through the wringer
These pedals are excellent. They are easy to get in and out and don't require any adjusting. I have used them for a season now and put them through quite a beating, but they are still in great shape.
I was really skeptical about using these kind of pedals, however, now I can't imagine not using them. They are really easy to get in and out of and I love the orange color.
My wife uses these pedals and she absolutely loves them. They provide stability for technical terrain and helps aid in climbing. The bit of platform is nice for clicking into the beater.
These are entry level pedals and work like they are supposed to, nothing fancy about them. They will work great for someone just learning or someone that doesn't want to spend their entire weeks pay on pedals.
For the price, weight, quality and overall simple clean design, you cannot go wrong with this pedal! They're solid.
You really can't go wrong with the Candys for XC. Buy the level you can afford, and enjoy for miles!! I've always got at least two solid and long seasons out of a pair, if not more.
These are my first clipless pedals. I went with Crank Brothers because they have such a different look than most clipless pedals. These are super smooth in/out, I'm still getting used to how clipless pedals feel. I wouldn't have gone a different way, Love them! And they look awesome on my bike.
I love them. Easy in/out, light, super smooth and just enough of a platform incase you find yourself riding in normal shoes.