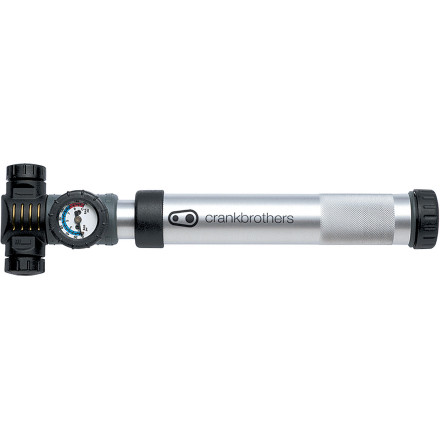 While Crankbrothers pedals sometimes overshadow the rest of their products, it should be known that their forward way of thinking is prevalent here in their Power Pump Alloy. The packaging of all its features is impressive considering its size.
What you get is a mini pump capable of inflating both Presta and Schrader valves. And as we all seem to ride on road and off, it has an air switch that lets you select from high volume or high pressure to lessen the number of strokes and effort that it requires to get your tires pumped up to spec. It even has a round dial gauge that lets you see, at a glance, exactly where your pressure is as you pump.
The Crankbrothers Power Pump Alloy is meant to last as it's made of 6061-T6 aluminum alloy. The dual piston design is efficient and makes quick work of both road and mountain bike tires. It pumps to a maximum pressure of 130 psi and includes a mounting bracket. It's available in Black/gold and measures 9.3"/238mm in length.