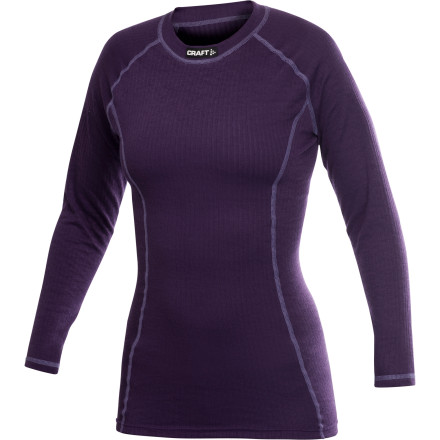 Detail Images
We had an epiphany the first time we tried on the Craft Zero Crewneck Long Sleeve Women's Base Layer. If you've always been a little skeptical about high-tech fabrics, then test your resolve against conversion to modern textiles with this base layer. Snug without being tight, warm without causing overheating, soft without being weak, the ZERO Crewneck is a basic Craft base layer, but for a company known for base layers, this means it's better than most.
The ZERO Crewneck is the building block for nearly every other base layer Craft makes. Its simplicity belies just how advanced and effective it really is. Made from their ZERO fabric means that the air-channeled polyester pushes the excess heat away from the body while the hollowed filament yarns transfer the moisture away from the skin and to exterior points in the fabric where it will have a chance to evaporate before it builds up. Keeping the body dry is the A-number one thing that a base layer must do, and the ZERO Crewneck excels at that.
The soft fabric has side panels that have been cut to curve with a feminine look. That means it will fit snugly to avoid excess fabric that could bunch up and interfere with the second and third layers. And if you want to ensure that you are warm enough for a business trip to the Atlantic Northeast in December, feel free to layer it under your favorite elegant turtleneck sweater. No one will be the wiser. Don't worry about unsightly seam indentations on your torso after you remove the top; the Craft flatlock seams will prevent you from being so marked.
The Craft Zero Crewneck Long Sleeve Women's Base Layer will slip seamlessly into your wardrobe and convert even the most die-hard wool lovers. This isn't your least favorite teacher's polyester pants; Craft's ZERO fabric is the way of the future. The ZERO Crewneck comes in Black and in X-Small through X-Large.
What do you think about this product?
Have questions about this product?
As always with Craft, you have a very good quality shirt. I bought the small (5'2, 118Lb) and the fit is great. The arms are a bit long for me, but it's not a problem. the fit is really close to the body which is what I wanted. I appreciate the overall length of the shirt which goes below my butt. I've used it both on Runs and bike rides for my greatest joy. a keeper!