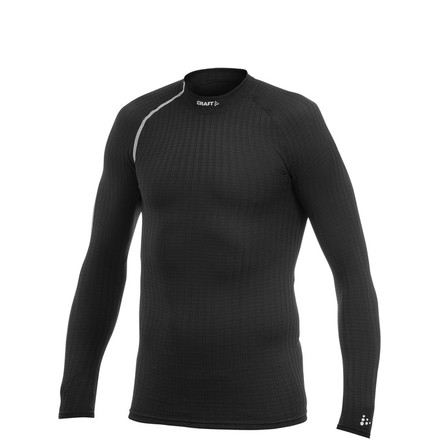 Detail Images
Description
Don't freeze, don't overheat.
Don't get distracted by the word "Extreme" here. It doesn't mean what you think. The first time we saw it we figured by "Extreme" Craft meant this base layer was meant for extreme weather conditions, i.e. frigid temps, blizzards, the ice age, etc. In fact that's exactly what it's NOT meant for. Rather, Craft designed this piece for extreme intensity riding in cool (not cold) weather.
Pro Zero Extreme was first designed for the Swedish Nat'l Nordic Skiing team. In the early and late season, they often skied in cool conditions where they were generating enormous body heat through intense efforts. They needed a base layer that would trap in warmth when they were skiing at a moderate pace, but that could wick and vent like mad when their effort level was pegged. Hence, Pro Zero Extreme was born. Craft recommends its use for high-intensity rides from 25-55 degrees. It's perfect for early season intervals as well as cyclocross racing. It's with Pro Zero Extreme in mind that Craft chose to be the official apparel sponsor of the USGP of Cyclocross.
Pro Zero Extreme is built with hexachannel Pro Cool fabric against your skin, identical to what you get in a summerweight Pro Cool base layer. This hexachannel layer is paired with Craft's hollow-channeled Thermolite fabric to help trap in body heat on cool days. It has a seamless torso, so a tight-fitting long-sleeve jersey won't cause your base layer to chew into your skin. Adding to the comfort is the fact that Craft has gone to what they call 3D cutting lines. You won't see any straight seams on the Pro Zero Extreme. The panels and seams are curved identically to the shape of a cyclist reaching for the handlebars. Available in Black in sizes Small through XX-Large.
ProZero features hollow-fiber polyester to wicks moisture away to keep you warm
ProCool fabric allows air to circulate to facilitate moisture evaporation
Ideal for temperatures between 35- and 65-degrees Fahrenheit
An average base layer
Familiarity:

I've put it through the wringer
I was looking for a replacement for the Castelli Uno Plasma base layer and tried this one. I have long arms, and this Craft base layer's sleeves are not long enough, plus the cuff is too lose, which means the sleeves run up my forearms and the chill of the wind gets in. Perhaps they aren't cycling-specific. In any case, if you have long arms, I wouldn't recommend this base layer for cycling, especially given the position stretched-out to the hoods/drops. I used it for running as well, and it's better because my arms aren't stretched-out as much, but it's still loser than I'd like.
Impressive!
Gender:

Male

Familiarity:

I've used it several times
I've spent years buying different base layers from every company imaginable. I always knew of Craft's excellent reputation, but would never pull the trigger due to it being a bit pricey. I wish I would have purchased Craft base layers in the first place...could have saved a ton of money.



Anyways...I am still amazed at how much heat this retains considering how thin it is..down right toasty at times. Plenty of base layers are warm though..where this excels is it's ability to wick away moisture. Does a fantastic job of keeping me warm and dry!



Fit seems to be true to US sizing. I am a medium and this fits like a glove. Just fantastic.



I am currently in the process of selling off the rest of my old base layers. Nothing but Craft from now on!




Good base layer
Familiarity:

I've put it through the wringer
i bought this base layer as a fall back after not being able to find the Castelli Uno Plasma base layer (which I think is fantastic). This Craft layer comes close but not quite all the way as a replacement. It keeps me just as warm, but the sleeves aren't ticket enough at the wrists so it rides up. I have long arms with skinny wrists, but the Castelli is tailored in such a way that this doesn't happen. I wish it were the same for this layer.
Superb Baselayer
Familiarity:

I've put it through the wringer
I've had this for a couple winter seasons now and love it. It is very light and provides excellent heat retention. I wear it as often as I can during the cold mid-Atlantic winters. I am 6' 5" and 230lbs and the XXL fits wonderfully; the sleeves and torso are plenty long and it fits like a glove.
As you probably know, Craft is a baselayer specialist. Their gear is fantastic. You saw Craft on almost every athlete in the 2014 winter Olympics..

What I didn't know (until recently)... is that Craft founder Anders Bengtsson pioneered baselayer materials that transport moisture/sweat away from the skin. Over the years, Craft has highly refined the use of hollow polyester fibers and special weaving construction techniques.

Anyway, it works. I don't own a Craft piece that doesn't work great. Quality (QC) is fantastic too.

Sizing: I found this Craft long-sleeve baselayer fits true to size. I'm 5'10 and 185. The size L fits perfect.
Awesome!
Familiarity:

I've put it through the wringer

Fit:

True to size
This base layer is fantastic. It does not feel like it should help keep you warm, but it is very effective. Trust the technology. I run in the cold and the last two weeks in Wisconsin have been cold. Negative degree temps and wind. I use this as a base layer and wear another thin top over it, with a shell. I have been sweating after a mile or two. This pulls it away from your body as well so you dont get cold from your sweat. I highly recommend the craft base layer if you are active in the winter months in cold climates. Love it!
The best
Familiarity:

I've put it through the wringer

Fit:

True to size
The best baselayer for high output aerobic activities. Period.



Breathes extremely well so it's comfortable in a range of temperatures. If I'm working hard and it's below 40*, this baselayer is on my back. I've owned the SS and LS version for 4 years and they are holding up very well. Highly recommended.
Best I've tried.
Familiarity:

I've used it several times

Fit:

True to size
Comfortable, super nice material and it does exactly what it's supposed to do; keeps you warm and dry but allows you to easily shed heat if too much builds inside your shell. I wear this under a GORE Contest AS and it's a really nice combo.



It is a too warm above like 45 degrees for me.



For me I actually went with the larger size between the 2 that might have fit.
Warmth + wicking
Gender:

Male

Familiarity:

I've used it several times
Who needs warmth from a loved one on those long cold rides when you have this Craft base layer? I was riding in sub 30 degree temps and it kept me feeling just ride. Wicks away moisture very well so I didn't freeze on the descents also.
Fabulous warmth
Gender:

Male

Familiarity:

I've used it several times
This might be the best winter baselayer ever. It relies purely on insulation and not on windblock, but when you combine it with a nice jacket (such as the Craft Storm jacket) it gives you plenty of warmth. The crew neck is just right -- it stops right below the adam's apple. Also, if you're stuck between sizes, choose the smaller size. I can use M or L in base layers, and I'm happy as a clam with M. This sucker is thin, light, and super-warm. You'll love it.