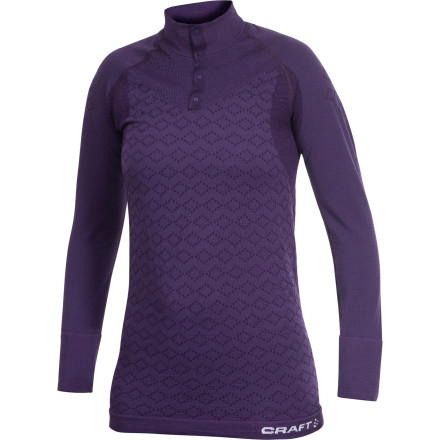 As you probably know, cyclists feature the largest percentage of deal-seekers per capita of any recreational pursuit, and we're no exception. We love multipurpose garments, and we think that you'll love the Craft Warm CK Wool Button Long Sleeve Polo Shirt as much as we do. Whether you're wearing it as a jersey, base layer, or off the bike completely, the Long Sleeve Polo Shirt provides enhanced natural protection from the elements. After all, wool's 100 years as the cycling apparel material of choice didn't happen by mistake.

The Craft Warm CK Wool Button Long Sleeve Polo Shirt features a seamless construction made from a blended wool. To provide the non-abrasion seamless design, Craft used a circular-knit construction that, coupled with a small percentage of Elastane, allows complete bodymapping for a personalized fit. To enhance the wool's natural warmth and wicking properties, the outer-layer has been coated with Polyamide to encourage moisture transfer from the natural wool inner-lining. Craft went a step further by using a terry construction that traps air to create an insulating layer over the skin without the threat of overheating. The choice of wool also allows the Polo Shirt to benefit from a few natural advantages. Because of the material, the Polo Shirt will keep you warm, even when wet, and it also doesn't absorb odors.

The Craft Warm CK Wool Button Long Sleeve Polo Shirt is available in sizes from X-Small to X-Large, and in colors Blackberry/white and White/platinum.