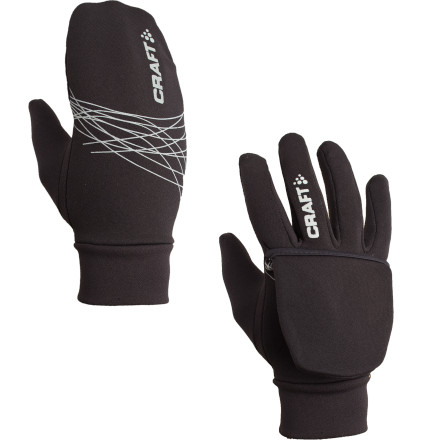 Detail Images
Give your fingers the power to work together to stay warm when you pull on the Craft Running Hybrid Glove. Part glove and part mitten, this glove stretches, insulates, and keeps your fingers from falling off during cold-weather runs. Reflective printing on the outside of this glove adds to visibility when you're cruising the pavement during dusk or dawn.
What do you think about this product?
Have questions about this product?
I got these for my wife and they keep her hands nice and toasty. She's always complaining about cold hands, and these hybrid-gloves really help so she doesn't have to tell me that so often. She mostly uses them on cold mornings in the car.
I like specialized running gear so I picked these up when I saw them on SAC. I've never had a pair before, but I do have some tops with fold-down mittens that I've used. Well, these do the job. They're not quite as warm as I'd like. My intention was to wear them on frigid days when I supplement my gloves with a mitten over them. But these with the mitten aren't much warmer than my regular Cloudveil running gloves. However, they do seem to work for those times when you start out a run a little cold and then warm up and want to take your gloves off (but don't want to carry them or stash them somewhere). With these, you just fold back the mitten and your fingers cool off. There really is a difference in temperature. If I don't think about it, I don't really notice that the disengaged mitten is flapping, But if I do think about it, it bugs me and makes me wonder if I should be keeping these. However, I think they're useful for those on-again, off-again temperatures. The mitten, by the way, will accommodate most of the thumb, too.

I can imagine they would also be useful in situations where you periodically have to use your fingers but don't want to expose them completely to the cold. The material is relatively thin and supple so it allows for some manual dexterity.

The sizing chart doesn't help because it's not for gloves. I measure 7.25 from the base of my wrist to the tip of my middle finger and 7.5 around my hand. Glove sizing isn't very consistent but I'm basically a medium. I bought both a medium and a large and they both fit. The medium is a little tough to get past the heel of my hand but it fits nice and snug and I feel like I can move freely. The large isn't that much bigger, but does provide a more relaxed fit when I don't want to have that tight-glove feeling.